Contrary to popular belief, it has not been decades since the Patriots last captured the AFC East championship. It was only four years ago that New England squeaked out a win in Miami to capture the 1997 division title.
In fact, since finishing 6-10 in 1995, the Patriots have only suffered through one losing season, that being last year when they finished 5-11. Yet, if you listen to folks around New England, you'd think the Patriots recent demise puts them on par with the Cincinnati Bengals and Arizona Cardinals of the world.
Fortunately, the short stay in the doldrums can end Sunday with a victory over the 1-14 Carolina Panthers at Ericsson Stadium. A simple win over a one-win team on the verge of setting a record for futility will give the Patriots the AFC East title. Forget what the Jets and Dolphins do; if the Patriots win, they win the division with no other help needed.
Sure, Bill Belichick will do his best Lou Holtz impression trying to sell his team on the fact that Carolina has lost eight games by six points or less and by a combined 23 points. He will show them how the Panthers lost three times on the game's final play — overtime losses to San Francisco and Washington and a last-second loss to New Orleans. He'll tell them that Carolina has either led or been tied in the second half in 10 of 15 games. He will extol the virtues of George Seifert, who before taking over the Panthers, had the highest winning percentage of any head coach in league history.
He will do all that because getting a team ready for a 1-14 club isn't always easy. Despite the fact that every player in the locker room knows what is at stake, Belichick will have to sell his team on the fact that the Patriots simply can't expect to show up and be handed a win.
The two-win Bills didn't hand one to the Jets last week and the AFC-leading Steelers weren't gift wrapped one by the lowly Bengals. Things don't work like that. So when he goes through all the reasons his team should show up and play hard, Belichick better make sure his team gets it because while a playoff appearance is guaranteed, a loss in Carolina would be a devastating blow to the team's psyche heading into the tournament.
But when Belichick sits down with Charlie Weis and Romeo Crennel to firm up the game plan, he also better find a way to exploit a defense ranked 31st against the run, 29th against the pass and 31st overall. He better discover a way his defense can stop an offense ranked 31st in rushing, 25th in passing and 31st overall.
If the Patriots hath taught us anything, it is that rankings don't always paint an accurate picture. New England is ranked 25th in defense, but eighth in points allowed. Still, 30th on offense and 31st on defense? Carolina has allowed nearly 100 more points than the Patriots and scored close to 100 less.
If ever there was an opponent to play on the road to win a division title, it is this opponent, who just happens to be 0-7 at home this year following last week's blowout loss to the upstart Arizona Cardinals.
The Panthers offense converts third downs at a paltry 30 percent clip and allows conversions at a 42 percent rate. They hold the ball for less than 28 minutes per game thanks in part to the lowly third-down conversion rate and also to a running game that produces 78 yards per week.
They have a rookie quarterback who has thrown 114 passes in the last two games and completed 60 of them. Two weeks ago, in a 38-32 loss to the Rams, Chris Weinke, the Heisman Trophy winner out of Florida State, hit on 24-of-51 for a career high 312 yards with one touchdown and no interceptions. In last week's 30-7 loss to the Cardinals, the rookie was 36-of-63 for 223 yards with a touchdown and an interception.
Carolina's running game took a major hit when Tshimanga Biakabutuka was lost for the season and Richard Huntley took over the lead back duties. But the offensive line is solid and has only allowed 29 sacks all season after surrendering 69 in 2000.
The defense, while struggling, is opportunistic with 33 takeaways, including a franchise-record eight interceptions by cornerback Doug Evans. Despite winning just one of its first 15 games (the first one at that), Carolina has a turnover ratio of plus-4, the same as the Patriots.
Carolina needs to find all the positives it can muster in this lost season in which it could set an NFL record for consecutive losses with one to New England Sunday. That is the Panthers motivation. If that proves more emotional than the AFC East title, the Patriots will get what they deserve.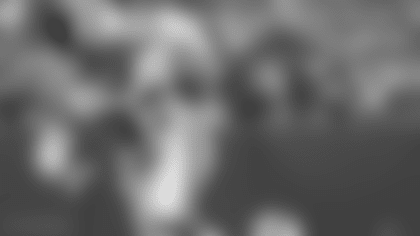 Panthers Muhammd still fighting
The 2001 season appeared promising for Muhsin Muhammad and the Carolina Panthers after a Week One upset in Minnesota.
Muhammad caught the first touchdown pass of Chris Weinke's career and the Panthers stunned the Vikings 24-13. That was the highlight of their season.
After that start, Carolina lost 13 straight games heading into Week 16. Muhammad, who had 266 catches, 3,377 receiving yards and 14 touchdowns from 1998-2000, had not reached the end zone since the opener. His reception total, which rose in each of his first five seasons, will dip considerably this season. He had only 50 with two games remaining after posting 102 a year ago.
Part of the problem is a toe injury that has kept him out of the lineup a few times. Add Weinke's inexperience and a poor running game, and it adds up to an atypical Muhammad season.
Still, Muhammad is a dangerous game-breaking receiver. Despite the injury problems and lack of talent around him, he was leading the team in both catches and receiving yardage (585) through Week 14.
The problems in Carolina are not a result of Muhammad's play. When the team's leading rusher, Richard Huntley, has 435 yards and Weinke leads the team with six rushing touchdowns, it's no wonder the Panthers have been held to 16 points or less eight times. The second leading rusher, Tshimanga Biakabutuka, went down for the season with an injury in Week Five, severely damaging any hopes for a balanced offense.
There is very little in the Panthers offense that should scare New England. Carolina has not thrown more than two touchdown passes in any game this season, and it got that many in just two of the first 14 games. If the Patriots make sure the talent in the Carolina attack, Muhammad, is kept in check, they should be able to handle the rest of the offense.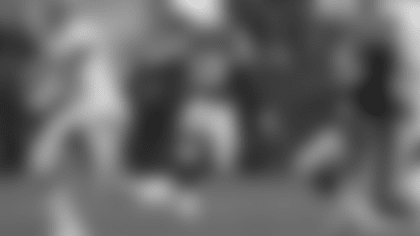 Eye on the Game: Ken Walter
Usually, punters and kickers have their quirks. As specialists in the NFL, they are different from most players. Ken Walter claims no strict routine on game day, however.
The only key for Walter is getting himself loose, through whatever means necessary.
"Sometimes I go out early, sometimes I don't," Walter said. "I don't think there is anything in my five years of playing that I have done exactly the same. There isn't anything particular I eat for the pregame meal. It's just on how I feel and how I am handling the nerves. Sometimes you have a little more nerves to work out. If I get there early, I may walk around the field and play a little catch."
While his preparation leading up to kickoff may be inconsistent, Walter's on-field production has been as steady as New England could hope for. He was the AFC Special Teams Player of the Week for his performance against Miami in Week 15. In 10 games with the Patriots, Walter has averaged 40.4 yards per punt and has pinned 20 of his 43 punts inside the opponents 20-yard line.
As is the case with any kicking specialist, Walter does work to gauge the field and weather conditions before kickoff. Apparently he is doing a solid job because the Patriots allow an average of less than 5 yards per return, the lowest in the league through Week 15.
"You have to go out and get a feel for the conditions, such as the wind," Walter said. "You want to gauge it and try to use it to your advantage. If the wind is going right to left, I am going to want to put the ball up there and let the wind kind of play with it a little to see what happens with the ball. I want to kick the ball against the wind as little as possible. There are a lot of little things the wind can do to your kicks, so you have to get a read on that."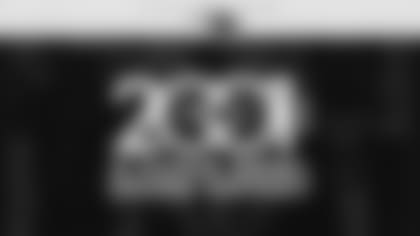 2001: A Super Bowl Sound Odyssey
An aural history of the 2001 Super Bowl champion New England Patriots. The six-part podcast features interviews with over 20 players, coaches, media members and others who were there to witness this historic season, mixed with the iconic sounds that detailed every dramatic twist and turn of an unforgettable season. Every memorable moment from the 2001 Patriots season is revisited with new-found perspective 20 years later. It's a fresh and thorough look back at the team that started a football dynasty.
Subscribe and Download Links:
Apple Podcasts
Google Podcasts
Spotify
Stitcher
RSS