The Pittsburgh Steelers are a hard-nosed team built around one of the league's most ferocious defenses. But that doesn't mean they don't have players who can hurt you on offense.
In addition to that very talented defense, which is ranked No. 1 in the NFL, Head Coach Bill Cowher is capable of coming at you in a variety of ways on the other side of the ball. He can pound away with the league's top-ranked rushing attack, can opt to have quarterback Kordell Stewart choose from a pair of 1,000-yard receivers in Hines Ward and Plaxico Burress or he can unleash his ultimate weapon — Stewart himself.
Stewart as a weapon? Isn't this the guy who was the laughing stock of the league for the last couple of seasons as the Steelers stumbled to mediocre records? That's the one, but this is a much different quarterback. Stewart more closely resembles the dangerous "Slash" character he victimized opposing defenses with back in 1997 when he threw 21 touchdown passes and ran for 11 more.
This season, the seventh-year veteran was very efficient in a more simplified offense. He completed 60.2 percent of his 442 passes and threw for 3,109 yards and 14 touchdowns. He also ran for 536 yards and five touchdowns, leading the team in the latter category.
New offensive coordinator Mike Mularkey tried to take some pressure off of Stewart, who looked lost and confused much of the time in recent seasons. Rather than have his quarterback search out a suitable receiver, Mularkey instructed Stewart to have a receiver in mind when he broke the huddle and if things didn't look right, simply tuck the ball and run.
That style has fit Stewart perfectly. He was reluctant to get out of the pocket in the last couple of seasons but is back to the freestyle approach that made him the talk of the league in 1997. His gifted stable of receivers also hasn't hurt. Ward is a player in Stewart's mold. He played some quarterback in his college days at Georgia and emerged as the Steelers top pass-catching threat this season.
He set a club mark with 94 catches for 1,003 yards while adding four touchdowns. He's more in the move-the-chains mold and will give the Patriots secondary a stern test. Second-year man Plaxico Burress shook off an inconsistent rookie campaign and exploded into a dangerous receiver. He averaged 15.3 yards on his 66 catches and joined Ward in the 1,000-yard club with 1,008. He also led the team with six touchdowns and added another last week against the Ravens.
Burress could pose the biggest challenge to the Patriots defensive backs because of his considerable size. He stands 6-5 and has a knack of out-leaping smaller defenders and fighting them for jump balls, which Stewart occasionally asks him to do.
Pittsburgh's receiving corps has solid depth as well with Bobby Shaw and Troy Edwards capable of making big plays if left alone. Stewart likes to spread the ball to all of them.
The ground game, which was the major reason the Steelers jumped out to a 9-2 record, was able to withstand the loss of Jerome Bettis. Bettis injured his groin on Dec. 2 and hasn't played since, but the Steelers won five of the six they played without him with the only stumble coming in a late-game collapse at Cincinnati.
Bettis was set to return last week against Baltimore but suffered a setback when the shot he received to dull the pain struck a nerve and caused his leg to go numb. Assuming he's recovered enough to return, the Steelers will be getting their 1,000-yard rusher back in the lineup — not good news for the Patriots defense.
Stewart also is instrumental in the Pittsburgh running game. Unlike some mobile quarterbacks, Stewart's rushing yards come largely from planned runs. Cowher had him try several quarterback draws against the Ravens tough defensive front last week and Stewart picked up key first downs while carrying 10 times for 30 yards.
If Bettis is unavailable, look for Amos Zereoue to replace him. He picked up 63 tough yards last week on 24 carries and added a pair of 1-yard touchdown runs.
Despite the Steelers offensive success, this team's strength still lies on defense, where rookies Kendrell Bell and Casey Hampton have blended well with Jason Gildon, the defense's lone Pro Bowler. In other words, this is a very balanced team, and if the Patriots make their third Super Bowl trip, they'll have earned it.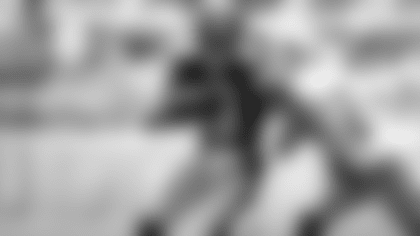 Ward half of winning combo
For the second straight game, New England's defensive backs find themselves going against a tandem of 1,000-yard receivers.
Like Tim Brown and Jerry Rice in Oakland, Hines Ward and Plaxico Burress make Pittsburgh's offense a dangerous unit. With running back Jerome Bettis pounding away at the defensive line and linebackers, the Patriots secondary must keep close wraps on Hines and Burress.
Hines, in his fourth season, had a breakthrough season for the Steelers. He set career highs in both receptions (94) and yardage (1,003), both totals that well exceeded his previous bests. A starter in every regular season game for the first time in his career, Ward is a very dependable possession receiver.
Ward and Burress complement each other well. A capable receiver, Ward was not as much of a deep threat this year, getting just two receptions for more than 30 yards. He averaged a modest 10.7 yards per catch, but is good at getting open and extending drives.
When Ward is effective, he opens up the field for Burress, who caught 66 passes for 1,008 yards, good for an average of more than 15 yards per catch. The two receivers combined for 160 catches, 2,011 yards and 10 touchdowns, while 12 other Steelers combined for 114 catches, 1,284 yards and six touchdowns.
Ward did see a drop off in production towards the end of the season. Through his first 12 games, he had 79 catches, 855 yards and three touchdowns. After a Week 13 performance against the New York Jets in which he caught 10 passes for 124 yards, he managed just 15 catches, 148 yards and one touchdown in the final four games of the season.
He's not the most explosive weapon in the Pittsburgh arsenal, but Ward likely will see the ball several times in the AFC Championship game. Keep an eye on him in third down situations, where he had 26 catches.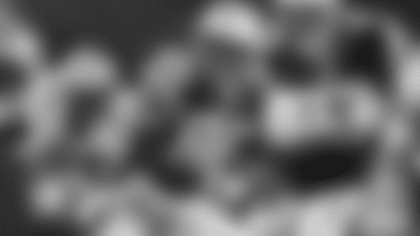 Eye on the Game: David Patten
Wide receiver David Patten has offered several moments of excitement on game day throughout the season. Ironically, in the hours leading up to kickoff, he spends his time looking to the powers above to reach a sense of tranquility.
"The typical morning of game day for me involves concentrating on the Lord," Patten said. "That creates a peace and keeps me calm. I have a tendency to get myself too fired up. As an offensive skill position player, you need to be cool, calm and collected. So I try to focus on the Lord and meditate with my music. Basically it is a way of calming myself down."
In the midst of his best season as a pro, Patten has provided several big plays on the year, most notably his performance in Indianapolis when he ran, caught and threw a touchdown in the same game. With 51 catches for 749 yards and four touchdowns in the regular season, he quickly adjusted to the New England offense. He averaged 14.7 yards per catch and had at least three receptions 11 times.
Because of the work he has done all season, Patten doesn't necessarily need the moments prior to kickoff to make sure he is on the same page with quarterback Tom Brady. He makes sure he is physically loose, but he doesn't need to play catch with a particular teammate or hold to a specific pregame ritual, other than his meditation.
"By that time you already have a feel, and you know what is going on with each other," Patten said. "You basically want to make sure you have your mind right. The one thing you may go over one last time is your checks for the game, just to make sure everything is right. You want to make sure you have the finer points down as far as the game plan is concerned, but basically you try to stay calm while you anticipate that first kickoff."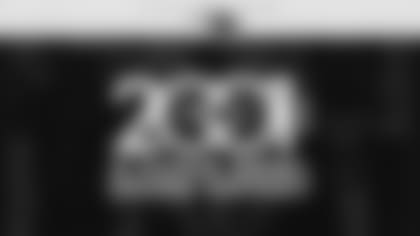 2001: A Super Bowl Sound Odyssey
An aural history of the 2001 Super Bowl champion New England Patriots. The six-part podcast features interviews with over 20 players, coaches, media members and others who were there to witness this historic season, mixed with the iconic sounds that detailed every dramatic twist and turn of an unforgettable season. Every memorable moment from the 2001 Patriots season is revisited with new-found perspective 20 years later. It's a fresh and thorough look back at the team that started a football dynasty.
Subscribe and Download Links:
Apple Podcasts
Google Podcasts
Spotify
Stitcher
RSS