There are quarterback controversies and then there are quarterback controversies. Some in New England believe there's a budding problem between Drew Bledsoe and Tom Brady on the horizon, but the good people of Western New York would beg to differ.
You see, they've seen a real-life quarterback controversy up close and personal the last three seasons, and nothing going on around here even closely resembles the bitterness and turmoil that surrounded Doug Flutie and Rob Johnson.
For a true problem in this department, much more than debates over the players' abilities needs to be evident. There needs to be some true nastiness, and Flutie and Johnson fit the bill in that department. Things got so bad between the two at times last season that the only quarterback to speak with offensive coordinator Joe Pendry about the following week's game plan was third-stringer Alex Van Pelt. Flutie had his camp and Johnson stayed within his, and the result was a divided football team that stumbled its way to an 8-8 finish.
Clearly, things couldn't continue that way and Flutie was released. On the surface, it appeared to be a poor choice. Flutie rarely knocked anyone over with statistics but he found a way to get the job done in the only department that matters — winning. Johnson, on the other hand, seemed to be the classic underachiever with great physical attributes — big, strong arm, mobile — but wins came by as often as the sun seems to shine in Buffalo.
But these Bills barely resemble the playoff teams of 1998-99 and Buffalo is in the rebuilding mode. In that regard, why not do so with the younger Johnson? And he's starting to show why the Bills showed faith in him. The wins haven't come yet, but his play is improving each week. Playing behind a largely patchwork offensive line that forces him to run for his life on a weekly basis, Johnson is showing great mobility and toughness.
The passing game remains stuck in neutral because of the injuries up front. Wideouts Eric Moulds and Peerless Price are dangerous. Moulds in particular is capable of making big plays. Tight end Jay Riemersma has been a bigger part of the offense in the past but thus far has been quiet.
The troubles up front start with left tackle John Fina, who underwent knee surgery in the offseason. That knee has been giving him trouble lately and his status for the Patriots game is iffy. Rookie Marques Sullivan would take his place. On the right side, Jonas Jennings, another rookie who had been playing well, suffered a high ankle sprain against the Jaguars in Buffalo's lone win of the season. He'll be replaced by John Carman, who was on the Bills practice squad a month ago. Inside, perennial Pro Bowler Ruben Brown mans the left guard spot while center Bill Conaty is a first-year starter and rookie Corey Hulsey starts in place of veteran Jerry Ostroski, who is still a week or so away after breaking his leg in the preseason.
All of that uncertainty has hampered the passing game greatly. Johnson is the team's second-leading rusher with more than 200 yards and that's a direct result of the poor protection.
Injuries had a dramatic impact on the Bills defense as well. Middle linebacker Sam Cowart tore his Achilles' tendon in the opener and is out for the season. He was to be counted on heavily as the Bills made the switch from the 3-4 to the 4-3 under first-year head coach Gregg Williams. Without Cowart, Williams turned to rookie Brandon Spoon and the youngster has performed adequately.
Buffalo rotates eight players up front but none has consistently provided much of a lift. Phil Hansen and Pat Williams are the biggest names among the group. Rookie Aaron Schobel is emerging from his right end spot after beating out second-year man Erik Flowers for the starting job at right end.
The secondary is improving with cornerbacks Antoine Winfield and rookie Nate Clements. Ken Irvin was starting earlier in the season but now comes off the bench as the nickel back. Keion Carpenter and Raion Hill start at safety.
All in all, the Buffalo defense has played well after a shaky start. Indianapolis toyed with the Bills in Week Two and again last week but the inexperienced group is making strides. Tom Brady will need to be especially careful when throwing against Winfield and Clements, both a pair of ball-hawkers out of Ohio State.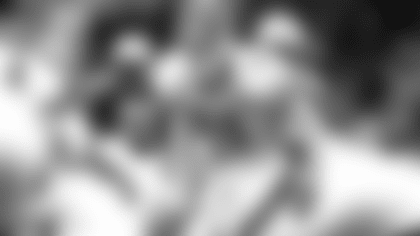 Johnson making strides for Bills
Rob Johnson may just be the most recognizable quarterback in the AFC East that New England is least familiar with.
Now in his fourth season in Buffalo, Johnson has attempted exactly three passes against the Patriots. Those throws came in the first quarter of the exciting Week 16 blizzard game in Buffalo last season. Johnson completed one for 4 yards before getting knocked out with a concussion.
The statistics are not earth shattering, but New England knows Johnson has the skills necessary to be a quality quarterback. The only Buffalo quarterback in team history with a higher completion percentage than Johnson is Jim Kelly. Johnson's 7.5 yards per pass attempt is the highest in team history, while his interception percentage coming into 2001 (2.24) was the lowest.
The Bills are not a very good team this season, but it's hard to fault Johnson. He has performed well both with his arm and legs. Through six games he completed more than 65 percent of his passes (103-of-157) and was second on the team with an impressive 217 rushing yards, just 110 behind feature back Travis Henry.
Johnson also had six interceptions through six games, but has been under constant pressure. In four of the six games he was sacked at least four times. In Week Four against the New York Jets he was sacked just once, but part of that was because he was knocked out of the game in the first quarter on a hit from linebacker Mo Lewis.
Johnson is capable of making all throws, but getting pressure on him could go a long way in helping New England beat the Bills. In Buffalo's only victory through Week Six, a 13-10 win over Jacksonville, Johnson was sacked just twice and he had no interceptions. In the five Buffalo losses, Johnson and Alex Van Pelt combined for seven interceptions while getting sacked 19 times.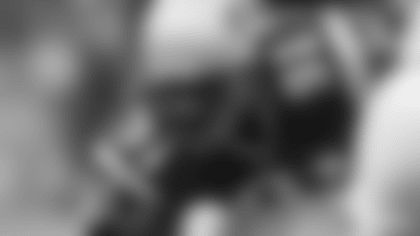 Eye on the Game: Bobby Hamilton
It's a common sight in the Patriots locker room to see Bobby Hamilton laughing and telling jokes with his teammates. He has no problem busting on a fellow Patriot and his easy-going nature lends to a relaxed atmosphere.
But don't let his easy smile fool you. Once game day rolls around, Hamilton is all business.
"I just try to get myself in the frame of mind where I am saying, 'Go out and get it done today. Don't leave anything for tomorrow,'" Hamilton said. "Once the game begins, it is simple. You just go out there and you hit them in the mouth. You keep going at them until that last whistle blows."
The approach has been very productive for Hamilton since he joined New England last season. A year ago he started all 16 games for the first time in seven seasons. Hardly the most heralded player on the team, he is among the most consistent. Last season he had 79 tackles to lead all defensive linemen in the league. Through his first four seasons he had 115 tackles combined. Through seven games this year he was again leading the linemen on the team with 26 tackles and was on pace to beat his total from 2000.
While blossoming as a full-time player for the Patriots and maintaining his steady play, Hamilton has been able to provide some pressure in the backfield this season. In his first five seasons he had seven sacks, with 4.5 coming in 1996. Less than halfway through this year he already had four, tops on the team.
"When it comes to game day, you have to be able to block everything out," Hamilton said. "On Sunday's we have to go out there and play hard for 60 minutes. There is plenty of time to relax when you are at home. You come to the stadium, and it is time to go to work."
It's a simple approach, and it's been working.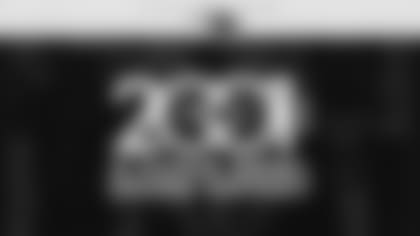 2001: A Super Bowl Sound Odyssey
An aural history of the 2001 Super Bowl champion New England Patriots. The six-part podcast features interviews with over 20 players, coaches, media members and others who were there to witness this historic season, mixed with the iconic sounds that detailed every dramatic twist and turn of an unforgettable season. Every memorable moment from the 2001 Patriots season is revisited with new-found perspective 20 years later. It's a fresh and thorough look back at the team that started a football dynasty.
Subscribe and Download Links:
Apple Podcasts
Google Podcasts
Spotify
Stitcher
RSS