The only time the Patriots beat the Jets since September of 1997 was the opening game of the 1999 season when they needed a last-second field goal to beat a New York team that was stunned when it lost quarterback Vinny Testaverde early in the game with a torn Achilles. Since then, it has been New York domination.
The reasons for seven losses in the last eight meetings are two-fold. First, there was the undeniable Bill Parcells factor that clearly had a mental impact on the Patriots after his departure from New England to coach the Jets, which he did for three seasons. But that doesn't discount the Curtis Martin factor. The former Patriots running back continues to be a force for the Jets and also leaves the Patriots second-guessing their decision not to tie him up to a long-term deal.
Since joining New York in 1998, Martin has rushed for 4,938 yards on 1,264 carries (3.9 yards per carry) with 32 touchdowns, including 212 attempts for an NFL-leading 983 yards (4.6 ypc) and 10 touchdowns in 10 games this year. He also led the NFL in first downs after Week 10 with 57. In that same span since 1998, the Patriots four different leading rushers have combined for 896 carries for 3,302 yards (3.7 ypc) with 28 touchdowns.
In his last two meetings against the Patriots Martin has 58 carries for 249 yards and four touchdowns.
New England's first priority must be to stop Martin and make Vinny Testaverde and the Jets inconsistent passing attack beat them. After Week 10, The Jets were ranked 29th in the league in passing with only 151 yards per game. Some of that is misleading because the offense relies on Martin so much that it doesn't ask Testaverde to win games very often.
Outside of Martin, the Jets have received their most offensive production from wide receiver Laveranues Coles, a first-round talent who the Jets picked up in the third round after some off-the-field troubles forced a draft day fall. Coles leads the team in receptions and yards and has half of the Jets receiving touchdowns (5).
Coles is not the only threat in the passing attack. Fullback Richie Anderson, tight end Anthony Becht and wideout Wayne Chrebet have 27, 26 and 25 catches, respectively, and Coles, the team leader, has just 35. So there is no one player to focus the attention on. While the Jets passing game hasn't been ultra productive, it does have balance and an array of options, especially with speedster Santana Moss healthy.
One would be remiss to talk about the Jets offense without focusing on the offensive line, which may have taken over the title of league's best from the Cowboys and Broncos. It's no coincidence that Denver's Tom Nalen was once one of the best centers in football for the line also holding top billing. Now the Jets own the best in center Kevin Mawae. He is a veteran Pro Bowl anchor in the middle of a strong group. Three of those linemen were Jets draftees with only Mawae and left guard Kerry Jenkins joining the club in free agency. Left tackle Jason Fabini was a fourth-round pick in 1998, right guard Randy Thomas was a second-rounder in 1999 and right tackle Ryan Young was a seventh-rounder the same year. Thomas may miss the Patriots game with a high ankle sprain and if he does, 1999 sixth-round pick J.P. Machado will step in.
Miami's Zach Thomas recently called the Jets line the best around, and he knows first-hand the impact that Mawae can have on a middle linebacker, as the Jets have owned Miami in recent years. Not only have the Jets run for 1,341 yards in 10 games (134 per game), but the line also has protected Testaverde, who has been sacked just 12 times all season.
Early on, the Jets seemed to be getting it done with smoke and mirrors, but they have come on strong while catching teams at the right time.
Martin makes the offense go, but it is the defense that has been winning games for New York. Check the matchups to find out why.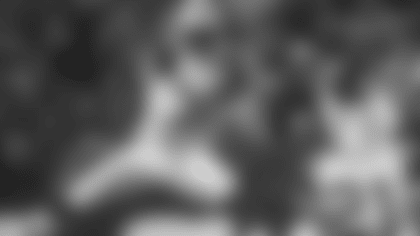 This Glenn will make an impact
For various reasons, there are just some teams that players always seem to play well against. Such is the case for cornerback Aaron Glenn when he goes against the Patriots.
The speedy Glenn is among the top cover men in the league. A two-time Pro Bowler, he has long been a thorn in New England's side. He has killed a potential scoring drive with an interception when the Patriots have dared to throw in his direction more than once.
The biggest pick of Glenn's career came in 1998 against the Patriots. With New England leading 14-10 in the second half, the Patriots had driven from their own 4-yard line to the Jets 13 before a false start pushed them back to the 18 and set up a third-and-11. Drew Bledsoe tried to hit Shawn Jefferson in the end zone for what could have been a game-clinching touchdown, but Glenn intercepted the ball and New York scored a touchdown on the ensuing possession. The play spurred the Jets to a streak during which they won 10 of their next 11 games en route to a 12-4 finish and a division crown.
In Week Two this season Glenn picked off Bledsoe at the Jets 3-yard line on a bomb down the right sideline. It was the third interception of his career against the Patriots. Through 10 games he had five interceptions, giving him 24 over his eight-year career.
Big plays are a part of Glenn's repertoire. In 1998 he returned a missed Mike Vanderjagt field goal 104 yards for a touchdown, the longest play in Jets history. He also has a 100-yard interception return and a 96-yard kick return for a score to his credit.
Glenn is the type of corner with the ability to shut down just about any receiver in the game. New England would be well advised to avoid testing him.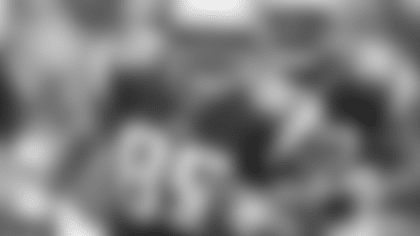 Eye on the Game: Jermaine Wiggins
The key to getting ready for game day, according to tight end Jermaine Wiggins, is trying to treat it like any other day of the week.
There is nothing special needed to pass the time until kickoff. Wiggins just wants a consistent schedule.
"I'm not one of those big rah-rah kind of people," Wiggins said. "I just love playing the game, and I try to enjoy what I do. The way I act on game day is not really any change from the way I am any other day. I am asked to get myself prepared, and when I get here, I make sure I am ready to go."
In his low-key approach, Wiggins likes to take the field early for a game of catch with the quarterbacks. He stretches a bit and then runs a variety of pass routes to get his blood and rhythm flowing before kickoff. After that he just tries to pass the time until live action comes.
Much like Wiggins approach on game day, the tight end position hasn't exactly made a lot of noise for the Patriots this season. Wiggins and Rod Rutledge have combined for 12 catches for 86 yards through Week 10, but Wiggins has made the most of his eight catches. Three of them went for touchdowns.
In his short career, Wiggins has shown a knack for stepping up on the big stage. Both of his career touchdowns coming into this season came on Monday Night Football, including one in his Patriots debut. That night he had five catches for 41 yards in a win over Kansas City.
While the Jets game won't be a Monday night show, it will be somewhat of a big game for Wiggins. It is his second game against his former team, which waived him late last season in an effort to get him onto the practice squad. Wiggins didn't like the move and would certainly like to prove they made a mistake in letting him go.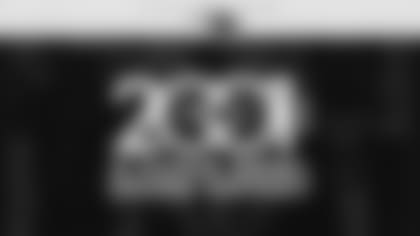 2001: A Super Bowl Sound Odyssey
An aural history of the 2001 Super Bowl champion New England Patriots. The six-part podcast features interviews with over 20 players, coaches, media members and others who were there to witness this historic season, mixed with the iconic sounds that detailed every dramatic twist and turn of an unforgettable season. Every memorable moment from the 2001 Patriots season is revisited with new-found perspective 20 years later. It's a fresh and thorough look back at the team that started a football dynasty.
Subscribe and Download Links:
Apple Podcasts
Google Podcasts
Spotify
Stitcher
RSS