A couple of weeks ago, the Patriots traveled to Denver to take on the up-and-down Broncos. That game lived up to its billing with Denver alternating periods of solid play with utter ineptitude.
Now the Patriots prepare to take on the New Orleans Saints in their last of three straight home games at Foxboro Stadium. The Saints have been so inconsistent this season they put Denver in the death and taxes category when it comes to things we can rely on.
So what can we expect on Sunday? Good question. Will the Patriots see the promising version of quarterback Aaron Brooks — the one who posted a passer rating of 144.1 in a come-from-behind win over the Colts — or will they see the mistake-prone youngster who stumbled his way through a loss to the Jets in prime time on Nov. 4?
Judging from his numbers for the season, New England can likely expect something closer to the latter. Brooks has had more clunkers than the stellar outings he showed last season when he replaced the injured Jeff Blake and led the Saints into the playoffs, winning the franchise's first-ever postseason game. He's completing just 54 percent of his passes and has been sacked 28 times, a rather high number given his mobility and quality offensive line.
But the Saints offensive inconsistencies aren't all Brooks' fault. New Orleans has a solid running game, featuring the talented Ricky Williams, but the receiving corps is much like the Patriots: no depth.
Joe Horn and Willie Jackson are the top targets and are capable receivers, but free agent signee Albert Connell has been a major bust and tight end Cam Cleeland is perpetually injured. Cleeland will be questionable for the Patriots game with a high ankle sprain after sitting out the previous three. If he's unable to go, that will mean he's missed 27 of the Saints last 44 games. 
Cleeland's absence is especially noticeable in the red zone, where the Saints are among the league's worst in touchdown production. Despite having an offense ranked in the top 10 statistically, New Orleans had just 10 touchdowns in 30 red-zone trips before last week's 4-for-4 effort.
Without Cleeland as an option, Brooks has only Horn, Jackson and Williams out of the backfield as options. In other words, they are very easy to defend from in close.
The few touchdowns the Saints do get from inside the 20 come from Williams, who is a tough-nosed, straight-ahead runner. He works well behind his talented offensive line, which remained in tact for 22 straight games before left guard Wally Williams missed a start earlier this season. The unit is led by tackles William Roaf, who sprained his right knee last week, and Kyle Turley, both of whom are Pro Bowl talents. Turley actually was named a unanimous All-Pro last season despite not making the Pro Bowl team. Williams averages more than 4 yards per carry with four touchdowns as the focal point of the offense.
The defense doesn't rank as high statistically as the offense, but it's a pretty effective unit. Similar to the offense, the line is outstanding. La'Roi Glover and Norman Hand are tough inside while Joe Johnson and Darren Howard man the ends. Howard moves inside on passing downs to replace Hand while middle linebacker Charlie Clemons plays the buck end position. That group creates plenty of pressure without having to blitz, allowing the secondary to play mostly cover-2.
Fred Thomas and Kevin Mathis are small cornerbacks but both are enjoying fine seasons. Strong safety Sammy Knight is putting together a Pro Bowl season with five interceptions, four fumble recoveries, a sack and a forced fumble.
The Patriots will need to stay out of obvious passing situations where the Saints can come after Tom Brady (or Drew Bledsoe). Look for a lot of three- and five-step drops with quick releases to alleviate the pressure. If not, the Saints will make it a long day for the whoever plays quarterback.
Brooks looking for consistency
It's easy to see why the New Orleans Saints like Aaron Brooks. He's a multi-faceted, young quarterback who has already performed admirably in clutch situations.
Consider what Brooks pulled off last season when then-starter Jeff Blake went down in the 10th game with a broken and dislocated foot. He stepped in and guided New Orleans to three victories down the stretch and then knocked off the defending Super Bowl champion St. Louis Rams in the first round of the playoffs.
It wasn't just that Brooks was successful, but how he got it done. In his first start, which came against the Rams, he completed 17-of-29 for just 190 yards, but he ran for two touchdowns in a 31-24 win.
The following week was a 38-23 loss to Denver, but Brooks proved he could throw the ball by completing 30-of-48 (62.5 percent) for a franchise record 441 yards. A week later, he was back to the run, rushing 11 times for 108 yards in a 31-27 win over San Francisco. In a two-week span he became the Saints single-game passing record holder and the first quarterback in franchise history to gain 100 rushing yards in a game. 
Brooks' problem is a common one for young quarterbacks: consistency. He has yet to prove himself as a consistent passer. After completing 55 percent or better in six of his eight games last year, Brooks had done so just four times through eight games this season.
In back-to-back victories against Minnesota and Carolina, Brooks actually struggled to the tune of 19-of-70 passing for 390 yards, two touchdowns and two interceptions. His saving grace in those games was that Ricky Williams ran 61 times for 283 yards and two touchdowns.
In fact, the Patriots probably want New Orleans to rely on Brooks' arm. Three of his four highest yardage totals, including his top two, have come in losses.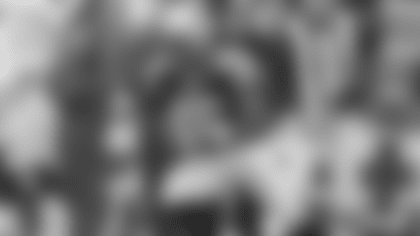 Eye on the Game: Otis Smith
Because he is the consummate professional who treats his job as more of a duty than a game, it's not surprising that cornerback Otis Smith takes a low key approach to getting ready for kickoff.
Now in his 12th NFL season, Smith prides himself on providing the Patriots with a consistent performance every day he is at the stadium. He is emotionally steady, a guy who doesn't get too excited when times are good or too down when a rough stretch hits.
For Smith, maintaining a steady schedule on the morning of a game is key.
"I like to have my quiet mornings," Smith said. "That's the way I prepare myself to go out there and play. I want an easy, quiet morning so I can make sure I have a total concentration on what it will take for me to get my job done that day."
Keeping that focus has made Smith a very productive player throughout his career. Originally a rookie free agent with Philadelphia, Smith has used his knowledge of the game and workman-like attitude to make the most of his career.
Even though he is the oldest player on the New England roster, Smith's physical and mental preparation allow him to keep up with the youngsters. He was a starter with the New York Jets in 1995, but it wasn't until three years later he started for a full season. 
"I know this system and I understand the role I play in it," Smith said. "If you want to be a successful player, you have to prepare to do what is asked of you. This defense works when each role is filled."
With his no-nonsense approach, Smith again is quietly putting together a solid season. Through nine games he led the team in interceptions with three and passes defensed with seven. He gives the same type of effort day in and day out, which is a trait coaches love.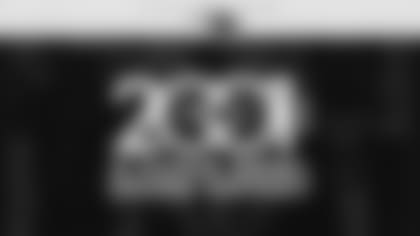 2001: A Super Bowl Sound Odyssey
An aural history of the 2001 Super Bowl champion New England Patriots. The six-part podcast features interviews with over 20 players, coaches, media members and others who were there to witness this historic season, mixed with the iconic sounds that detailed every dramatic twist and turn of an unforgettable season. Every memorable moment from the 2001 Patriots season is revisited with new-found perspective 20 years later. It's a fresh and thorough look back at the team that started a football dynasty.
Subscribe and Download Links:
Apple Podcasts
Google Podcasts
Spotify
Stitcher
RSS