So much for the new-and-improved Patriots. After rolling to its first victory of the season over Indianapolis in Week Three, New England crashed hard to earth after being throttled by the Miami Dolphins 30-10. The Patriots were outclassed in all areas — offense, defense and special teams and were blown out for one of the few times in the Bill Belichick area.
"We got our butts kicked today," said Belichick in what may have been an understatement. "Miami played a really good football game. We gave away a lot of points. I thought they ran the ball well, made some big plays in the kicking game and their defense stifled us."
All of the above was true, and there was nothing that backup quarterback Tom Brady — or any other quarterback — could do about it. Brady sensed earlier in the week that perhaps his team wasn't ready for the Dolphins based on its performance in practice and he talked with safety Lawyer Milloy about the subject following the game.
"You can't practice poorly on Wednesday, Thursday and Friday and expect to go out there and play well on Sunday," Brady said. "When you miss plays on Wednesdays you can't just think you can make it the next day. When you're missing plays in practice you shouldn't wonder why you're missing them in games."
Milloy showed faith in the young quarterback by calling him a leader and saying Brady has the right to speak up whenever he doesn't feel things are running properly.
"He's an honorary captain because of the position he plays alone," Milloy said. "He told me this started on Wednesday at practice and that was the reason we lost this game. I told him that if he sees something wrong he has to stop it. He doesn't have to tell me. We'll rally around him."
The Dolphins used their patented patient ground attack and mauled the Patriots at the line of scrimmage. Lamar Smith, after being limited to 40 carries for 68 yards in two meetings against the Patriots last season, rolled to 144 yards on 29 carries (5.0-yard average) and a touchdown.
Smith ran through gaping holes in the New England front, oftentimes making his way well into the secondary before a defender surfaced to make the stop. And on the rare occasions Miami was put in passing situations on third down, their quarterback, Jay Fiedler, made enough plays with his arm and legs to keep drives alive. Although he completed just 11-of-21 passes for 87 yards, most of them came when his team needed a play to hold onto the ball.
"They got it going in all three phases of the game," rookie nose tackle Richard Seymour said. "Once it started to snowball it became very hard to stop. We didn't seem to play with a whole lot of energy."
More accurately, the Dolphins took away most of the Patriots energy. After opening the game with a gift touchdown, the Patriots offense was anemic against a Dolphins defensive unit that played with a purpose after being embarrassed at St. Louis the previous week. New England finished with a pathetic 149 total yards, including 69 net yards passing.
"That was a pretty poor performance by all of us," said Brady, who finished 12-for-24 for 86 yards. "We didn't execute very well. We knew what they were going to do, we just didn't get it done."
For Brady it was a far cry from his debut against Indy, when he was quietly efficient as the offense took advantage of turnovers and racked up 44 points. The Patriots rushed for 177 yards in that game and nobody expected them to duplicate that feat against the much more formidable Dolphins defense. But Miami totally suffocated New England into a vast array of mistakes and shut the Patriots down.
The game started out like a continuation of the Colts win as the Patriots forced a Miami turnover on the Dolphins first play from scrimmage. After the Patriots opened the game with a punt, Miami took over on its own 20. Fiedler tried to dump a short pass to a well-covered Oronde Gadsden but linebacker Mike Vrabel made an outstanding play, leaping in the air to deflect the pass with one hand and holding onto it when he came down. He returned his interception 15 yards to the Dolphins 10, setting up Antowain Smith's 9-yard touchdown run for an early 7-0 lead.
But the Dolphins responded immediately with a long, time-consuming drive that seemed to take away the Patriots spirit on both sides of the ball. Smith was the workhorse on the march and when he finished it with a touchdown run to tie the game at 7, Miami seemed to be in control.
If the Dolphins weren't in charge at that point they would be after the teams traded punts. Miami took advantage of a Patriots mistake made by one of their most unlikely candidates — Troy Brown. His muffed punt gave the Dolphins possession at the Patriots 9 and Miami took the lead on the first of three Olindo Mare field goals.
Although the Patriots were able to tie the game at 10 with their only sustained drive of the game, Miami was never in trouble again. The Dolphins closed the half with an effective two-minute drill and took the lead on a Fiedler-to-Jed Weaver touchdown pass with just six seconds left in the half.
The second half was men against boys. Smith romped over the Patriots throughout the third quarter, picking up yardage in sizeable chunks. He carried seven times for 44 yards on the Dolphins opening second half possession, as Miami opened some breathing room with another Mare field goal.
Trailing 20-10 late in the third and with Brady unable to connect with any of his receivers downfield, the Patriots offense faced the daunting task of moving away from its goal line after Matt Turk's punt was downed at the 3. Brady actually hit David Patten for 10 yards and a first down, but two plays later the rout was on.
Brady and center Damien Woody failed to connect on a snap and when guard Grey Ruegamer inadvertently kicked the loose ball toward the goal line, Jason Taylor scooped it up and ran 1 yard for the touchdown.
"When you get turnovers and put yourself in a hole down multiple scores, you become one-dimensional," Woody said. "Early on I thought we actually ran the ball OK, but once you fall behind you have to start throwing and that's not how we want to play on offense."
"The offense just broke down," Belichick added. "We need to learn from some of these mistakes. More importantly, we need to refocus and re-energize ourselves for us to play a more efficient game. We can't be donors out there; we've got to make them work."
With the Dolphins now in total command, Brady was helpless against Miami's quick and explosive defense. While Antowain Smith's running was able to set up manageable third down situations against the Colts, those third-and-threes turned into third-and-sevens against Miami. Trailing by 17, Brady was forced to throw almost exclusively and the results were predictably awful.
He was sacked four times and lost a fumble while managing a long pass of just 15 yards. Four of his completions (for 38 yards) came on the Patriots last drive, which was major garbage time at that point. Fittingly, the Patriots final play saw Brady lose the ball after a Daryl Gardener sack.
"We need to keep teams off balance by attacking them with screens, draws, inside handoffs and plays like that," Brady said. "It's too hard to come back against a good team like that on the road. I'm a pretty even-tempered guy and I hate to lose. I take a lot of pride in my game and we can't come out and perform like this."
The Patriots will face another angry team next week when San Diego comes to town fresh off its first defeat of the season. The Chargers defense may not get the notoriety of Miami's, but they'll provide just as stiff a test. Brady said it's not too early to look ahead.
"I'm already focused on [being] 2-3 right now," he said. "We can't think about being 3-3 or anything else until we get to 2-3."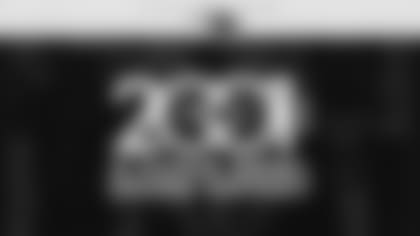 2001: A Super Bowl Sound Odyssey
An aural history of the 2001 Super Bowl champion New England Patriots. The six-part podcast features interviews with over 20 players, coaches, media members and others who were there to witness this historic season, mixed with the iconic sounds that detailed every dramatic twist and turn of an unforgettable season. Every memorable moment from the 2001 Patriots season is revisited with new-found perspective 20 years later. It's a fresh and thorough look back at the team that started a football dynasty.
Subscribe and Download Links:
Apple Podcasts
Google Podcasts
Spotify
Stitcher
RSS