If the Patriots haven't yet hit rock bottom, they came pretty close in a 10-3 loss to the New York Jets in the home opener.
Instead of looking recharged from a two-week layoff, the Patriots looked careless and rusty. New England had four turnovers, including two in the red zone. Drew Bledsoe struggled, completing just 18-of-28 passes for a dismal 159 yards before he was knocked out of the game due to a hard hit. The defense came up with no turnovers, and despite holding the Jets to 10 points, could not come up with any stops on two lengthy scoring drives.
Head Coach Bill Belichick felt his team deserved a better fate, but mistakes, both mental and physical, haunted the Patriots all night. His defense held New York to just 238 total yards, but two bad drives resulted in all 10 points for the Jets. New England held Vinny Testaverde to just 137 passing yards, but allowed nemesis Curtis Martin to run through holes all night long. The former Patriot ran 24 times for 106 yards and the game's lone touchdown.
Bledsoe has taken numerous hits over the last few years, but on a night when he was sacked just once, he was knocked out of the game by the Jets Mo Lewis. Running for a first down midway through the fourth quarter, Bledsoe was stopped 2 yards short by a hard shot from Lewis along the sideline at the New England 27. Though Bledsoe came out for the next offensive series, he wasn't right, and Belichick took him out of the game for the final drive.
"He said he was OK, and I thought he was OK, but he really wasn't," Belichick said. "I shouldn't have put him back in there. I think he was a little woozy even though he was still coherent."
Second-year backup Tom Brady was summoned for easily his most important duty as a professional. Starting from his own 30, he moved New England to the Jets 29 with 14 seconds left. In those final seconds he got off three attempts for the end zone. The first was batted at the line, and the final pair were knocked away by the defense.
"You have to be aware of the situation, and obviously I knew we needed to get a touchdown to tie the game," said Brady, who finished 5-of-10 for 46 yards. "It was close. Everyone was out there fighting as hard as they could until the end. Games come down to one or two plays. Hopefully we are not in those positions anymore where we have to win them on the last play. We'd like to be on the other side of the ball there."
Brady said Bledsoe wanted to be back on the field, but the starter provided encouragement for the youngster.
"He just told me to go out there and lead the team," Brady said. "Drew is such a fighter, and sometimes he is trying to make the first down, but those other guys are running fast, and they are big guys. He got hit as hard as I think I've ever seen anyone get hit. That's the role of the backup quarterback. You've got to be ready whenever."
New England shot itself in the foot on both sides of the ball throughout the second half. Three possessions ended in turnovers on New York's side of the field. Bledsoe, who was picked twice in the game, had an awful throw into the end zone intercepted by James Farrior in the fourth quarter. The play was intended for Charles Johnson, but he was the only Patriot among the five players in the area.
"We had four turnovers, and really all four of them were in the scoring area," Belichick said. "Those were opportunities to score points, and we didn't get anything out of any of them. You can't win without points in this league."
On the first possession of the second half, Bledsoe orchestrated a drive from his own 17 to the New York 7 that took up nearly half the third quarter. For the first time in the game, he passed effectively, completing all seven of his throws for 55 yards.
A 3-yard pass to Troy Brown set up second-and-seven from the 10-yard line. On second down Marc Edwards ran up the middle for 3 yards before being stripped by James Darling. The ball was recovered by Jets nose tackle Steve Martin.
New York produced the game's lone touchdown off the turnover in a 12-play, 93-yard drive capped off by an 8-yard touchdown run by Martin.
"It's a minimum 10-point swing on that play," said Edwards, who also fumbled later in the half. "We could have gotten a field goal on that drive minimum, maybe even a touchdown. Four turnovers, and all of them were on their side of the field. All of them were down there where we could have potentially scored. We didn't get any turnovers, and when that happens, you aren't going to win many games."
On offense, New England actually showed some signs of a ground attack early on. The Patriots second drive of the game was a 15-play, 64-yard march that resulted in a 24-yard Adam Vinatieri field goal. The encouraging part was that 62 of the yards were picked up by the committee of running backs. In a sign of things to come, a delay of game penalty ended the drive as the Patriots were lining up for a fourth-and-goal from the 1-yard line.
The running back committee finished with 26 carries for 107 yards, but had just 34 yards after halftime. Fullback Edwards, the team's best inside runner, had six carries for 31 yards, but his two fumbles proved extremely costly.
Still, the Jets faced a long journey to their end zone after Edwards' first turnover. A poor defensive effort allowed the long drive, which proved to be the difference in the game. A pair of plays keyed the scoring drive. The first was a third-and-seven on which Vinny Testaverde hit Kevin Swayne for a 16-yard gain in front of cornerback Leonard Myers. New England held New York to just 4-of-14 on third downs, but Swayne's first career reception was a killer.
Later in the drive, Testaverde hit Richie Anderson for a 3-yard pass that would have set up another third-and-seven at the Patriots' 34-yard line. Instead, Tedy Bruschi was whistled for a 15-yard unnecessary roughness penalty, giving New York a first down at the 19-yard line. Martin scored three plays later.
"We had too many mistakes," Belichick said. "Too many good things were negated by the mistakes. We've got to use better judgement. They were costly. It was a lot of penalty yardage that came at key times, and we can't give away yards like that."
For the game New England was tagged with nine penalties for 85 yards. Bruschi, Lawyer Milloy and Matt Stevens all were called for unnecessary roughness infractions.
"We have to minimize mistakes," cornerback Ty Law said. "We had a couple late-hit penalties that cost us, and that's an act of aggression. You can't be too mad at anybody for wanting to be a bit aggressive. Sometimes you get things like that, or you get interference or holding."
Law did not think the team got down on itself, despite giving up a pair of long scoring drives. The problem was execution in his eyes.
"The attitude that we had was great," Law said. "We did everything we wanted to do attitude-wise, we just didn't make the plays that we wanted to make. We had too many mistakes both offensively and defensively, and that cost us."
Belichick was disappointed with the loss, but not the effort.
"We've just got to play a little better," Belichick said. "There were some positive things out there, but it wasn't enough in a tight game. We just made too many mistakes."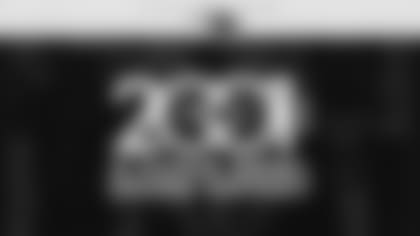 2001: A Super Bowl Sound Odyssey
An aural history of the 2001 Super Bowl champion New England Patriots. The six-part podcast features interviews with over 20 players, coaches, media members and others who were there to witness this historic season, mixed with the iconic sounds that detailed every dramatic twist and turn of an unforgettable season. Every memorable moment from the 2001 Patriots season is revisited with new-found perspective 20 years later. It's a fresh and thorough look back at the team that started a football dynasty.
Subscribe and Download Links:
Apple Podcasts
Google Podcasts
Spotify
Stitcher
RSS