It's rare in this day and age when an athlete agrees to actually take less money, but that's exactly what Ted Johnson did. The Patriots middle linebacker signed a five-year, $25 million contract before the 1999 season, but suffered through three straight injury-plagued seasons and, as a result, hasn't produced to the level of that deal.
Consequently the Patriots went to Johnson and his agent, Jack Mills, asking the seventh-year veteran to give the team a little salary cap relief and Johnson obliged, lowering his cap number by more than $2 million. The deal, which will put Johnson's cap number near $4 million this season (down from the $6.2 million he was originally slated for), is not a restructuring but rather a pay cut. The pact, as originally written, runs through the 2003 season and will help allow the Patriots to sign their 10 draft picks.
"The deal has not been signed but it's been agreed to," Mills said on May 31. "The Patriots made no threat of releasing Ted, but any time a team comes to you with a proposal like this, there's always an implied threat there. The last thing any player wants is to be out on the market on June 1. When that happens, it's very difficult for any player, no matter how talented, to get much more than the veteran minimum."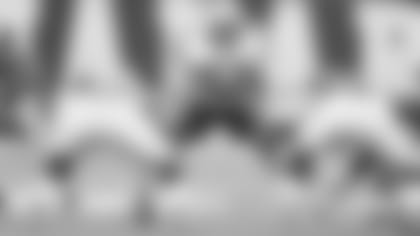 Johnson's pay cut will only affect his deal this season and does not change the remaining years of the contract. Mills added that Johnson was accommodating in the process because "under the circumstances of his past injury problems, he thought it was appropriate."
Johnson has missed 17 games in the last three seasons, 14 with torn biceps muscles in each arm in 1998 and '99, and three more last year with a hamstring problem. When he's been healthy, Johnson has performed well in his role as a run-stopping linebacker.
The move helped pave the way for the Patriots to add some depth to their wide receiver corps. Former Philadelphia wideouts Charles Johnson and Torrance Small signed free agent deals on May 31, just a day after Johnson's pay cut was revealed.
Johnson, 29, is considered the more talented of the two. The 6-0, 200-pounder was Pittsburgh's first-round pick (17th overall) in 1994 and averaged 48 catches for 636 yards and three touchdowns in seven seasons, the first five with the Steelers. Last year, he was second on the Eagles behind Pro Bowl tight end Chad Lewis with 56 catches for 642 yards (13.2 yards per catch) and matched his career high with seven touchdowns.
"Charles felt very comfortable on his visit to New England," Johnson's agent Joel Segal said. "They have a solid organization and an established star quarterback in Drew Bledsoe."
Johnson came to Foxborough for a workout on May 30 and stayed in town overnight before agreeing to terms the next day. His deal is a two-year pact that could be worth as much as $3.3 million with incentives and includes a $200,000 signing bonus.
The former Colorado Buffaloes was released by the Eagles because his high salary cap number (reportedly in the $3.5 million range) made him expendable, particularly after Philadelphia chose former UCLA star wideout Freddie Mitchell with its first-round pick.
Small, who turns 31 in September, is a bigger target at 6-3, 209 pounds but lacks Johnson's speed and is more suited for the slot position. The nine-year veteran averaged 38 catches for 508 yards and more than three touchdowns a year in nine seasons playing for New Orleans (1992-96), St. Louis (1997), Indianapolis (1998) and the Eagles. Last season he caught 40 balls for 569 yards (14.2 yards per catch) and added three touchdowns.
Small also was in town on May 30 to workout for the Patriots coaches and signed a one-year deal the next day that could be worth up to $1.2 million with incentives. Like Johnson, Small cited Bledsoe as a major factor in his signing with the Patriots while adding the presence of a grass field as another.
"The overall situation is an appealing one," Small's agent Rich DeLuca said. "Torrance has been playing the last nine years on some bad surfaces, being in Philadelphia, Indianapolis, St. Louis and New Orleans, so the grass was a big consideration. They also have a very good quarterback. Right there [the Patriots] were 2-for-2."
Both Johnson and Small were starters for the Eagles last season, who made the playoffs for the first time since 1997 behind second-year quarterback Donovan McNabb. They join fellow free agent acquisitions Bert Emanuel and David Patten, as well as last year's starters Terry Glenn and Troy Brown as the leading receiver candidates heading into camp.
The signings lead one to speculate about Glenn's future as a Patriot after the talented but enigmatic wideout was arrested on charges of domestic violence on May 15. Although the team has yet to make a public decision regarding his future, it's possible the bolstering of the receiving corps is an indication his days in New England may be numbered.
Glenn has a pre-trial hearing set for July 17, just days before veterans are expected to report to training camp. The Patriots could opt to wait for him to have his day in court before rushing to judgement on their only legitimate deep threat.
Either way, Johnson and Small will improve the Patriots offense. Provided that Glenn remains a Patriot and starts as the lead wideout, Brown could either stay as the No. 2 guy or move back to his role as a dangerous third-down receiver from the slot while Johnson replaces him in the starting lineup.
That leaves Small, Emanuel, Patten and fourth-year man Tony Simmons to battle it out for the remaining roster spots. That group represents a major upgrade over last year's backups that included Shockmain Davis, Curtis Jackson and Dane Looker, who all now face long odds to reclaim their jobs.