It doesn't seem like long ago that the Patriots had a stellar and deep linebacking corps that made it a strength of the team. Those were the days when Ted Johnson was teetering on stardom, Chris Slade was a feared pass rusher and a Pro Bowler and Tedy Bruschi and Todd Collins fought it out for playing time.
Today, things have changed. Slade was released during the offseason. Johnson just accepted a pay cut after three straight seasons in which injuries sidelined him for portions of the season. Collins left as a free agent and won a Super Bowl in St. Louis. Bruschi signed a two-year contract worth about $1.5 million per year and earned every penny in Year One in 2000 while playing almost all of the team's defensive and special teams snaps.
It seemed like the club was setting itself up to maintain its linebacker depth when it used a first-round pick to draft Andy Katzenmoyer to replace the departed Collins, but he too has had some injury problems that have hampered his development and likely his confidence.
Dissatisfied with his lot of 'backers, Belichick signed two free agents whom he hopes can provide a positive impact. He grabbed special teams stalwart Larry Izzo away from the Dolphins and former Steeler rush specialist Mike Vrabel.
At 5-10, 228 pounds, Izzo is undersized to be an every down middle linebacker, but he will replace the departed Larry Whigham as the special teams leader while providing veteran depth and could be a factor in subpackages. He also provides an experienced short-term replacement in the middle if Johnson again gets bitten by the injury bug. In five seasons in Miami, Izzo did not start a game, but played in 61 of 64 contests. He spent the entire 1997 season on injured reserve with a torn Achilles. In 1999, he led the Dolphins with 33 special teams tackles.
The bigger signing from strictly a defensive standpoint was Vrabel. The fifth-year veteran spent his first four seasons as a reserve and situational player for the Steelers, but now will vie for the starting strongside linebacker job last held by Slade. The Ohio State product was a defensive end in college and lined up down at times during his Steeler career. He never played a full 16 game season for Pittsburgh mostly due to an ankle injury and a fractured arm. Like Izzo, he has never started an NFL game.
But if Vrabel is to nail down the starting job on the strong side, he will have to prove capable of covering a tight end. It was Slade's inability to do that consistently that contributed to the difficult decision to part ways with the eight-year Patriot.
In fact, the linebacking corps struggled as a group when it came to coverage last year, mostly due to a lack of speed. A healthy Katzenmoyer may help out in that area. 
Beyond who will man the strong side and whether it will be manned effectively, the biggest question involves Johnson's return to form. 
He was on the verge of stardom when he suffered his first torn biceps 13 games into the 1998 season. He then tore the other biceps in training camp the next year, limiting him to just five games. Then last year, he missed virtually all of training camp with a strained hamstring injury that hampered him all season and kept him out of a three-game stretch in weeks 10-12.
His absence for stretches has obviously impacted his overall performance and his confidence. But from 1996 through the 13 games he played in 1998, Johnson racked up 384 tackles. He even amassed 59 in five games after returning in 1999. Last year, in 13 games and 11 starts, Johnson managed only 73 tackles. Heading into 2001 after a healthy offseason and no surgeries to recover from, Johnson should be expected to return to top form and if he does, the run defense gets a serious boost.
It will be interesting to see how the uncertainty in the middle of the defensive line affects Johnson's production. Without a proven nose tackle to occupy blockers, Johnson may have to fight off more blocks himself in order to be productive. Still, if healthy from start to finish, expect a solid season from the Patriots middle linebacker.
Bruschi, on the other hand, has been durable despite a workload that would wear down just about anybody. He took over the starting weakside linebacker job for the final seven games of 1998 and other than two games missed with an injury in October of 1999, he has been there ever since. He started his last 37 games and averaged more than eight tackles per game during that time while maintaining a major role on special teams. Bruschi may not be a Pro Bowl caliber player, but he is a consistent presence who brings an attitude to the game. Last year alone, he played more than 1,000 defensive plays and half of the special teams snaps.
Katzenmoyer should compete for playing time and should be on the field in nickel situations where his speed can be utilized. He is coming off neck surgery, but is apparently 100 percent and ready to go. 
This is a big year for the former Ohio State star. He needs to perform well early to help his confidence and get his killer instinct back. He was thrown into the fire as a rookie in 1999 and last year was hampered by the neck injury before calling it a season. 
The rest of the linebacking hopefuls will battle for one or two spots on the roster and will have to show exceptional special teams skills to win a job.
The most intriguing prospect might be seventh-round draft pick T.J. Turner, who has tremendous talent and athleticism, but must prove he's up to the task mentally. In college he tended to lose his focus at times, which hurt his draft stock.
Rob Holmberg is an eighth-year veteran who simply goes about his business quietly, but does a solid job on special teams while serving as a reserve linebacker. He had 20 tackles last year defensively while adding eight stops on special teams.
Matt Chatham, Antico Dalton, Yubrenal Isabelle and Maugaula Tuitele will have to have a strong camp to beat out one of the veterans on the roster. Don't be surprised if the team adds another free agent here.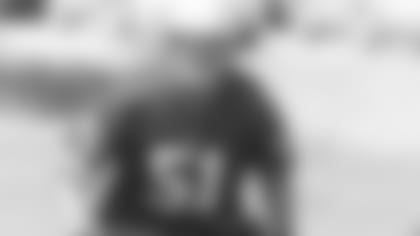 (2) Tedy Bruschi, Ted Johnson
(5) Matt Chatham, Antico Dalton, Rob Holmberg, Andy Katzenmoyer, Maugaula Tuitele
(4) Yubrenal Isabelle (R), Larry Izzo (UFA-Miami), T.J. Turner (R), Mike Vrabel (UFA-Pittsburgh)
(3) Olrick Johnson, Mark Megna, Chris Slade
Patriots linebackers combined to force only two fumbles while recovering just three. They did not have an interception and only managed 5.5 sacks.
Can Mike Vrabel cover well enough to play the strong side?
Ted Johnson and Andy Katzenmoyer must have healthy, productive seasons for this defense to perform well.
Tedy Bruschi played 94 percent of the defensive plays and 50 percent of the special teams snaps in 2000.
Tedy Bruschi - WLB
Ted Johnson - MLB
Mike Vrabel - SLB