In order for any team to be successful, the big-money players have to perform as well as they get paid. The Patriots have given lengthy, expensive contracts to eight playmakers in recent years. Drew Bledsoe, Chris Slade, Willie McGinest, Ted Johnson, Ty Law, Troy Brown, Lawyer Milloy and Terry Glenn were major factors in the Patriots reaching the Super Bowl in 1996 and making the playoffs from 1996-98, the first three-year postseason stretch in team history.
With that group of players, there has been a nucleus of talent and experience for the Patriots to lean on. When the above players received their big pay days, they also faced raised expectations. All players around the league in similar situations face increased scrutiny, and in many cases, the results are perceived as less than satisfactory. Do big contracts have a negative impact on a player's production?
"I don't think there's really one rule of thumb there," Head Coach Bill Belichick said. "I think a big part of it is expectations. Anytime, whether it's a draft choice or a contract or whatever the hype and circumstances are, if the expectations are at a high level, there's really only one thing that can happen, and that's disappointment. Very few players are going to out-perform those kinds of expectations. It's not that a guy is taken in the first round or whatever; sometimes it's just overblown expectations. I don't think [the money] is the reason he doesn't live up to those expectations."
While the expectations can reach unfair levels, it is still vital for players to produce at least in relative terms to how they are being paid. That holds true for every player on the roster.
"You need everyone to play up to the level of your investment in them," Belichick said. "The last two years it's been the same with almost $15 million of dead money on our salary cap. Then you're playing with less than everyone else is playing with."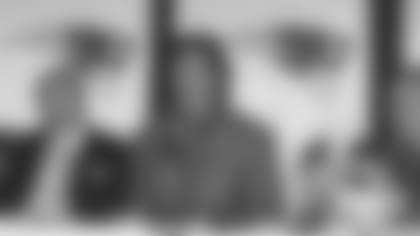 The first huge deal in the nucleus went to Bledsoe, who got a seven-year, $42 million extension on July 10, 1995. It came after Bledsoe made his first Pro Bowl, set single-season franchise records in pass attempts (691), completions (400) and passing yards (4,555), and led the team to the postseason for the first time in eight seasons. 
In six seasons since signing the contract, Bledsoe has gone to two more Pro Bowls and New England has gone to the postseason three times, including one trip to the Super Bowl. After averaging 3,524 passing yards, 20 touchdown passes and 21 interceptions in his two seasons before the deal, Bledsoe averaged 3,700 passing yards, 21 touchdown passes and 16 interceptions per season since, and only Green Bay's Brett Favre has quarterbacked more games.
Slade was next, when he re-signed with New England for five years and $12.75 million on Feb. 5, 1997. Prior to the deal Slade was a pass rushing threat, posting 29.5 sacks in four seasons. That continued the first year after the big contract. Slade had nine sacks en route to the best statistical season of his career and was voted to his only Pro Bowl. 
Always a durable player, Slade missed just one game in his eight-year career. However, his production dropped considerably after his big 1997 season. He posted just 12.5 sacks over the last three seasons and was used more in pass coverage. That worked from 1998-99 when he had 13 passes defensed, but last season he had none. Slade was released this offseason with a year left on his deal.
McGinest and Johnson both re-upped with the team following the 1997 season. McGinest re-signed for five years at $25 million on Feb. 12, 1998, and Johnson got a five-year, $25 million extension Aug. 20. At the time they were the two best players on the defense, and in many ways they are the biggest keys today as well.
McGinest got off to a strong start with 3.5 sacks in his first six games after his deal. However, a nagging groin injury held him out of seven of the next nine games, and he did not record another sack that year. He rebounded with nine sacks in 1999 and led the team with six last season. Belichick still says McGinest is the best pass rusher on the team.
While McGinest has still been an impact player, Johnson's has been limited by injuries. He posted a career high in tackles with 142 through 13 games in 1998, but suffered a torn biceps muscle trying to stop Pittsburgh's Jerome Bettis and was lost for the final three games and the postseason loss to Jacksonville.
The following year he suffered another torn biceps muscle in training camp and was out until the final five games of the season. Last season he missed three games with hamstring problems. Earlier this offseason he accepted a pay cut to lower his cap figure for the year. Though he wasn't told it was an accept it or be cut offer, Johnson did what he felt necessary to stay.
In the two seasons Johnson played every game, the Patriots had a 21-11 regular-season record, a trip to the Super Bowl and a 7-6 second-round playoff loss to Pittsburgh. In the four seasons he missed time, they were 28-36 with just one postseason appearance, a 25-10 Wild Card loss to Jacksonville that Johnson missed.
Knowing how valuable top-level cornerbacks are, the Patriots secured Law with a seven-year, $50 million extension in 1999. The deal came after a Pro Bowl '98 season that saw Law intercept nine passes and defend 37 others. 
In two years since, Law's play   hasn't been at the same Pro Bowl level, although a hand injury slowed him in '99. He also posted just four interceptions and 30 passes defensed in that span.
Perhaps the best return on investments came in 2000, the first year after Milloy and Brown re-signed with the Patriots. Milloy inked a seven-year, $35 million deal after averaging 130 tackles and recording 15 interceptions, 50 passes defensed and eight forced fumbles in his first four seasons. 
He responded to the contract by leading the team with 121 tackles, intercepting two passes, defending six passes and forcing four fumbles. He was voted a team captain and has established himself as the leader of the defense.
Brown, who got a five-year, $13 million contract, had his best statistical season last year. After 137 catches for 1,827 yards and eight touchdowns in seven seasons, he had 83 receptions for 944 yards and four touchdowns in his first season as a starter. His play on special teams did not suffer either. Before 2000, he returned 104 punts for 1,056 yards. In 2000, he returned 39 punts for 504 yards, including his first return for a score.
The next player to watch is wide receiver Terry Glenn, who got a six-year extension worth up to $50 million last Nov. 8. Glenn had 79 catches for 963 yards and six touchdowns last season, his best since his rookie year in 1996. However, off-field problems have clouded his future during the offseason.