When it comes to storybook seasons, Bobby Hamilton may have redefined the term. After struggling to make his mark in the NFL for the better part of six years, the defensive end made the most of his opportunity in his first season with the Patriots.
Hamilton signed with New England just before the start of training camp in 2000 and quickly stepped into the starting lineup. His familiarity with Bill Belichick's two-gap system from his days with the New York Jets gave Hamilton a leg up on the competition, and his stellar play made him one of the team's most consistent defensive players.
The 6-5, 280-pounder was expected to be little more than a stopgap player but he set a career high with 79 tackles and started all 16 games for the struggling Patriots. He added 1.5 sacks and five passes defensed and emerged as a fixture up front for the future. 
Hamilton was rewarded for his efforts midway through the season when he signed a three-year contract extension worth $3 million, his first big pay day after working his way through the ranks as an undrafted free agent and NFL Europe refugee.
But all of that good fortune paled in comparison to what's happened to Hamilton over the past couple of months. Driven by a passion to be reconnected with his father's side of the family, a portion of his life he had virtually no contact with since his father's death in 1981, Hamilton returned to Foxborough for his offseason workouts in March and found an interesting note in his locker.
That note would have a direct and almost immediate impact on his life.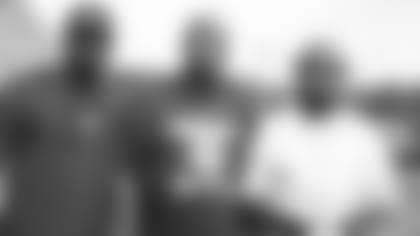 Reaching out
Not unlike many current NFL players, Bobby Hamilton was forced to grow up quickly after losing his dad at an early age. "The time when I was 8, 9, 10 years old was the worst time of my life," he recalled. Hamilton's misfortune wasn't limited to his father's death. The year before, his younger brother, Billy, was struck by a truck and was in a coma for more than six months. Billy still suffers from lingering effects of that accident, but that mishap was nothing compared to what happened the following Christmas.
With the Hamiltons preparing for a move to Houston to accommodate Bobby's father's job opportunity there, tragedy struck once again. Bobby's father was sitting in an apartment when he was shot through a window and killed.
To this day Bobby is unsure of the details surrounding the shooting other than to say it in no way involved drugs. "My mom tried to shield me from the whole thing at the time, but a couple of years later my aunt explained some things to me," he said. "She assured me that he wasn't involved in any illegal activities, but I still really don't know why any of that happened."
Hamilton's father had served as a "role model" to his son at the time. Billy also had been an athlete and even tried out for the Denver Broncos in the late '60s, and Bobby was intrigued by his father. But the events of that day served as an eye-opener, and Bobby's focus quickly turned to his mother, who he credits with holding the family together in such a time of need.
With the Hamilton children doing whatever they could to help out, Charlene Hamilton went to work each day and came home at night stressing the importance of education above all else. After some turbulent times early on, Bobby found his salvation on the football field and used his talents wisely, graduating from Southern Mississippi in 1994.
"We had one big family working and pushing together," Hamilton said. "My Mom always used to tell me, 'It's not just going to come to you, you have to go get it.' I respect my Mom so much because she didn't go to college. She helped my grandmother raise her two younger sisters so they could go to college instead. That's the kind of sacrifice she made for us, too."
Despite using his mother's words as inspiration, Hamilton's search to connect with his father's side of the family was largely unsuccessful until the summer of 1999. With Hamilton preparing for the start of training camp with the Jets, he received word that his grandmother had passed away.
Still hurting from that loss, Hamilton struck up a conversation with one of the Jets security personnel, Steve Arnett, who agreed to help in Bobby's quest to find relatives from his father's side. Hamilton provided as much information as he could —his father's obituary, names of aunts and uncles — anything he could think of that might be useful.
Arnett went to work and came back to Hamilton with information about Bobby's Uncle Jesse. "I was like, 'For real?' I was still down about my grandmother but I was just so excited to find someone after I'd been looking for so long," Hamilton said.
Buoyed by that meeting, Hamilton continued to search for his relatives. Unfortunately, his efforts were unsuccessful until he received the note in March.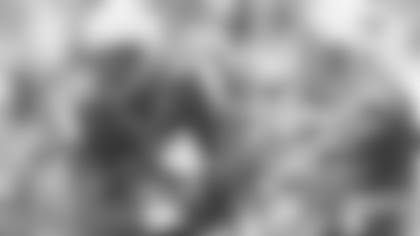 Passing notes
When Hamilton looked in his locker and found the printout of an email that had been sent to the team from a gentleman named Billy Hamilton, the Patriots defensive end gave it little thought. The note claimed that this Billy was Bobby's half brother and the two shared the same father. It was a notion Bobby gave little credence to.
It wasn't the first time he'd received such a notice. As Hamilton's search for his family unfolded through the years, various newspaper stories accounted his plight. Those brought "every guy named Hamilton out there out of the woodwork." This time would be different.
 "When I got back, they told me I had an email from someone named Billy Joe Hamilton and I thought they were joking because that was my father's name and my younger brother's, too," Hamilton said. "I was like, 'Why would someone send an email saying that?'"
It turns out there was a very simple reason: He was indeed Bobby's half brother. Hamilton went home that evening and talked with his wife, Celeste. Despite their lingering skepticism, Bobby decided he had nothing to lose and picked up the phone to call the person claiming to be his relative. After an awkward beginning to the conversation, Bobby says the two connected and quickly the cynicism faded away.
Billy explained that he was Bobby's brother on his father's side and was born before the elder Hamilton had married Charlene. The Hamiltons' father was in fact married three times with Bobby being one of five brothers produced from his marriage to Charlene, the last of the three. When Billy explained further that he was born in Arkansas and then his father went to Denver, Bobby started to take the story more seriously.
"The more he talked the more believable it all became," Hamilton said with a smile. "We talked for a while and then I was talking to his wife (Vickie) and she was telling me how [Billy] used to spend all this time and money looking for his daddy. I was thinking at the time how I was trying to do the same thing — looking for people on my father's side."
Family reunion
Bobby was born in Denver and thus the connections Billy described suddenly became plausible. Shortly after his birth, Bobby and the rest of his family moved to Columbia, Miss., a community they remain a major part of today. As their initial conversation came to a close, Bobby decided to lay his cards on the table.
"I just said to him, 'OK, if you're really my brother, I'm having a summer jam for my community May 18,' and he said, 'I'll be there.' I talked to my wife that night and she could see the excitement on my face but we still had some doubts."
Those were quickly erased when Billy and Vickie Hamilton made a Mother's Day trip to Milwaukee to visit Billy's mom. When that trip ended, they drove down to Mississippi and spent several days in Columbia with Bobby, Celeste, Charlene and the rest of the Hamiltons.
When Bobby laid eyes on the 6-6, 300-pound Billy, any lingering doubts were eliminated.
"He was so tall and he looked just like my younger brother Billy," Bobby beamed. "I was like, 'God, it's true.' We sat around for a while and talked and we hugged and my wife and his wife talked and it was just a blessing.
"It's coming together now after all this time trying to find your family and now you found a brother and you have two brothers to look up to. We sat down and tried to catch up but it felt like we'd known each other for a long time. He brought all these pictures and his wife was great and they just clicked immediately with everybody. Actually, when I left to come back here, they stayed for a couple more days with my family."
The meeting was equally satisfying for Billy, who spent as much time as Bobby searching for the missing piece of his life. Billy last spoke with his father in 1979 and wasn't even aware of his death until several years later in 1995. The news of his father's passing put a damper on his efforts, but every once in a while he'd re-start the process.
"I was always looking for Hamiltons and all I ever came across were Hamiltons who'd done bad things," said Billy, who works in the Dallas County Sheriff's Office in Texas. "I wanted to find some 'good' Hamiltons. I looked up an NBA web site and then NFL.com and that's where I found Bobby's name with the Patriots.
"I called up his bio on patriots.com and started reading all these things that made sense. I knew my father had tried out for the Broncos and I got in touch with Bobby's mother and she confirmed that her husband had another son. I had heard that I had brothers but I never thought I'd get to meet any of them."
A new life
The "new" half brothers now speak almost daily — Billy from his home in Dallas and Bobby here while he prepares for the upcoming season. They've made arrangements to meet again on Nov. 4 in Atlanta where the Patriots play the Falcons and the entire Hamilton clan can gather at Bobby and Celeste's home in nearby Duluth, Ga.
"All those years I kept waiting," Billy said. "This is more than I could ever have hoped for. [The meeting] was like the key that opened the door to all of this. The web site made it all possible. Without it, that door would still be closed."
Meanwhile, Bobby is thrilled with his new life and is anxious for a new season. After last year's disappointment, he believes the team is capable of turning things around quickly and getting back on the winning track.
"I have a beautiful wife and a nice family and I have a little one on the way," Bobby said. "My Mom is happy and now I have my daddy's side of the family. What do I have to lose now? All I have to do is go out and play ball."
A new team, a starting job, a career-best on-field performance, a contract extension and a new brother — all in all not a bad year for Bobby Hamilton.