Opponent Spotlight: Peyton Manning
Four years ago Indianapolis had to choose between two top-notch, blue-chip quarterbacks. Two franchise cornerstones were there for the taking; it was just a matter of picking the right one.
Now 12,000-plus passing yards and nearly 90 throwing touchdowns later people in Indy thank the stars above they got Peyton Manning instead of Ryan Leaf. In his three professional seasons Manning has quickly established himself as one of the best signal-callers in the game, and possibly the best in the AFC.
With Manning at the helm, the Indianapolis offense is as close to unstoppable as will be found in the NFL. He is blessed with talent at wide receiver and running back, not to mention two tight ends capable of contributing in big ways.
Yes, the plethora of talent around him has more than its fair share of perks, but Manning runs the ship. As a rookie he suffered through growing pains. While he threw for 26 touchdowns, he also had 28 interceptions. The latter number has since dropped dramatically. In his last two seasons combined, Manning has been picked just 30 times while throwing 59 touchdowns.
As if that wasn't enough, Manning is extremely well protected by a strong, young offensive line that has been working together for a couple years now. Manning gets the time quarterbacks so desperately need to be successful. In his first three seasons, he was sacked just 56 times total. To put that in perspective, New England's Drew Bledsoe has been sacked 136 times over the same stretch, including 55 times in 1999 alone.
When a defense can manage some form of pressure on Manning, he can be less than perfect. In Week Six last year, the Patriots sacked him twice and intercepted him three times en route to an upset. Just two weeks later he was sharp as could be completing 16-of-20 passes with three touchdowns, no interceptions and no sacks in a Colts win.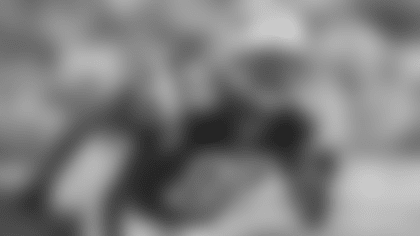 Eye on the Game: Troy Brown
Troy Brown is not the flashiest receiver in the NFL. With a strong focus on fundamental skills, his strength is consistency.
The Patriots top receiver carries that mentality into his pregame preparations. He quietly goes about getting ready for kickoff by making sure he is physically ready to play.
"I just always do a lot of stretching," Brown said. "I don't do anything else specific. Each Sunday I try to go through the same motions and take the same steps every week. First I put on my shorts and T-shirt so I can get myself taped up for the game. Then I get dressed and go out to the field to warm up a bit."
One key for Brown is pacing himself. He is one of the most important pieces of the New England offense and certainly the top receiving threat. In addition he handles the punt return duties, so the Patriots could ill afford to see him tighten up.
"After I start to get loose, I come back to the locker room and do a little more stretching," Brown said. "I keep doing light stretching until it is time to go out to the field for kickoff. That's when I throw on my shoulder pads and head out."
Maybe more players should stick to Brown's basics. Few players have shown his improvement. A former eighth-round pick who had just 37 catches over his first four seasons, he is now the only player in team history ranked among the top 10 on the receiving, kick and punt return lists. He's Drew Bledsoe's favorite target, but that wasn't always the case. He was out of football for half a season after his rookie year but emerged to become a team captain in 2001.
"There is nothing really exotic about what I do," Brown said. "I don't sit in the sauna or listen to any specific song or type of music, nothing like that. I get ready by doing the basic stuff."