Despite not having enough players to properly run plays, the Patriots made it through rookie mini-camp April 27-28 feeling pretty good about what the newest players had to offer.
Bill Belichick and his staff had 21 players in for orientation, giving the rookies a ton of individual attention throughout the no-pads workouts. 
"There is so much being done on an individual basis that there is no real great measuring stick for us," Belichick said. "But we could certainly see progress from one day to the next. We went through the results of all the testing we did on this group, and they were pretty significantly better than the guys we had in here last year, as far as the comparable draft choices and free agents. Now we have to wait and see how well that translates to the football field."
They may be new to the professional ranks, but the rookies understand the urgency and focus needed from them. Top-pick Richard Seymour was honest about his personal situation as the No. 6 pick in the draft.
"I'm the No. 6 pick and I really have to produce," Seymour said. "I have to make plays. Right now I just want to soak everything in and learn the defense. This isn't college anymore. This is my living. This is my occupation."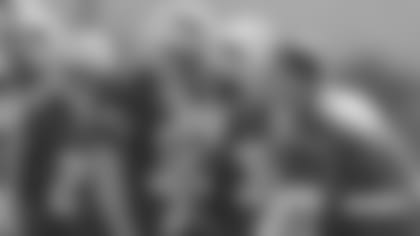 Belichick and the staff tried to impress upon the rookies the importance of staying in shape and working out on their own. Throughout the weekend the players were prepped on the desired conditioning and workout programs for the team.
"At this point, we're not really playing football," Belichick said. "We are testing and doing some individual stuff. The offensive linemen run well, they are strong in the weight room, but we don't know if they are going to play with that strength on the field. I thought it was impressive watching them run around the way they did."
"The biggest problem with the rookies right now is they don't know what they don't know. If they really could understand what they don't know, it might be easier." - Head Coach Bill Belichick
The veterans on the team generally work out for a couple hours a day and spend time doing film work. Belichick hopes the orientation weekend showed the rookies how much work they have to do on their own to close the knowledge gap between themselves and the rest of the team before training camp rolls around. 
"The rookies need to understand that they have some catching up to do," Belichick said. "The biggest problem with the rookies right now is they don't know what they don't know. If they really could understand what they don't know, it might be easier. But I don't think most of them understand."
The full understanding may not be there yet, but an impression was definitely made.
"You really have to pay attention, listen and learn from the coaches," said offensive lineman Kenyatta Jones, New England's first pick in the fourth round. "The meetings are longer, and you can't afford to miss anything. We are not here to lose or earn a job right now. We are here to learn about the Patriots. I wouldn't say it's too much different [from college], but everything has to be more precise. You have to pay attention and do what is asked of you. This is not college anymore; it's a job."
While the amount of information thrown at the players over the weekend seemed overwhelming at times, most of the players are from big-school programs. Spending time in big-time programs has prepared many of the players for the big stage, as long as they keep themselves mentally up to speed.
"At UM [Miami], we were structured like a pro-style team," said cornerback Leonard Myers. "Basically, I felt like I was used to this. The only difference is now I'm learning this system, and if I can do that, it will be smooth sailing."
As far as on-field work, Belichick said having new defensive coordinator Romeo Crennel on board was a big help for him.
"There is more time to walk around and look dumb," Belichick said with a smile. "As a defensive staff, all the things we were doing were kind of new, but now we've been together for a year. Romeo adds many years of experience in this system, and it's very, very good to see him out there."
The one area of full-unit work the Patriots focused on was the kicking game. Both days of workouts included a lot of work on punt, field goal and kickoff units.
"We tried to give these guys a lot of work on special teams," Belichick said. "That's where a lot of these guys, maybe not the linemen, but the skill guys, that's where they are probably going to have to fit in first."