For three straight years, we've has asked the question: Who will run?  Well, let's make it four.
To be sure, this position will be the most watched of camp with hot competition complementing some interesting subplots. One of which is Robert Edwards' return.
In 1997, Sam Gash was overcoming a knee injury that kept him out of Super Bowl XXXI. A favorite among his teammates and fans, Gash received a standing ovation from those teammates when he finally strapped on the pads for his first training camp practice the following summer. Robert Edwards could receive a similar reception as he overcomes all the odds and two years of difficult rehabilitation following a major knee injury to return to the practice field.
Finally all the questions regarding Edwards will be answered by Edwards himself. Surely no one is counting on him to return to the form that helped him run for 1,115 yards as a rookie in 1998. But to count him out at this point would be foolhardy because very few thought he would ever make it this far.
While Edwards will be the sentimental favorite to capture the starting running back chores, the more realistic battle will be waged between second-year man J.R. Redmond and newly acquired Antowain Smith, recently signed after a four-year career in Buffalo.
Redmond showed flashes last year as a rookie after missing part of training camp in a contract dispute while also overcoming June groin surgery. That missed time hurt him as he clearly lacked the necessary confidence at the start of the season. When he finally started hitting his stride, he couldn't stay healthy. He averaged more than 4.0 yards per carry in the games he started, but his biggest problem was making it through those games with his health intact.
In his limited action, he showed he could run successfully between the tackles while also making defenders miss. Overall, his numbers weren't pretty with 406 yards on 125 carries and one touchdown. But he did prove to be a threat out of the backfield where he caught 20 passes for 126 yards and two touchdowns. It will be interesting to see if a healthy offseason spent building strength will make a major difference for the former Arizona State standout.
Smith is the type of runner Bill Belichick likes to utilize. He is a tough, hard-nosed inside runner who lacks flash, but makes up for it in grit. But for reasons that range from nagging injuries to poor production, Smith was unable to nail down the Bills starting job the last two seasons, instead battling with the likes of Jonathan Linton and Sammy Morris in what was hardly a feared ground attack.
Smith is a not a dynamic runner, but if he runs behind a line that opens holes, he can take on linebackers and run through defensive backs once he gets through the line of scrimmage. His numbers in Buffalo are nothing special as he carried 760 times for 2,932 yards and 26 touchdowns in his Bills career. His best season came in 1998 when he ran for 1,124 yards and eight touchdowns. Last year, he was hardly that effective, gaining only 354 yards with a 3.5 yards per carry average. He still managed four touchdowns and his 26 career scores prove he has a knack for finding the goal line.
It is possible that Redmond and Smith could complement each other in a 1-2 punch format, but sticking with one guy to shoulder the load is the way to go. There are teams that use a committee approach, but more often, the teams that win do it with one back handling the brunt of the work. If Smith doesn't win the starting job, he will certainly provide decent depth and perhaps a tough short-yardage runner.
Again, Edwards is the X-factor here as it is impossible to predict how his reconstructed knee will react to contact — the one area it hasn't been tested through his rehab.
That leaves Kevin Faulk to serve as the third-down back. But first, Faulk must prove his fumbling problems (seven last year) are behind him or he may not have a job. If Smith wins the starting nod, Redmond could unseat Faulk as the third-down back leaving the former LSU star on the outside looking in.
Faulk's versatility, along with his playmaking and receiving abilities, are his strengths and he has proven to be a capable return specialist as well as a decent, if unspectacular, runner. He must continue to develop as a pass blocker to solidify his third-down role and also protect the ball.
Patrick Pass is an intriguing prospect. He has excellent ability and leaves the coaches scratching their heads when he shows what Belichick refers to as "flashes." But his inconsistent desire and effort are problems that he may not be able to overcome. Rookie free agent Walter Williams, out of Grambling, faces long odds to make the final roster.
At fullback, Marc Edwards will handle the starting chores. The former 49er and Brown is a big 6-0, 245-pound battering ram with some receiving ability that will make him attractive in Charlie Weis' multiple receiver formations.
Edwards has only 35 carries in his four-year career to go with 71 receptions for 606 yards. But fullback has become an unglorified position requiring the ultimate in unselfish play. Last year's starting fullback, Tony Carter, did get 37 carries so don't exclude Edwards from the mix. On his 35 career attempts, he gained 155 yards for a 4.4 yards per carry average. Against the Patriots last year, Edwards caught four passes for 27 yards. He has one career rushing touchdown and six receiving scores.
Pass will also compete at fullback along with Jeff Paulk, who signed with the team late last year but played only one game, and Larry Bowie, an offseason acquisition and another University of Georgia product.
Overall, there is no Curtis Martin or Barry Sanders here that can make up for poor offensive line play with brute skill and therefore this group will only be as good as the blocking in front of it.
But the bottom line at running back is that it is better than it was a year ago, just as the offensive line will be better than it was a year ago. So while neither is expected to take the NFL by storm, both positions are headed in the right direction. This is not likely one of the worst-to-first surprise teams in the NFL and after four years of decline, moving in a positive direction is a healthy place to start.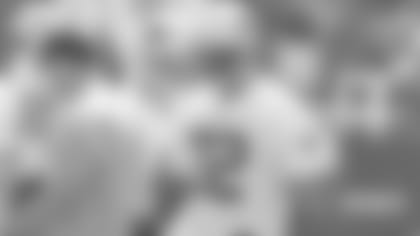 (2) Kevin Faulk, J.R. Redmond
(3) Robert Edwards, Patrick Pass, Jeff Paulk
(4) Larry Bowie (UFA), Marc Edwards (UFA-Cleveland), Antowain Smith (UFA-Buffalo), Walter Williams (R)
(2) Tony Carter, Harold Shaw
Patriots running backs averaged 3.2 yards per carry and combined for only seven rushing touchdowns.
Is J.R. Redmond durable enough to be the team's full-time back?
Someone must emerge as the clear cut starter or this group will continue to toil in mediocrity.
The Patriots can break the NFL record for most consecutive years without averaging 4.0 yards per carry. They are currently tied with the Giants (1970-1984) at 15 years (1986-2000)
J.R. Redmond - RB
Marc Edwards - FB