Who says it's impossible to make impact trades in the NFL? That's exactly how the San Diego Chargers transformed themselves from 1-15 laughing stocks into the early surprise team in the league.
Of course, in the interest of fairness, most people agree the few trades of significance in the NFL are draft day deals and that was the case with San Diego. Facing the prospect of having the first overall pick, General Manager John Butler had his doubts about the merits of consensus No. 1 man Michael Vick. He opted to swap picks with Atlanta, who occupied the fifth spot, and received speedy playmaker Tim Dwight and a second-round pick next season in return.
Much to their delight, when the Chargers picked at No. 5, running back LaDainian Tomlinson was still available and Butler scooped him up. Their luck continued in round two when former Purdue standout Drew Brees was there and now Butler had the franchise's running back and quarterback of the future.
Dwight's infectious all-out style has ignited the Chargers and given offensive coordinator Norv Turner a secret weapon he uses in many ways. Dwight already has touchdowns rushing, receiving and on a punt return.
All of that has given free agent pickup Doug Flutie a chance to do what he does best — win. Quite simply, very few quarterbacks get to the bottom line in this league as well as the diminutive Flutie. His 33-15 record as a starter in the last three-plus seasons is a far cry from the 4-14 mark his predecessor, Ryan Leaf, put up during his stint as the Chargers starter during that time.
But Tomlinson has been the story in San Diego. In the Chargers first three games — all wins — he carried the load. Flutie failed to break 150 yards passing in two of the wins, but Tomlinson represents the workhorse back Turner loves. In Dallas, Turner had Emmitt Smith. In Washington, it was Stephen Davis. Now it's Tomlinson.
Despite holding out in a contract dispute and missing most of camp, he carried 36 times in the opener and Turner hasn't lightened his load since. Tomlinson topped the 100-yard mark three times in the first four games. Most impressively, he finds the end zone, as his six touchdowns attest.
Flutie also has some weapons to use in the passing game. Tight end Freddie Jones is on the verge of Pro Bowl status and wideout Curtis Conway is a quality deep threat. Jeff Graham is a solid possession receiver while Dwight's versatility gives Flutie another dimension to use.
The big question for the Charger offense entering the season was up front, but left tackle Damion McIntosh, starting for the first time, has solidified the unit. His presence allowed Vaughn Parker to move back to his natural right tackle spot, while Raleigh Roundtree, Kendyl Jacox and Demingo Graham man the inside.
Despite the Chargers poor record last year, the defense played very well. They've been near the top of the league against the run the past two seasons. Big tackles John Parrella and Leonardo Carson plug the middle, while Marcellus Wiley and Raylee Johnson get after the passer from the ends.
Twelfth-year veteran Junior Seau is still going strong at his weak side linebacker spot while fellow 'backers Orlando Ruff and Gerald Dixon have played so well that veteran free agents John Holecek and Sam Rogers have been limited to special teams duty.
The secondary is outstanding with Ryan McNeil leading the NFL with five interceptions early on and veteran strong safety Rodney Harrison providing solid leadership. Alex Molden, another free agent, missed the first two games with a knee injury but returned for the Bengals game and started at corner opposite McNeil. Free safety Rogers Beckett has a nose for the ball and rookie Tay Cody filled in nicely for Molden and shows promise as the nickel back.
Add it all up and the Patriots will be hard-pressed to make it 10 in a row over the new-and-improved Chargers.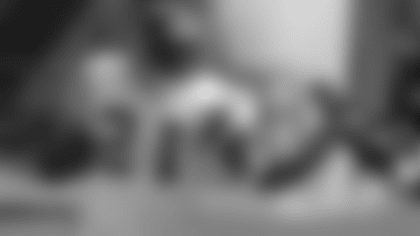 Tomlinson well worth the wait
The San Diego Chargers waited until training camp was over for rookie LaDainian Tomlinson to finally join the team, and so far he has been worth the wait.
The fifth player chosen in last April's draft, Tomlinson missed camp because of a lengthy contract dispute. By the time he signed, he was able to get limited action in one preseason game before his official NFL baptism. Despite the delay in his preparation, Tomlinson has shown he is ready for the big stage.
All he did in his first three games was break the 100-yard barrier twice, lead the league in touchdowns and find himself first in the AFC and second overall in rushing. It's safe to say Tomlinson had a major impact in San Diego's 3-0 start after last year's dismal 1-15 campaign.
The league recognized the smashing debut and made Tomlinson the NFL Offensive Rookie of the Month for September. He has been an absolute workhorse out of the backfield for the Chargers, carrying the ball 84 times for 310 yards and five touchdowns. The rest of the offense has combined for 35 carries, 86 yards and one touchdown, which came on a 16-yard reverse to wide receiver Tim Dwight. In Tomlinson's first game, he was given the ball 36 times for 113 yards and scored two touchdowns.
Tomlinson has been extremely effective with his touches. With four catches for 54 yards, he had 364 all-purpose yards through three games, good for fifth in the NFL. In those games he accounted for 22 first downs, including a league-high 19 on the ground.
His most impressive performance thus far was against Cincinnati in Week Three. After being held to 19 yards on six carries in the first half, Tomlinson responded with 15 carries for 88 yards and three touchdowns to lead his team to victory. His three-touchdown effort was the first by a Charger since Natrone Means did it in 1994.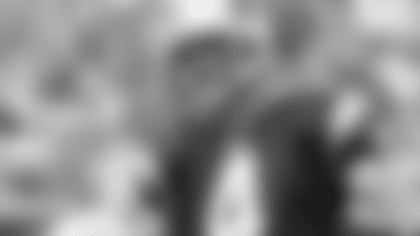 Eye on the Game: Adam Vinatieri
Field and weather conditions can play a major role in the abilities of players to perform. This is perhaps truer for kickers than other guys on the team.
Each Sunday, Adam Vinatieri makes sure he is out on the field well before kickoff. He needs enough time to practice both field goals and kickoffs from all different lengths and angles.
"Before the game I do go through a kicking routine, but there isn't an order as far as exact distance," Vinatieri said. "We will start out by kicking some extra points and usually work our way out to kicks from the mid-50s. The major reason for doing that is to get a feel for what the weather is doing and what kind of affect the wind is going to have."
Following his pregame work, Vinatieri checks in with the coaching staff before kickoff. Game strategy can be affected by what the kicker determines in his pregame work. The offense can be more aggressive or conservative with its play-calling if the conditions call for it.
"We need to have an idea going into the game what kind of distance we can hit from on both sides of the field," Vinatieri said. "Normally we want to kick on both sides of the field prior to the game. That helps us feel confident and get a good perspective of what we are going to be able to do come game time."
While his routine is important, Vinatieri tries to keep things as simple as possible.
"I really don't have any weird quirks," Vinatieri said. "I just like to make sure that I am there plenty early so I can go out on to the field to check the field and weather conditions. I like to make sure that I am completely stretched out and loose, which helps me be focused for the game."