The NFL Draft received its usual impact from this year's group of underclassmen who declared for the pro ranks. This year 36 players made their intentions known to enter the 2001 NFL Draft before the Jan. 12 deadline.
The underclassmen have made an annual impact in the early rounds with at least 10 chosen in the first two rounds in 10 of 11 drafts since non-seniors were permitted to declare. This spring, as many as 12 underclassmen will be chosen in the first round, bettering last year's seven who were selected in the opening round.
There could be as many as five underclassmen chosen in the top 10 picks this spring. Two of the brightest prospects to declare were third-year sophomores, Michael Vick, Virginia Tech's athletic quarterback, and wide receiver Koren Robinson of North Carolina State.
Vick will almost certainly be the first overall selection despite only two seasons of play at the collegiate level, and the belief from some scouts that he should have stayed in school. He is a magical player with rare athletic skills.
His combination of field presence, instincts, strong arm and tailback-type running skills make him an ideal prospect for the new wave of NFL starting quarterback. But the learning curve for an NFL quarterback may be the toughest of any position. With only two seasons at the controls at Virginia Tech, he is still raw as a passer and needs further time to develop those critical skills. Nevertheless, he should go first overall, especially if he has a good workout this spring.
Robinson is a special player in his own right. He gave a great imitation of Torry Holt at North Carolina State this past fall, catching 62 passes for 1,061 yards and 12 touchdowns. He added an outstanding effort in their bowl victory.
He has the prototypical numbers NFL scouts look for in a go-to receiver - hands, size, speed, body control, running skills and quickness. He will go in the top 10 in April as one of the true blue-chip prospects in this class. He is currently ranked just behind junior wideout David Terrell of Michigan.
Terrell is a special athlete as well. He combines size, agility and speed with the big-play ability to be one of the next premier NFL receivers. He is expected to go in the top three selections during the April 21-22 NFL Draft.
Here is a closer look at the top underclassmen eligible for this year's draft: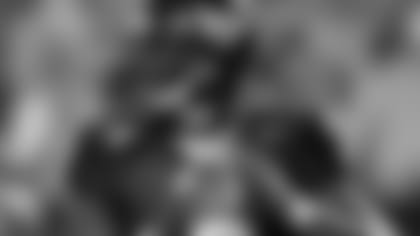 Offense
Michael Vick - QB, 6-1, 210 lbs. - Virginia Tech
Gifted athlete surprisingly declared for the draft and is the odds on favorite to be the first overall selection by the Chargers. He has a rare combination of strong arm, instincts, intangibles and incredible running skills. His lack of playing time will hinder him early as a pro and he needs time and proper handling to develop his awesome skills further.
Quincy Carter - QB, 6-3, 215 lbs. - Georgia
Big, athletic passer is coming off a subpar performance in 2000 that saw him struggle early in the season and sit out the second half of the year with a thumb injury. He has a good arm and fine running skills but needs further coaching on the fundamentals of the position to reach his pro potential. He should have stayed in school.
Josh Booty - QB, 6-3, 215 lbs. - LSU
Former baseball player spent two seasons as a part-time starting quarterback for the Tigers. He has some tools but his erratic play during his limited playing time makes him strictly a developmental prospect at this point.
Michael Bennett - RB, 5-11, 200 lbs. - Wisconsin
Speedy tailback had a big 2000 season in his only year as a starter after backing up Ron Dayne earlier in his career. He has nice talent but would have really benefitted from another year in the Big Ten. He most likely goes on the first day but not during the first round in April.
Rudi Johnson - RB, 5-10, 225 lbs. - Auburn
Strong junior tailback led the SEC in rushing in his only season at the Division I level. He has natural running skills with the power to run over tacklers as well as the ability to make defenders miss. He needs to have a good workout from a speed perspective to challenge Deuce McAllister as the top back in the class.
Tony Taylor - RB, 5-10, 190 lbs. - Northwestern St. (La.)
Compact small-college runner had a big performance in 2000 that convinced him to turn pro. He combines speed, quickness and cutting skills to make it in the NFL but strictly as a situational runner.
Reggie White - RB, 5-11, 225 lbs. - Oklahoma St.
Big, tough runner displayed both speed and power for the Cowboys this season. He lacks great cutting skills but has the package to become a quality backup runner at the next level.
Jamar Toombs - FB, 6-1, 265 lbs. - Texas A&M
Battering ram fullback has been a force over the past three seasons in the Big 12. He combines rare size and speed for the position with fine running and blocking skills. He is a power back with the ability to carry defenders after contact and make the tough yardage.
Heath Evans - FB, 6-0, 235 lbs. - Auburn
Hard-nosed junior fullback declared for the NFL Draft with his running mate, Rudi Johnson. Evans has the fine running and receiving skills reminiscent of Tampa Bay fullback Mike Alstott.
David Terrell - WR, 6-3, 210 lbs. - Michigan
Natural pass catching junior finished an outstanding career with another impact effort. He has fine hands with the agility and leaping skills to win most matchups and the speed to get behind defenders and hit the home run.
Freddie Mitchell - WR, 6-0, 200 lbs. - UCLA
Speedy junior wideout completed a huge final season with a great bowl performance. He has the speed to get deep and strike from anywhere on the field. His big-play ability will warrant an early grade in this draft class.
Ronney Daniels - WR, 6-1, 210 lbs. - Auburn
Athletic sophomore wideout has been a stellar performer in the SEC after an earlier baseball career. He is a sturdy athlete with enough natural pass-catching skills to play early in his NFL career.
Koren Robinson - WR, 6-3, 205 lbs. - North Carolina St.
Gifted sophomore receiver has been a dominant performer in the ACC while combining fine size and speed with natural open-field running skills. His ability to make the big play at critical times will earn him an early selection this spring.
Robert Ferguson - WR, 5-11, 190 lbs. - Texas A&M
Quick junior receiver had an excellent effort for the Aggies in his only season in the Big 12 after a junior college career. He is an excellent open-field runner with the ability to take the short pass the distance with his tailback-type running skills.
Kenyatta Walker - OT, 6-6, 320 lbs. - Florida
Big, athletic tackle has been well schooled in a pro style offense while operating in the Gators attack. He has developed sound pass-blocking skills and learned to use his massive wingspan and fine footwork to the fullest.
Dominic Raiola - OC, 6-2, 300 lbs. - Nebraska
Physical pivotman has been instrumental in the powerful Cornhusker ground game over the past three seasons. He is a strong drive blocker with the power, agility and tenacity to finish his blocks for a full 60 minutes.
Defense
Justin Smith - DE, 6-4, 270 lbs. - Missouri
Athletic defender has been one of the premier performers in the Big 12 the past two seasons. He has the upfield speed NFL scouts look for in a pass rusher and the size and strength to hold up against the run.
Gerard Warren - DT, 6-3, 315 lbs. - Florida
Explosive junior tackle has the talent to become a top NFL lineman with further development on his technique. He has the combination of power and quickness to take over games but must show he can play at that high level on a more consistent basis.
Ryan Pickett - DT, 6-3, 290 lbs. - Ohio State
Big, raw prospect surprisingly declared after a short career in the Big Ten. He needs definite work on his technique and strength before he can be expected to contribute at the pro level.
Keith Adams - LB, 6-1, 225 lbs. - Clemson
Fast junior linebacker has been one of the most productive defenders in the nation over his abbreviated career. He has the burst to the ball and the hitting power to make plays sideline to sideline.
Jamar Fletcher - CB, 5-9, 180 lbs. - Wisconsin
Lightning quick cover man has excelled in the talented Big Ten against some of the best receivers in the nation. He has very quick reactions that allow him to break on the ball and match receivers stride for stride in man coverage.
Nate Clements - CB, 6-0, 190 lbs. - Ohio St.
Big, agile cover man has had a fine career in the Big Ten and looks to follow recent Buckeyes on to stardom in the NFL. He has the size, agility, ball reactions and speed to matchup with big receivers.
Willie Middlebrooks - CB, 6-1, 200 lbs. - Minnesota
Big, athletic corner has the package the NFL scouts look for in a pro prospect. His size, agility and speed will warrant an early grade but he needs further work on his technique and play recognition. He would have benefitted from another year of development.
Renaldo Hill - CB, 5-11, 175 lbs. - Michigan St.
Hard hitting corner has been a mainstay in the Spartans secondary over the past few seasons. He has adequate size and good speed and ball reactions to ultimately develop into an NFL starter.
Hakim Akbar - S, 6-0, 195 lbs. - Washington
Fast free safety has been a consistent playmaker over his short career displaying the range, instincts and ball skills to cover up mistakes on the corner.
Adrian Williams - S, 6-3, 210 lbs. - North Carolina State
Big, hard-hitting safety has been a force in run support while combining quickness, power and speed. He has the measurables the NFL scouts seek in a safety prospect but is a raw athlete in several areas, especially pass coverage.