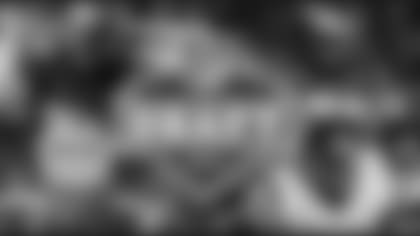 The writers of Patriots Football Weekly have done their homework on all the prospects in this year's NFL Draft. Now, you can download the actual notes they took on all the top players, broken down by position for your convenience. Today, they offer their notes and rankings on the centers.
CENTERS
| | | |
| --- | --- | --- |
| 1 | | WESTON RICHBURG COLLEGE: Colorado State | ANDY HART:
49 starts. Good bend. Pulls a lot. Not overly powerful.
** ANDY HART:
2 years guard, one at center. Thick. Not a ton of power. Catches sometimes. Good versatility.
** ANDY HART:
50 career starts. Not overly quick. OK athlete. Lot of pulls. Pretty stout. Finishes most blocks.
** ANDY HART:
RG/LG/C. 40 starts. Good size. Walls off well. Not great power. Middle of great offense.
** ANDY HART:
Pretty quick. Good power. Some G. Keeps legs moving. Can pull and finish.
** PAUL PERILLO:**
Good push; Quick; Good mobility; Moves pile. BEST OF THE REST
Gabe Ikard, Oklahoma**
6-3, 304, 5.13
[Andy Hart] 51 starts. Academic guy. Wins with angles and technique. Not quick. Moves only OK.
[Paul Perillo] Solid PP; Moves feet well; Good PP set; Gets out in space on screens.
James Stone, Tennnessee
6-4, 306, 5.27
[Andy Hart] Left handed shotgun snaps, right handed under center. 4 year starter. Heavy legs. Not overly aggressive or fluid. Not a ton of power. Meh.
[Paul Perillo] Quick off snap; Locks on; Good push; Limited athlete.
Want more Draft video? Check out highlight videos of all the top college prospects entering the 2014 NFL Draft.