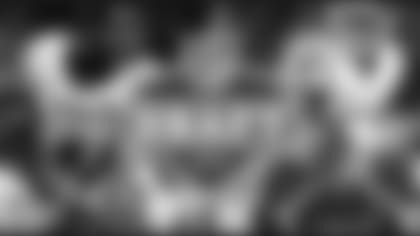 The writers of Patriots Football Weekly have done their homework on all the prospects in this year's NFL Draft. Now, you can download the actual notes they took on all the top players, broken down by position for your convenience. Today, they offer their notes and rankings on the strong safeties.
STRONG SAFETY
| | | |
| --- | --- | --- |
| 1 | | DEONE BUCANNON COLLEGE: Washington State | ANDY HART:
Productive All American. 15 career INT. Thick. Fast. Long wingspan. Hitter. Decent enough in coverage. Good Patriots fit.
** ANDY HART:
Good size. Hitter. Solid. Not overly quick. Hybrid LB role for Bears. Emotional. Vocal. True SS.
** ANDY HART:
Skinny. Aggressive. Not strong. Undersized. Productive.
** ANDY HART:
Big. Wants to hit most of the time. Not timid. Takes on blocks and finishes. OK speed.
** ANDY HART:
Small. Plays like CB. Not a hitter. OK tackler. Reminds me of Kyle Arrington.
** PAUL PERILLO:**
Good CF on deep ball; Aggressive; Tackles near the line; Low but sure tackler.
Brock Vereen, Minnesota
6-0, 199, 4.49
*[Paul Perillo] *Decent size; Aggressive; Physical.
Alden Darby, Arizona State**
5-10, 192, 4.50
[Andy Hart] Active athlete. Short. Covers a lot. OK tackler. Solid ball skills.
*[Paul Perillo] *Good deep support; Jumps slants well; Physical; Good speed; Active in coverage.
Vinnie Sunseri*, Alabama
5-11, 210, 4.59
[Andy Hart] Run defender. Heady. Not fast. Effort guy. Right place right time. SPT.
*[Paul Perillo] *Great instincts; Around ball a lot; Knack for big plays; Aggressive and physical; Overachiever.
Isaiah Lewis, Michigan State
5-10, 211, 4.6
[Andy Hart] Short. SPT future. Average speed.
*[Paul Perillo] *Closes fast; Physical; Good range; Lacks size.
Dezmen Southward, Wisconsin**
6-0, 211, 4.55
[Andy Hart] Stiff. Lacks fluidity. Not quick.
*[Paul Perillo] *Physical; Aggressive; Lacks quickness; Decent run support.
Daniel Sorensen, BYU
6-1, 205, 4.67
[Andy Hart] Not explosive in any way. SPT. Not a hitter.
*[Paul Perillo] *Good size; Around ball; SpT potential; Good hands; Lacks athleticism.
Want more Draft video? Check out highlight videos of all the top college prospects entering the 2014 NFL Draft.