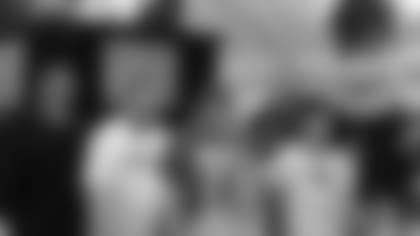 Saturday evening at the New England Patriots game. From left to right, Jonathan Fador of the New England Patriots, Scott Finch, Beth Finch, Dianne Jewett, Vince Burks of Amica Insurance, Danny Jewett, and Pat Patriot.
NORTH ATTLEBORO, MA - January 17, 2007 - The Hockomock Area YMCA was delighted to select an extraordinary family to receive four tickets to this past weekend's Divisional Playoff Game between the New England Patriots and Jacksonville Jaguars. The tickets were donated to the YMCA by Amica Mutual Insurance Company, proud sponsor of the Patriot's "Road to Phoenix."
Beth and Scott Finch, their son Danny Jewett, and Beth's mother Dianne Jewett arrived to the game in head-to-toe Patriots gear. The family could not have been more grateful for the opportunity to have such a great evening, considering over the past three years the family has dealt with a number of setbacks.
Scott was diagnosed with testicular cancer in 2004 when his twins were not even a year old. The cancer went into remission for three months only to return as lung cancer. He has been in remission since February of 2005. This was followed by Beth experiencing a bad back injury, paralyzing her from the waist down. She is partially paralyzed today.
"This family has been through an extremely tough couple of years and deserves to have a great night of watching their favorite team," said Vince Burks, Senior Assistant Vice President at Amica Insurance. "Their smiles made us delighted that the YMCA had chosen this family to enjoy the game."
The Hockomock Area YMCA, with 29,000 members and facilities in North Attleboro, Foxboro, Franklin, and Mansfield, is a not-for-profit charitable community service organization of men, women, and children of all ages, ethnic origins, religious affiliations, and socioeconomic levels united in a common effort to positively influence the quality of life of its members, families, and communities. Based on the foundation of Judeo-Christian values, the programs and activities emphasize the development of the whole person in spirit, mind, and body and are available to all individuals regardless of their ability to pay.
Amica Mutual Insurance Company, the nation's oldest mutual insurer of automobiles, was founded in 1907. The company is a national writer of automobile, homeowners, marine, and personal umbrella liability insurance. Life coverage is available through Amica Life Insurance Company, a wholly owned subsidiary. Amica employs more than 3,000 people in 39 offices across the country.