FOXBOROUGH, Mass. – When the Patriots, who don't always utilize their annual franchise tag designation, decided earlier this year to apply it to Joe Thuney, the decision took some observers by surprise. Why, they wondered, would the club – which was already struggling to find breathing room beneath the salary cap at the time – be willing to dedicate nearly $15 million in guaranteed money to a guard for just one season?
However, others of us argued that considering which Patriots free agents were eligible for the 2020 tag, plus how dependable and versatile Thuney has been for New England since his arrival four years ago, the move made perfect sense. Indeed, after only two games this regular season, Thuney has proven his worth as arguably the Patriots' most reliable and fungible offensive lineman.
Sometime during the Week 2 loss at Seattle, starting center and co-captain David Andrews suffered what was reported in the media to be a broken thumb on his right (snapping) hand. At practices last week, Andrews did not take part, but was seen by reporters wearing a wrap on that injured right hand. The Patriots eventually placed Andrews on their Injured Reserve list, meaning he'll be out of commission for at least three games.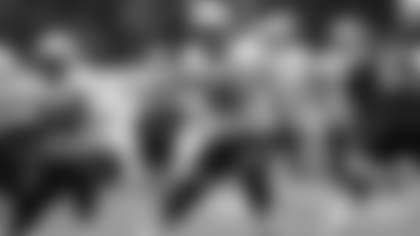 For the Week 3 matchup last weekend versus Las Vegas, the Patriots had a number of options for replacing Andrews and ultimately decided that Thuney, their starting left guard since 2016, would be the best, at least for that particular matchup. Thuney slid over to center while rookie draft choice Mike Onwenu stepped into Thuney's regular left guard slot.
"Thuney is just showing everyone why he's one of our most dependable players," WR Julian Edelman told reporters afterward, "to be able to go in and play center, switch it up, and show his versatility, and contribute in a huge way."
"He came in there and did a great job," remarked RB Sony Michel. "[Thuney] practiced as hard as he can all week. Stepping in to a new position. Sometimes, you have to adjust and that's exactly what he did, and he did it well."
Versus Vegas, with Thuney at center, New England piled up 250 yards rushing, their highest output thus far in this young 2020 season.
"Yeah, it was all right… As an offensive line, you always want to run the ball [well]," Thuney acknowledged with his characteristic demure smile. "Just tried to get the snap first, then the assignment, and communicate the whole time. Just tried to do what centers do. My teammates helped me a lot. The guards and tackles played well, too. It was a good game. Everyone's been on the same page."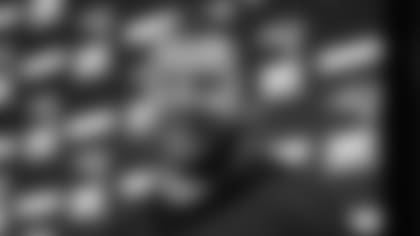 This wasn't Thuney's first time ever taking snaps at center for the Patriots, but since being drafted in Round 3 in 2016, he's played almost exclusively at left guard, having started every Patriots game there since his rookie season, prior to last week's game versus the Raiders. In the 2019 opener against Pittsburgh, he made an in-game switch to right tackle following an injury to starter Marcus Cannon, but went right back to left guard the following week.
For the Raiders game, the Patriots' coaching staff felt it was in their best interest to take Thuney out of his comfort zone and thrust him into the pivotal position of center. Other options included second-year draft choice Hjalte Froholdt and recently re-signed veteran James Ferentz, who actually started one game at center last season.
Earlier this week, Cole Popovich, one of New England's two offensive line coaches this season (Carmen Bricillo is the other), explained the rationale in having Thuney replace Andrews.
"We obviously hate to lose anyone, especially someone like David, who has so much experience and leadership within the group. David's been around, though, and provided leadership still, even though he's not on the field.
"As far as Joe goes, he did a great job [playing center]," Popovich maintained. "He's an extremely intelligent player and has played guard in this system for a long time and has always taken some backup reps at center throughout the years here, and even played in some preseason games at center. He did a great job of stepping up and… Really can't say enough about Joe. He's been kind of a rock since he's been here. Hasn't missed a start and has always been a great performer."
Of course, New England has had to shuffle players around on the o-line before and work without its preferred complement of starting five players. Just last season, for example, Andrews was forced to sit out the entirety due to a health condition, but the team had Ted Karras (now with the Miami Dolphins) fill the void for 15 regular season weeks.
Coincidentally, the aforementioned Ferentz' lone NFL start at center came last December against the eventual Super Bowl Champion Chiefs (he also started one game at right guard last season). Might he be prepared to reprise the role this coming week when the Patriots visit Kansas City, thus allowing Thuney to revert back to his natural position?
Head coach Bill Belichick seemed to hint that a new O-line grouping could be under consideration this week and beyond.
"Filling in for Dave, that's a big job. We just felt like [Thuney at center, Onwenu at left guard] was the best combination we had for this particular game [versus Las Vegas]. We'll see how that goes going forward. We'll just take it week by week here."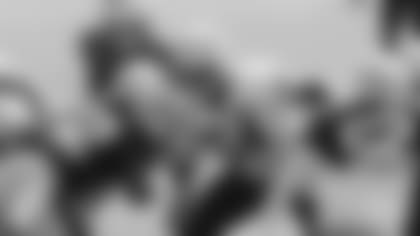 Starting multiple centers in a season isn't ideal, but the Patriots have had seasons in which they've been forced to do so. In 2011, famously, they needed four different men to play the part and it didn't prevent them from making it to the Super Bowl. Then in 2014, another Super Bowl season, the Patriots utilized three different starting centers throughout the regular season.
This isn't to suggest that having multiple centers and offensive line combinations is necessarily a good thing, or a guarantee of a Super Bowl appearance, but it does illustrate that all is not lost when one player, even one as instrumental as Andrews, is unavailable for an extended period.
Thuney could very well remain in the starting center role for the time being. However, as noted earlier, the Patriots – as game-plan oriented a team as there is in the NFL – have options they can consider.
During training camp practices this summer, Froholdt saw quite a bit of action as Andrews' backup, in addition to his usual guard spot. But Froholdt is essentially a "redshirt freshman," after he was placed on Injured Reserve following the 2019 preseason. He thus sat out his rookie season and is still learning the nuances of interior O-line play.
"Yeah, Hjalte's gotten stronger, he's understanding our system better," Popovich observed. "He missed out on kind of that whole first year. He's really coming along and doing a lot of good things. We're really lucky to have him."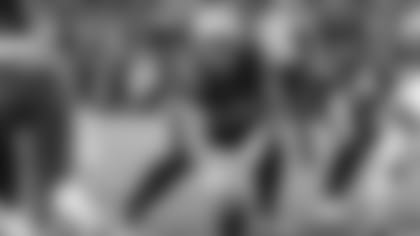 Given his experience advantage over the much younger Froholdt, the 31-year-old Ferentz could be a legitimate consideration this week. Although he only rejoined the club on Sept. 16 after not having been a participant in training camp this past August, Ferentz has been in the league since 2014 and with New England in one capacity or another since 2017 (both practice squad and active roster).
What's more, New England might want to maintain as much continuity as possible on the O-line this week. Starting right guard Shaq Mason popped up Thursday on the injury report with a calf issue that limited his practice participation. Starting left tackle Isaiah Wynn also continues to play through a calf injury that he sustained during last Friday's practice.
While Wynn managed to play 86-percent of the offensive snaps versus Las Vegas, it's not an opportune time for the Patriots to pile up injuries, however great or small, as they prepare to face a potent Chiefs team at Arrowhead Stadium Sunday.
"The playing time is really up to the players and what they do with it," added Popovich. "It's not like I'm picking it or someone else is picking it… How they perform dictates the role they have on the team."