Hi PFW, big Pats fan from Central America. Question to you: with all the talk about not having picks in the first and second round, and considering the strength of the roster that has been put together through free agency, how many open spots are realistically available?
Lars Moller
While it's far too early to accurately predict such things I think I understand your larger point and wholeheartedly agree with you. The roster appears to be quite deep and talented and there don't figure to be many roster spots available come the end of training camp. Depth is always a concern and injuries between now and the start of the season could also impact that outlook so I won't try to put a specific number out there in terms of exactly how many spots could be available. I believe the team could still use some edge help on defense and some depth at tackle, tight end and corner at the very least. I don't feel the lack of high picks will have much of an impact on the 2017 Patriots but certainly down the road it could become a concern when/if Tom Brady decides to retire and the core of talent grows a bit older.
Paul Perillo
I want to thank Malcolm Butler's agent for helping the Patriots to have a formidable secondary worthy of a sixth Super Bowl title, and I am very happy that Patriots won't settle for anything less than a first-round pick for Butler, but I wonder if Butler may cause problems to this team due to being teased with a huge contract he is not going to see this year?
Cam L.
Butler's agent didn't really have anything to do with the Patriots situation. Butler could have held out if he chose to but clearly that wasn't what he wanted so he signed the tender right around the deadline for teams to sign him to an offer sheet. After April 21 he could no longer agree to an offer sheet, so really there wasn't much to be gained by not signing the tender at that point. The good news is exactly what you said – the Patriots should have an excellent secondary with Butler and Stephon Gilmore at corner for the 2017 season. It's in Butler's best interests (his pending free agency) to perform well this season so I'm not all that concerned about his potential to pout over the contract.
Paul Perillo
Despite the rumors I believe if the Saints offered a second, third and fifth to the Pats for Butler and pick 118, it's something that works for both sides. If the Saints offered a contract to Butler already that's a fair trade for both sides. Agree?
Nick Cabrera
I think the Patriots would take less than that but I'm not sure the Saints would be willing to do it. Clearly they like Butler but the contract coupled with the resources it would take to get him are causing New Orleans to pause. Obviously we don't know for sure what's been discussed, and the Saints don't have a fifth-round pick at all, but I think a deal could be reached if the Saints wanted to do so.
Paul Perillo
Do you think LeGarrette Blount would qualify and get in the Pats Hall of Fame? I don't know the exact qualifications but he does hold plenty of rushing and touchdown records in his short time here in NE. Second, I also don't believe Jason McCourty will be joining the Pats unless he remains unsigned at the start of the season and there's an injury at the CB position. I know BB doesn't like to hire close friends for his coaching staff (so nothing turns personal if things get sour) and I feel like if we signed Jason it could be a same sort of scenario. And if he is gets unhappy we could risk upsetting his brother, Devin. Got any thoughts on my two cents?
Kraemer Soto
I don't believe Blount is worthy of being in the Patriots Hall of Fame. Quite simply he's not been good enough. He scored 18 touchdowns last season, which is a Patriots single-season record. Otherwise his numbers with the team are quite pedestrian. He averaged 4.3 yards per carry and about 60 yards per game as a member of the Patriots.  There's nothing Hall of Fame-worthy about those stats. As for Jason McCourty, I don't see any issues that you're referring to. Belichick has brought a lot of friends onto the coaching/football staff. He's also had two different Gronkowski brothers on the roster in addition to Rob and hasn't been concerned about potentially having to cut Dan or Glenn. If Belichick thought Jason McCourty could help I think he would try to sign him and wouldn't worry about having to let either of them go.
Paul Perillo
Were the Bills trying to irk anyone by waiting till last minute on the Mike Gillislee announcement?
Chuck Norton
I think the Bills were weighing their options. I don't think it had anything to do with trying to make the Patriots sweat or any other external factors. Last year Buffalo immediately made it public that they would not match Chris Hogan's offer so I doubt the waiting this time around had anything to do with the Patriots. But in truth only the Bills know that for sure. Either way there wasn't anything to be gained by Buffalo if they knew they weren't matching and chose to wait until the deadline.
Paul Perillo
I have two questions pertaining to Malcolm Butler. First, despite reports that Richard Sherman won't be traded, if the Seahawks called the Patriots and offered Sherman for Butler and a third-round pick, would the Patriots accept that trade offer? Second, do the Patriots, like myself, fear a Malcolm Butler trade straight up for one draft pick would be extremely risky on their end, considering the very low and long odds that the prospect they would draft would turn out to be as good and a vital contributor as Malcolm Butler?
Mackenzie Kirkey
I would personally make the Sherman for Butler and a third-rounder deal but the Patriots might be less inclined to do so. First, Sherman makes a lot of money and that would mean investing roughly $24 million in the starting corners for the 2017 season. Second, Sherman is a couple years older than Butler so that might cause them to pause as well. If the Patriots could get a first-round pick for Butler I would make the deal because I don't believe the odds are great that he will be re-signing with the Patriots after the season. Therefore I'd rather have a high pick to potentially replace him them let him walk for much less next year.
Paul Perillo
Could the Patriots trade Jimmy Garoppolo to Cleveland for their 2017 second first-round pick, their second-round pick and a 2018 third-round pick while also trading Butler to New Orleans for their 2017 second-round pick and a 2018 third-round pick - Then select the best corner available at 12, the best quarterback available at 33 and an edge rusher with NO's second-round pick while then also having two more 2018 third round picks?
Robert Freeman
Of course all of that is possible and I'd definitely be interested in doing it. I feel both of those deals would be fair. However, it doesn't look like the Patriots are interested in dealing Garoppolo at all, and perhaps more importantly it doesn't look like the Browns and Saints are interested in coughing up all those picks to get Garoppolo and Butler, respectively. But overall I like the moves and your solutions in the draft would make sense as well.
Paul Perillo
Big fan from the UK. Is it me or does this offseason scream ultimate game planning team (pick your poison). We know how Bill loves to change the focus/way we attack each week. Brandin Cooks, burner deep threat and more. Rex Burkhead, shifty runner and pass catcher. Mike Gilleslee, more of a traditional back/power back. How shall we attack you this week?
Mark Collier
I don't think the additions will change Belichick's game plan approach much. As you said he's always looking to attack in different ways from week to week. I have no idea how the Patriots will use Burkhead as he's never really played on a regular basis. If he turns out the way you suggest it sounds like he could be used the way Dion Lewis has been in the past. And Gillislee will likely assume the lead back duties that Blount held last year. So there could be some improvement from those two but not necessarily changing the way the offense is run. Clearly Cooks provides and entirely different element from what the Patriots have had and that could factor into the equation as well. But overall I expect Belichick to change things week to week and look to exploit the matchups to the best of his ability as he always does.
Paul Perillo
Is there a draft contest this year?
Ed McCarthy
You didn't miss the draft contest. We decided to discontinue it this year.
Paul Perillo
I never hear anything on what went on beneath the attrition between the Patriots and Malcolm Butler. I can't believe it's simply a money issue. We are still vulnerable at the CB position. Why not keep him? Would you give me an angle on this?
Folger MacFadden
I'm not exactly sure what you're looking for if you don't feel this is about money. Clearly that's the basis for whatever it is that causing and possible friction between the sides. It seems to me there's a disagreement over Butler's value with the Patriots not feeling he's worthy of top dollar and Butler obviously feeling slighted over the money the team gave Gilmore. Part of it is Butler's status as a restricted free agent, but I honestly feel if the Patriots felt he was worthy of $12 million per season they would have been willing to pay him. So basically this comes down to money and that to me is the issue.
Paul Perillo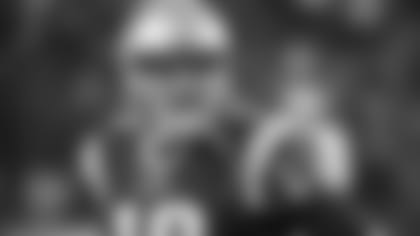 Now that Malcolm Butler's tender is signed, do you think that the Patriots should trade both Butler and Garoppolo to the Browns for the 12th pick and next year's first? That seems like a fair value that alleviates many of the question marks surrounding Garoppolo's lack of experience. The Browns get to roll the dice with an unproven QB while getting a top 10 CB. The Patriots can either take a player they want or trade down for picks and future picks.  The draft is rich in defensive players and Bill can invest in the future without significantly downgrading his secondary.
Andrew Roth
I don't think that's enough for the Patriots. I believe Garoppolo alone is worth more than one pick. You're suggesting trading two valuable players for two picks. But it doesn't seem to matter because if you believe the reports the Patriots have no interest in trading Garoppolo at any price so it's irrelevant.
Paul Perillo
Hey guys, just wondering on the potential McCourty brotherhood secondary if there are any rules on players switching jerseys. Having Bill disguise the two for a game would be the most Patriots thing ever. Keep up the good work.
Damon in the UK
How exactly would this benefit the Patriots? A quarterback would throw to a receiver he thought was being covered by Devin McCourty but would not have if he realized it was actually Jason McCourty covering the guy? How does that make sense? And I would assume players need to wear their correct jerseys anyway.
Paul Perillo
With the recent addition of Rex Burkhead and Mike Gillislee to the backfield, and James White's recent contract extension, we all assume we've seen the last of Blount. But what about Dion Lewis? I feel he's ripe for trading. He was great before his injury, came back well and had an historic game against the Texans, but I just don't think he's worth keeping around.  In that game he also fumbled, and had no touchdowns on the year or any real memorable plays until that game. He also went down really awkwardly on the final play of regulation during the Super Bowl, making me wonder if he's prone to more injuries. With all of the talent we have at running back, should we trade Lewis now while he still has some value built up from that AFC Divisional game and before we lose him to unrestricted free agency?
Andrew Stewart
Bridgewater, Mass.
Lewis is certainly a candidate for a surprise cut come training camp. He was outstanding in 2015 but was noticeably less so in 2016. I agree that he's been a tad injury prone and his elusiveness appeared to be diminished last year coming off the torn ACL. If his explosiveness doesn't return this spring and summer I wouldn't be stunned if he's dealt or released, although I'm not sure he holds much trade value at this point.
Paul Perillo
Did Bill Parcells  have anything to do with the Patriots changing from red, white and blue to blue (Giants) little red, silver or gray?
Tee Jay
According to Patriots.com, the change from red to blue didn't have anything to do with Parcells. Here's the explanation: "A new owner in 1992 and a new head coach and quarterback in 1993 seemed like the perfect time to change up the team's uniforms for the first time ever. Owner James Orthwein and his marketing team reportedly gave NFL Properties only a few months to develop the new logo and uniform color scheme. … The designers quickly developed what we now refer to as the Flying Elvis just in time for the 1993 season. Orthwein also noted that the colonists' opponents wore red during the Revolution, so it made sense to change out the primary jersey to blue. The new uniforms, royal blue with red numbers outlined in white and silver pants and helmets, were also introduced. Silver, it was noted, was the hot color for sports uniforms at the time."
If the Patriots require a seasoned pass rusher, why not go after Von Miller?
Bert Tucker
Why stop there? Add J.J. Watt too.
Paul Perillo
Why did the trade package for Cooks include the Saints fourth-rounder when the Pats have to forfeit it? Makes no sense. Am I missing something?
Anthony Salerno
The Patriots were going to lose a fourth-round pick regardless so why not acquire one and keep one? In other words, if they traded for a different pick (presumably later since the Saints wouldn't have been willing to give a high pick) the Patriots would have forfeited their own fourth-rounder (No. 131 overall). So by adding a fourth-round pick they kept 131 instead of losing that and gaining a later pick from New Orleans.
Paul Perillo