During the preseason games I noticed Belichick holding some kind of I-pad thing. I know he is not a high-tech guy, so will we be seeing more of this? Does that mean no more paper/clipboard? I can't imagine Bill coaching without a pencil behind his ear. What's next no more hoodie?
Dave DeLuca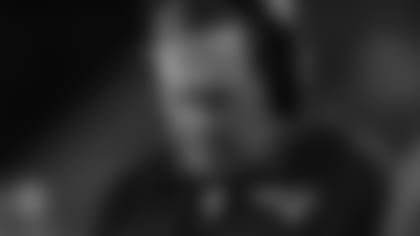 The device you are referencing is a Microsoft Surface tablet. All NFL teams are using them on the sidelines this year as a device to display photos that were formally printed out. The photos show high angles of each play and are a teaching tool on the sidelines for players and coaches. The Surface tablets allow those photos to be seen more quickly, in better clarity and allow coaches to zoom in on them. It's a technological upgrade that everyone seems to be enjoying this summer and it will continue into the regular season. But, I wouldn't worry about Belichick going without either the pencil or the hoodie anytime soon. He still takes his own written notes during the game and still will likely wear his trademark attire when the weather calls for it down the road.
Andy Hart
I can't be the only person concerned with the lack of depth the Patriots have at the linebacker position. I have heard talk that the Patriots will use Jones and/or Nink as outside 'backers to make up for some of the lack of depth at linebacker. What do you guys think of the idea of using one of the safeties (say Chung), at linebacker on obvious passing downs?
Zach Strong
The lack of depth at linebacker is certainly an issue. Depending on the front – 3-4 or 4-3 – there really aren't any/many experienced options on the depth chart. The group certainly needs to remain healthy if it is to be the versatile, productive factor in the defense that it has the potential to be. As for playing any of the safeties at linebacker, other than in sub situations where that is often the case in dime packages that include six or more defensive backs, I don't see it happening. The Patriots don't really have safeties that could hold up in the box with regularity, certainly not Chung whose undersized frame and physical style in the backend have been an injury issue for him over the years. He would likely not only get pushed around a lot at linebacker, he'd also probably get banged up even more. In general, few safeties have the skill set and physical build to make a living at linebacker.
Andy Hart
Last week [a listener named] Christian called the [PFW in Progress radio] show and you guys talked about "NFL money" which made me wonder, where does all the fine money go? And is there something in the CBA that states why Manziel got $12K for the finger, Graham got $30K for the dunk and Peyton got $8268 for taunting?
Kyle Moyer
The fines are indeed called out specifically in the CBA. Players and media are given the exact rundown for specific offenses prior to the start of each season. And all of the money goes to a charitable endeavors through NFL Foundation, including a fund that helps take care of former NFL players in need.
Andy Hart
I like the young nucleus of players he Patriots now have on both D-line and O-line, the question now is, can they play. Time will tell. Still, what do you think of OL Cameron Fleming being a force at RG someday? And who else do you have high hopes for on the lines?
Stan C.
I do think there is intriguing youth on both lines that should grow into production in the coming years. But with youth comes inexperienced and a need to prove something. That's where the Patriots are right now given departures such as Logan Mankins and Tommy Kelly. Dominique Easley certainly has a lot of potential, but it also looks like there will be a lot expected of the first-round pick in his first season. Fleming has been a right tackle throughout his college career and in his first summer in New England, save for a few guard reps. I think he probably has the best chance to find NFL success as a right tackle, but given the recent talk of moving Sebastian Vollmer to guard nothing can be ruled out in terms of long term position flexibility. Both lines will be very much worth watching early in the year to see who wins starting jobs and rotational roles in the trenches.
Andy Hart
Hi Guys, read all your articles down here in Australia!! Just wondering whether you think the Pats will give Stephen Hill a run after his release from the Jets? Obviously inconsistent hands and dropped passes have been a blight on our team this past season and that seems to show up for Hill also, but do you think with his speed and size the Pats could try to incorporate him at all into their offence? Especially since what us fans have seen from Brandon LaFell in the preseason has been poor hands without the speed that Hill possesses! Do you think this is a possibility or do you think that a rumored lack of motor will throw up too big of a flag for Coach B?
Jonathan Coco
Hill was clearly a bitter disappointment as a second-round pick in New York. He's a guy who I found very intriguing coming out of Georgia Tech. I still think he can be a big-play threat in the NFL. But I don't think he'll get that chance in New England. His reputation precedes him and it's hard to see a guy with his deficiencies on and off the field fitting in with the Patriots, especially given the overall uncertainty at the receiver position already.
Andy Hart
OK, I feel like I'm the only one here that was OK with the Texans/Mallet trade. Do you think a 6th round pick was fair considering how up and down Mallet was in training camp?*
*Tim Adams
I think that the Patriots getting almost anything for Mallett was a decent deal, as he'd done little to develop and prove his worth in his three-plus seasons in New England. Just to clarify, though, the pick in return was reportedly a conditional seventh-round pick that could turn into a sixth-rounder pick if Mallett becomes the starter in Houston. The Patriots got something for the former third-round pick rather than just cutting him or letting him walk away in free agency. I'm sure the projected plan was a bit different when Mallett was drafted, but in the end Belichick and Co. had to make the most of the situation at hand. I think they probably did that and are likely very happy with Jimmy Garoppolo as the backup moving forward.
Andy Hart
Hey guys, my question is about the Patriots running game and whether or not we should sign BenJarvus Green-Ellis? I know he is 29 and his best years are probably in the past, but he played great with New England. Sure handed, never fumbles (unlike Ridley), and good nose for the end zone. Wouldn't he be a better option than Bolden who has done nothing so far? Or do you think the Pats running game is OK as is? Thanks.
Bob Malloy
I've always been impressed with Bolden, but he seems to always be forgotten in the scheme of things. Do you think we will see more of him this year?
Carl Johnson
Hey fellas! Love your stuff keep up the good work. First time posting so don't be too critical cough Andy cough. Wow sorry I had a tickle in my throat. Anyway, I saw that the Bengals cut BenJarvus Green-Ellis. With Ridley's fumbling issues, and Vereen coming back from injury, do you think we could see the return of our beloved "Law Firm?"
I said this earlier this summer, even before Green-Ellis was sent packing in Cincy, I would love to see him return to New England as an experienced, sure-handed backup to Ridley. While Green-Ellis did have his own fumble issues with the Bengals, the Patriots would have to have trust in his ball security based on their own experiences with the former two-time, 1,000-yard back. He's never been a playmaker. His average isn't great, in fact it's not all that desirable. But given the uncertainty with Ridley's ball security issues, I'd welcome a veteran backup. Right now it appears that Bolden is the guy in that spot, as both Shane Vereen and James White are more passing backs than guys who are likely to take 15-plus carries in a game. I've never been a huge Bolden guy and think he's been too unreliable over the last couple years, having played in just 22 of a possible 32 games in two seasons despite his spot as a core special teamer. Bolden does have a little burst and his 4.9-yard average is impressive. The way it looks right now, Bolden will get his chances to contribute in the backfield and finally prove his worth on offense as the Patriots have yet to make a move to bring Green-Ellis back into the fold. Or go after any veteran back for that matter.
Andy Hart
I have no issues with Patriots cuts, but if I compare our D/O lines with the Broncos who dominated us in AFC title game last year, I don't see how we improved to win these battles again. I am particularly concerned that their D line will dominate our O line again especially on the left side where Kline, Connolly and Wendell will likely be pushed around. Do you share these concerns?
Ed J.
I do have some questions about the Patriots offensive line given the change in the positional coach, the departure of Logan Mankins via trade and the uncertainty of the group, especially on the interior. While there is plenty of youth and potential in the group, there are certainly plenty of questions for a unit that struggled protecting Tom Brady last year. I don't have specific concerns about the Broncos defensive line being the issue at this point, it's more of a general doubt. I don't think Denver's front is a dominant one, and if the Patriots get to the point in the postseason where they match up with the Broncos with the season on the line then my guess is that the offensive line will have come together as a somewhat productive, cohesive unit over the course of the year. If that doesn't happen, that weakness could derail the season.
Andy Hart
Why has there been very little media coverage of Garoppolo as compared to Manziel, Bortles, Carr and Bridgewater. Stats don't lie in the preseason and as far as competition level, with exception to maybe Bortles, Garoppolo has played same caliber competition.. I know it's early but Garoppolo will be the star of this class......Go Pats Go*
*Jeff J.
The answer here is as simple as the No. 1. The other quarterbacks you reference, aside from Carr, are first-round picks. All of the others were vying for starting jobs this summer, with Carr winning the job for the Raiders. On the other hand, Garoppolo is working behind one of the best quarterbacks in the league and therefore anything he does in the preseason or practice has no bearing on whether he wins a job or sees the field. The NFL is a quarterback-driven league and media empire. The 32 guys who hold those jobs, or who are even in the running to win one of those jobs, are drowned in media attention. The same is not true for a second-round pick who could spend the next three years riding the bench. But that might be a good thing for Garoppolo's long-term development after an impressive summer.
Andy Hart
Guys, this has been bugging me for years. In the third quarter Logan Ryan had the coverage in the left side of the end zone and it was an obvious pass interference on him that was not called. What I have a problem with is he didn't bother to look back to check on the flight of the ball? How can you knock down or intercept the ball if you are looking at the receiver and don't look back? This happens over and over with Patriots defensive backs and it never seems to be addressed? It boggles my mind that you would not check the flight of the ball and have your back to, the play. Thanks for letting me vent.
Brian Witherell
This is a common criticism by fans. The problem is that it's very hard to stay with a receiver down the field and still look back for the ball. Many times when a defender looks back, he loses the receiver. It's one of the more difficult skills on a football field and what separates the different caliber of guys making their money covering in a pass-happy league where the rules are stacked against them.
Andy Hart
How good does the Patriots D look this season, can they stop the run? How much can they expect from Wilfork?
Jerry Fountain
Well, Jerry, I expect Wilfork to visit the Fountain of youth this season. I think he's healthy and motivated for a huge year after an offseason in which he had to restructure his contract and faced doubts about his ability to come back from a torn Achilles. He's the key in the center of it all up front in New England's defense. I think he's going to return to his previous Pro Bowl-caliber play. Overall I think the defense has the chance to be very good if it can stay healthy, something that was a problem last fall. There isn't a ton of depth up front, so a couple key injuries could be very detrimental. It also bears watching what scheme is deployed this season after a summer in which we say primarily 3-4 fronts.
Andy Hart
1) This is the first I had heard that Mankins pass-blocking had slipped over the last few years. Have you guys noticed this before now? What about Mankins nasty temperament that sets the tone for the O-line? Are the Pats freeing up cap-space so they can make a move on some big-name player who may be released (as always happens) for financial reasons? 2) Did we get fair value? Is Wright a red-zone threat? This has been my biggest concern about the receiving corps because I think we have to operate on the likelihood of Gronkowski being injured and unavailable for the playoffs.
David Pineo
You are right in that it seems that after the Mankins trade everyone – media and fans – became vocal about the Pro Bowl guard slipping in his pass blocking. While he's had some obvious failings in this area over the years, including glaring examples in the postseason, I didn't see him as the soft spot in the Patriots pass protection that everyone is now making him out to be. Call it revisionist history or rationalization, both would seem to fit the situation. As far as the value in the Mankins trade, that's a tough call. It seems from afar at that the deal was as much about unloading Mankins big contract as anything else. So getting a productive body to fill one of the team's top needs and a mid-round draft pick would seem to be acceptable value. Contracts and money play such a big factor in NFL trades. While I don't love the idea of the Patriots without Mankins setting the tone up front as the veteran leader and physical presence on the line, I do understand the move and think the team probably did about as well as it could in the trade for a big-money player. Wright should be a nice addition to the offense as a move tight end and another decent body in the red zone. He'll have to earn his role with the team, but he certainly should be in the mix as a productive pass catcher once that happens.
Andy Hart