BB:** Good morning. How are we all doing? Good. Well, this is the official minicamp but really it's just a continuation of what we've been doing for the last 10 practices over the past three weeks. So, we're just trying to keep moving ahead here, installing some of our plays, trying to get everybody on the same page with the new players and some of the players that are back. Obviously we've made some adjustments and changes from what we were doing last year. We'll try to keep building on that and try to put ourselves in as good a position as we can to be ready to go at training camp. I think we certainly made a lot of progress but at the same time, we have a long way to go. We'll just take it day by day and try to keep putting one foot in front of the other and making progress.
Q: How would you sum up what you accomplished during the OTAs?
BB: Pretty much what I just said: we've made progress; we have a long way to go.
Q: Is it a full installation?
BB: Yeah. I mean, yeah, we've gotten a lot in, but it's not everything, it's definitely not. Without pads on, there are a lot of things that we're going to need to do when we get to pads, particularly in the running game. I'd say that installation has been held back a little bit just because [we] can't do the work that we need to do on it. But we've tried to introduce the players to a lot of things so at least they will have heard them once before and it's been explained once before. Sometimes the second time around makes more sense if you've heard it once.
Q: Do you stress the mental work elsewhere for the linemen and running backs more during this time of year?
BB: Yeah, we do a lot of team work because I think a lot of the fundamental things, individual things that we do, which are good, you would just lose those skills over the next five, six weeks and we'd have to rebuild them again. Whereas the team teaching, this gives us an opportunity to work as an entire unit – whether it be offense, defense, special teams – put those plays in, our communications and all those type of things and get them in and get them done which we can't do on an individual basis but we can do for these 10 days so we try to maximize that.
Q:** What are the goals for individual players as it pertains to newcomers and returning players?
BB: I think everybody's goals are the same. It's a new season. It doesn't matter where anybody was last year; it's where we are this year and how we come together as a team. It's about our training, our conditioning, about the execution of whatever it is we're doing. I think everybody is in the same boat on that. I wouldn't separate anybody really. We all have to do it – coaches included. I haven't called a play in five months, whatever it's been. I have to rebuild all that myself, we all do.
Q: How important is to get in pads even though it's June?
BB: Well, we can't do it.
Q: You're not doing pads?
BB: No, we can't. Of course not.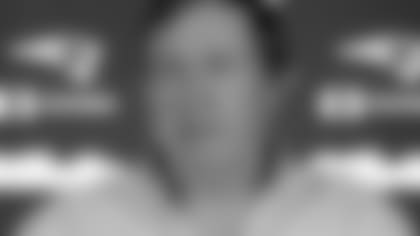 Q:** What was it about James Anderson that led you guys to decide to bring him in?
BB: He's had a productive career, defensively and in the kicking game. He's been productive in however many years he's been in the league. He's played a lot of football on defense and in the kicking game. He's got good experience. He has a good level of production and he was available so we'll see how it goes.
Q: The media hasn't seen any of Armond Armstead. What have you been able to learn about him in the last year?
BB: Armond has really worked hard. He's had a lot of adversity personally that he's had to deal with – unusual compared to most other players – but he's always had a great attitude, worked hard and really done everything we've asked him to do.
Q: When do you expect to see him on the field?
BB: We'll see how it goes.
Q: At this point with him whether he's out there or not, do you have any reservations about expecting him to be available at some point?
BB: If we have anything on that, you'll be the first to know.
Q: Are you expecting 100 percent attendance?
BB: We'll see. Hopefully.
Q: How would you evaluate Rob Gronkowski's offseason so far?
BB: All the players that aren't participating fully in the OTAs are in their rehab and they're all at various stages. Rehab is a process that each day is a different day. When you can move ahead, you can move ahead. When you can't, then you back up until you can move ahead and then you move ahead. That's what rehab is. We've all been through it. Players that are involved in it, they're working as hard as they can. We'll see how it all goes. It's not a straight line. Some days are better than others for everybody.
Q:** How good was it to see Sebastian Vollmer and Vince Wilfork back on the field during OTAs?
BB: Again, everybody is in different stages. Each guy is different, each injury is different. So, wherever they are, they are. We hope that they keep making positive progress and we look forward to seeing as many players as possible back out on the field as soon as possible, whenever that is.
Q: Do you expect to have Rob Gronkowski on the field today?
BB: We just keep going day to day. Every day we'll just keep moving along day to day with everybody.
Q: What do you see out of Asa Watson and Justin Jones? Jones has the size of somebody like Rob Gronkowski. Would you say he fills that position in the tight ends group?
BB: I don't know. We'll see. Give him a chance to participate out there and see how he comes along. Training camp and everybody will get an opportunity to play. We'll see who does what. Whatever the players do, they'll earn, whatever they achieve they'll have to earn to achieve. I don't know how that's going to come out. Guys that are out there will get a chance and we'll evaluate their performance and we'll see how it goes. I don't know.
Q: What have you learned about Darrelle Revis that you didn't know from just watching him?
BB: Anytime you have personal contact with a player, you get to know the player. Revis is a good player. I'm glad we have him. We'll keep working with him. There's still a lot for him to learn; a new system and all that. He's a very experienced and accomplished player. We'll just try to fit him into the things that we're doing, both individually and collectively with his other teammates in the secondary, especially as we get into multiple defensive back groups, where five, six, however many of them are on the field at the same time, there's a lot of communication and adjustments, things like that, involved too. But he's worked hard and he's done fine.
Q: Would you say Josh Boyce and Kenbrell Thompkins have made a lot of progress this offseason?
BB: I think all the guys in that class have definitely made a jump from last year to this year. Josh wasn't even on the field, so that goes without saying. KT, they're all further along. Those guys are, but so are all the rest of the rookies that we had last year, whether we drafted them or guys like Chris Jones that came in during the season. They're all much further ahead than where they were last year.
Q: If a guy isn't out there, can he still make that jump going from the first year to the second year?
BB: Yeah. Look, there are things that everybody, players can work on every day. There are some things they can't do but that doesn't keep them from doing the things that they can do, so we try to emphasize that. If a player is limited in some area, then that doesn't limit him in all areas. He can still make gains in those other areas, whatever they happen to be. So yeah, absolutely.
Q:** How valuable has this time been for Jimmy Garoppolo and how has he looked to you?
BB: Hopefully it's been valuable for everybody. That's why we're out there: to try to help each player improve and get them ready go to training camp and to play in the season. I hope it's been valuable for all of them.
Q: How has he looked to you?
BB: Again, like all these guys, they're learning what to do. They've got a long way to go, they're making progress. He's improved but he has a long way to go.
Q: Do the rookies have more to overcome this year because of the draft being pushed back?
BB: I don't think it's really affected the timeframe that we've had them. What it has affected was them knowing they were with their team on May 8, whatever day it was, whatever the date was [May 8 through 10], compared to April 20-whatever it would be. that couple weeks there is time that was lost from when players could start preparing for their new team and being told what they need to do or what position they're going to play or all those kind of things. Those two weeks got pushed back. Once the draft actually happened and the players came in on, I want to say it was like May 12, whatever that Monday was, then they've been here just like they would have been in the past, just the draft – we would have had a couple weeks, would have had a rookie minicamp, would have had a little bit of a head start. But from May 12 to now is the same as it was last year from May whatever that date was until now. That's been the same.
Q: Would you prefer the draft go back to that April date?
BB: Yeah, of course. The sooner you have your players, the easier it is to start not only getting them integrated into your team but also building your team. There are certain things you get in the draft and then you have to fill in other areas of the team with veteran players or college free agents or whatever. That process is going on. You can see every day, you pick up the transactions and every team, not every team but there are probably five to 15 transactions on a daily basis. Of course if you had the draft, you would be able to move that whole process up. But whatever it is, it is. It's not my decision. But I would vote for an earlier draft, absolutely.
Q: Have any of the rookies surprised you with what they've done on the field?
BB: Again, with all due respect, we haven't really done anything on the field. We've taught a lot. I think hopefully we've learned a lot. But we haven't had the competition that we're going to have in training camp. It's just not the same. On top of that, we have a lot of guys who, even though they may know what to do, they haven't had much experience doing it. Hopefully by the time we get to training camp, we'll be in a little bit different position where the players will have a little bit better understanding [of] what to do, they will have done it at least in a controlled setting and then we'll see based on the competition how they're actually able to do it against somebody else who is competing at that same level. That's when we'll really see that. We're not really going to see that now. Nor are we looking for that now. We don't want to go out there and have a bunch of piles and have guys rolled up. We're trying to teach them and get them to understand what to do to have some confidence so they can go out there and when we do get to training camp, they're able to go out there and do it at their best level and compete against another guy who is trying to compete against them. That's really all this is about. Now's not the time to cut the team. It's too early.