BB:** Good morning. Welcome to football season; we're here. It's always an exciting time of year – the start of training camp. I thought that we had a real productive spring with a lot of our players, a couple new coaching staff members. We're kind of pulling it all together. That's really to put us in a position to start camp and we kind of get it going today with some conditioning stuff. We're not in pads for a couple days and then we'll roll into them by the weekend. It's a good opportunity to get off to a good start. We'll see how it goes. We obviously have a lot of work to do. We'll just take it day by day and try to string some good days together and then see if we can get ready to go down and have good weeks against Washington and Philadelphia and into the preseason. From our coaching standpoint, I think it's all going to happen pretty fast. Again, the spring preparation has been a really important part of this whole process. Now we'll take it into the next step and hopefully get off to a good start these next couple days and getting into a good, solid week of work by ourselves and then be ready to work against two quality teams, two quality organizations.
Q: What can you say you truly know about the team right now as you start this part of the process?
BB: I think this is where we really start finding out; a lot of teaching in the spring and the evaluations are more now. So, we'll see. I think everybody has had their opportunity to participate in the spring workouts, to learn what we're doing, to get in shape, to be ready to go and now we start competing and we'll see how that turns out. I don't know.
Q: Is it too early to know the condition of the team? I know you mentioned you're going to do some conditioning today but some guys have been in.
BB: Sure. I think we'll find that out after a week of training camp; start stringing some days together and see how we all look. I know we've had guys here for a couple days but that's not quite the full camp so we'll see how it goes, take it day by day.
Q: So today is the full team conditioning run? Everyone runs today.
BB: No, we've had guys here for three days.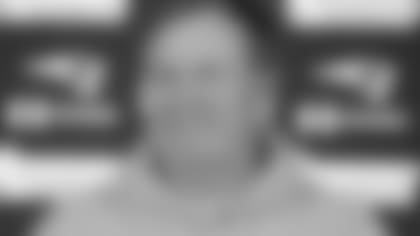 Q: So many have already completed it then?**
BB: Yeah. The guys that have practiced have been obviously cleared to practice and they're practicing and they're rolling. Then we have another, probably half the team, coming in today.
Q: Is everybody here or accounted for?
Q: Guys still rolling in?
BB: Yeah, we're going through the physicals and getting things organized and all that this morning, so hopefully.
Q: With more physicals today, is it possible you could add a couple more guys for tomorrow?
BB: The guys that we're seeing for the first time, yeah, I don't know what their situation is. They would have to be cleared by our medical department before they're allowed to participate. That's part of what today's process is. Guys that have already been here have already gone through that. There's another group that's going through that today.
Q: Has Rob Gronkowski been here? Is a decision on him still to come in terms of PUP?
Q: Would it be accurate to say he won't start camp on the PUP list?**
BB: Yeah, he would be ineligible to do that.
Q: Because he's been here?
BB: Right. Well not because he's been here, but because he's been cleared to play.
Q: Was Armond Armstead's retirement something you were preparing for ahead of time before he announced it or something you reacted to?
BB: Armond had a problem, had an issue come up later in the spring and then it was resolved. When it was resolved a week ago or whenever it was, it was a little bit of a process. I think after everything had come through, that was the decision that he made. So, as that process is going on, we realized that was certainly a possibility.
Q: Do you like it better now the way it is – when guys come in they are fully ready to go, they've had an offseason?
BB: It doesn't really matter what I think about it. We work within the constraints that we have. Whatever the rules and opportunities are and try to make the most of them. That's what we've always done, that's what we'll try to do now.
Q: When the rookies come in early, what happens during those couple days?
BB: The players that came in early were a combination of rookies and veterans; obviously quarterbacks. It was a mixed group but for the most part, with one or two exceptions, all those players were here in the spring. So it isn't like we're starting from scratch of, 'Here's where the field is,' type of thing. We're beyond that. They're all here for a reason, for a purpose. We try to make the most out of those opportunities that they were here for. They're all, again, different reasons, different circumstances but there are reasons why they're here, set forth in the CBA. We try to, again, use that time to use it productively for those players. They're in certainly different categories, different situations.
Q: Cameron Fleming missed all the spring except for minicamp. How has he done cramming for everything he missed?
BB: I think all the players are in different stages of development. Cam is a smart kid. He's picked things up quickly but started further behind because of the two and half weeks or whatever it was that he missed. Again, we'll try to level the playing field here in training camp so that everybody gets an opportunity to compete: the double digit veterans and the guys that are here for the first time. That's not going to be totally level but it will be hopefully on a competitive level and we'll see how it goes. But they're here, they're working hard and we have a long, long way to go. We'll see how much everybody improves.
Q: Rob Gronkowski has had a lot to overcome physically the last couple years. What have you seen from behind the scenes how he has worked to get himself back?**
BB: Rob's always worked hard. He worked hard as a rookie, he's always worked hard. When he's here – I can't speak for – but what we've seen, he's been consistent.
Q: How pleased are you that he's made it to this point to be practicing at the start of camp?
BB: It's good to see all the players that are out there, out there. The ones that aren't out there yet that are working hard to get back, we'll look forward to seeing them as soon as they're able to participate. We have 90 players on our roster and the ones that are out there actively participating, I'm happy to see all of them.
Q: When you have turnover at a position, like the secondary, is it more of a challenge to all those guys at that position to coordinate? Is it tough when you have that much turnover for them to work together?
BB: Not necessarily. It could be but not necessarily. We're certainly not anywhere near where we need to be or will be, but I'd say we've already crossed part of that bridge in the spring. We had 13 practices together and at this time of year, as we do in the spring, we work a lot of different people in different combinations and let the competition sort itself out. I think that we've had good, productive communication at all the positions. There's always going to be turnover. There's turnover every year on every team. This is nothing unique. We'll just see how it plays out. I don't think that necessarily has to be a problem but it could be. I don't know.
Q: With a guy like Rob Gronkowski, is there anything more that the staff can do during the year to preserve his health?
BB: The health of the team is the most important thing that we have. That's for all 90 players now and 53 players once we have our final roster. We always try to do everything we can to help all the players stay healthy and stay on the field. We do that for everybody; every single guy. It's a consideration for all them. Certainly Rob, but everybody. We don't single out 'these players' and 'those players'. It's all the players, all of them.
Q: Are you concerned about what's in the texts between you and Aaron Hernandez?
BB: I think that was addressed by a lawyer last week and I don't have any further comment on it.
Q: Is it something you routinely do with your players, texting back and forth?
BB: I don't have any further comment on it.
Q: Do you approach your players differently now given what you know now?