BILLS HEAD COACH SEAN MCDERMOTT
Postgame Press Conference
Saturday, December 21, 2019
Q: Sean, talk about how New England had long sustained drives. Tom Brady was able to find a rhythm and pretty much keep it.
SM: Yeah, I mean, their time of possession was significant and it's hard to win when you have Tom Brady on the field as many times as he was. And we didn't do a good enough job, just fundamentally in some areas, like establishing the line of scrimmage on both sides of the ball. I thought some things were up to our standard and some things certainly weren't. Give them the credit, they came away with the win.
Q: Sean, you have gone through stretches where you weren't making a lot of big plays. Then the last 30 seconds of the half, could you go through that, and what that meant to you guys and the way you executed down that last stretch…
SM: Yeah, I thought that was big, yeah. I thought that was big, you know, just having the opportunity to also what we call 'double dip' coming out of half. We didn't get that done, but the points before half were big for us. You know, we put ourselves in that position right there and we handled the clock well and our offense, Josh [Allen] executed well.
Q: Josh Allen just talked about pre-game and in-game, he used the word 'jitters', in terms of him getting settled in. Did you have a sense of that and could you comment on how that went for him, early and as the game went on…
SM: You know, early in the game, had some opportunities maybe, but I thought, as the game flowed, as the game trended down into the back half of the second quarter, with a two-minute drive and into the third and fourth quarter, [he] made some big time throws in there.
Q: How about the way Josh played, in general? And after those struggles, hitting two big plays, driving it down the field…
SM: Again, I thought he played well. Again, there were a couple plays early, but overall, when we needed some plays, he made some plays and we were about to move the ball down the stretch, you know, with the last three or four plays right there. You know, just didn't execute at a high level.
Q: Sean, did you feel like this was almost like, if there was anything to be gained, it was almost a playoff experience, ahead of the playoffs. Would you agree with that?
SM: Yeah, I mean listen, we're here to win - number one. Having said that, we've gone on the road and played in tough environments before. We've played four quality opponents, the last four weeks, in big games. And our players have put it on the line and that's all I can ask. And we have got to continue to learn from these experiences, as a young football team and continue to grow, so we get stronger and stronger. You know, in games like this in particular, as we move into the playoffs.
Q: Any thoughts on how you play the finale and resting guys?
SM: Yeah, no, we will talk about it. Brandon [Beane] and I will sit down and talk about it, and make sure we do what is right for the team.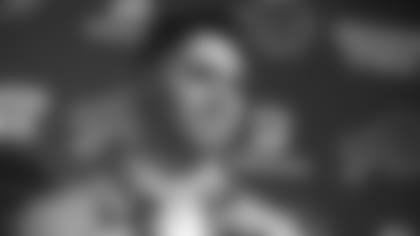 Postgame Press Conference
Saturday, December 21, 2019
Q: What broke down at the end of the game to not be able to get the ball in the end zone?
JA: Yeah, quarterback-designed run, they played it well. The next throw, game of inches, I've got to put it on Dawson [Knox] there. And then as far as to the fourth-down play, they brought zero [coverage] and I tried to make a play and just give somebody a chance. But when we get it down there, we've got to get it in the end zone, there's no doubt about that. That's on my shoulders and there's things I could have done differently throughout the game, especially early on, taking some early completions and just finding a way to get in tune and get in rhythm early on in the game. I didn't do a good enough job of that today.
Q: How tough is it for you and your teammates that you've played the Patriots really well twice this season and not been able to get over the hump and beat them?
JA: Well, credit goes to them. They played a heck of a game. It's a really good defense and obviously they've got No. 12 over there at quarterback. It sucks. Obviously they're an AFC East division rival and that's their consecutive whatever it is year winning the division. So we've got to find a way to get over that hump, we were playing to put ourselves in position where we could potentially win it. But they played well today and hats off to them.
Q: What prevented you from finding that early rhythm you just talked about?
JA: Yeah. I don't know. Whether it's eagerness or anxiousness or just pregame jitters, I've got to find a way to get rid of that. Whether it's throwing more pregame or throwing more right before the game when I'm on the sidelines, just try to get in tune. So I'll look into getting that done and find a way to like I said, get things going early and taking some early completions.
Q: So you just needed to settle down a little bit?
JA: Yeah and like I said, that's going to come with reps and playing in games and playing in big-time games like this. You couldn't ask for a better situation, playing for an AFC East division title in December with two games left, to give yourself a chance. So I'm super thankful for this experience and what we were able to do here. But at the same time, we came here to win a football game and we didn't get that done.
Q: You guys had big games against Dallas on Thanksgiving and against Pittsburgh on Sunday Night Football, but does it feel different tonight playing the Patriots here with so much at stake?
JA: I don't think so. Again, we try to treat every game the same, not try to take any different mindset or any different routine going into it. So I would say no. But like I said, we've got to find a way – I've got to find a way to get some completions early on and get the offense moving. I don't know how we were on third down but I don't think it was pretty. So we'll learn from it. It's one of those games you learn from and if you don't learn from it, it's a complete loss. But we've got another game left, focusing on the Jets now and then we've already secured our playoff berth. But we've got one more game to try to go out and win.
Q: What's the mentality when you get the ball back at the end of the game with a chance to tie it?
JA: There was three or four minutes left, we had two timeouts. We knew what we needed to do. We got the ball down there, we had some guys make some good plays, Cole [Beasley] made some really good plays for us. But when we get down on the 8-yard line, first-and-goal with how many ever minutes were left, we've got to find a way to punch it in there. And again, that goes on my shoulders and how we operate as an offense relies on the quarterback and I didn't do a good enough job there.
Q: That sequence at the end of the first half was pretty crazy –
Q: As you're going in for halftime, are you thinking, "Man, we got a chance in this thing now"?
JA: Yeah, we've got a chance in any game. You know, how it was going early on, a couple things that I missed, easy ones that I missed – and then for our defense to do that there and allow us to make some plays. Dawson [Knox] made a huge play for us and then getting the ball to [Dion] Dawkins, or D-Dawk is what we call him here. And that was a good touchdown to go in, one second left in the half after really such a poor performance on my behalf. It felt good just because our defense was playing really well and gave ourselves the chance and we made a couple plays when we needed to.
Q: What did you see on the touchdown throw to John Brown? It looked like there was a miscommunication there with Stephon Gilmore and Devin McCourty, but was your read on that?
JA: The play to John Brown? Yeah, so it's naked and you're pulling up. Guy in my face, I saw Smoke [Brown] make a really good move and I just let it go up and he made the play. I really didn't even see where the ball went but heard everybody screaming and yelling. That's one that was good to hit because we've been practicing on that play for a while and finally got to utilize it. Smoke made a play.
Q: How often do you find yourself in situations where you think, "This isn't Wyoming anymore"? You're now toward the end of your second season going blow-for-blow against Tom Brady. What does that say about where you're at in your career now?
JA: It's football. I don't really think of it any differently or where I'm at, or what I've been through. Every game that I've been in has been a valuable learning experience for me and to be in this one – again, obviously we wanted to win it. That's our goal each and every week. But that was some valuable experience I got to learn from and grow from today. Again, we'll look at the film and learn from this and move on to the Jets.
Q: You keep talking about learning from games like this. How well might this game serve you for what lies ahead?
JA: If you look at the type of teams we've played the last three weeks, they're all playoff-type teams. So getting that experience against these defenses, teams we might be able to see again, it's all valuable experience because playing games in December that mean something; not many people are doing that right now and we're one of those teams. So it feels good to be in the situation that we're in and the position that we're in. But again, we didn't do a good enough job today, we're trying to win a football game. This one hurts for us obviously because we don't want anybody to win the East during our game, that's one that we'll take to the heart. So we'll learn from it.
Q: Having played in all these big games the past few weeks, do you find that as the stage gets bigger toward the playoffs, the game is slowing down for you or you're feeling more comfortable?
JA: I mean, again, we try to treat every single game the same here. We're not trying to make any game bigger than the next. The most important one is our next one and that's kind of how we think about it and it doesn't really matter what channel we play on, what day we play on. It comes back to 11-on-11 football and we've got to get the job done.
"The line was doing a good job up front giving Josh time. He was doing a great job extending plays to give me enough time to get open. I had a few opportunities I made them but it wasn't enough to finish it."
"They did a hell of a job, in the red zone in the last series. We made a lot of plays to get down there but we have to figure out a way to finish it off. That's what good teams do and that's what they did tonight. We played good enough to win we just didn't finish it at the end. We have to take advantage of that. We to the 8-yard line we have to score right there. That's just what it is, we finish that and we're not talking about how efficient they were, we're talking about how we played." 
(On his touchdown reception) 
"I faked the over like we have been doing all week and came back across. It was just a great throw."
(On what the team can away from the loss) 
"We just have to finish strong. At the end of the day, we have to manage the clock and execute more efficiently."
(On what it is like matching up against Stephon Gilmore) 
"At the end of the day, that's what we play the game for, especially if I have a number one cornerback following me, that is a sign of respect from the other team. He's just an all around athlete and I have nothing but respect."
(On the job of Cole Beasley on the final drive)
"The thing is, one of us is going to be clicking, and he put the receivers on his back today and he executed the plays that were thrown to him."
"I'm thankful for that score, but I would trade that score for a win every day. The touchdown was called in the playbook. Like I said I would rather have the win than the touchdown."
"To just win, whether it was the Patriots or the Jets it was that make the net game for us. We have our foot on the gas and we're not taking it off. We just want to get a win every week and we like winning."
(On his roll on the offense) 
"I'm blessed that I'm athletic. However we have to put points on the board, I'm just happy to help. When my number's called, I just want to make sure I put that point up for my team."
"The Patriots are a good team. It was a playoff type of game. I feel as a team that we fought hard but we didn't get the win."
(On what the message for the team is after a tough loss) 
"It's football. We played against a good team and it came down to us on the 10-yard line. It was a good game, we just have go figure out our mistakes and get ready for the Jets and the postseason."
"It was a tight game late in December, playing a very good football team on the road. You have to understand it was going to be tight going into the fourth quarter. We knew that was going to happen. We don't take pride in losing by seven though. We go out there and try to win every ball game we can. We made a lot of plays in this game but also gave up some things, so we go back and try to correct thing and get on to the next game."
(On the challenges of the Patriots passing game) 
"I think it's obvious watching them on film and even on TV, and I'm sure you guys know that the greatest quarterback of all time, just being out there and seeing all the looks that defenses give him. The adjustments that they are able to make, they make a lot of things look the same. A run looks the same as a pass and they get a big gain off of it. That's why they are so successful. And a guy like 11 [Julian Edelman] out there, he's hard to cover. He finds the open areas, and 12 [Tom Brady] is able to find him."
"I understand what this team is about. I'm not learning anything new from all the games we've played already. You understand what type of football team you are. We wanted to go out here on the road against a great opponent and win the game. It's as simple as that. We're not here trying to learn about this team anymore. We're out here trying to win."
(On being in the playoff hunt) 
"It's motivation for myself and the entire team. We have to stay locked in, and focus on what our goal is."
"We have to watch the tape and narrow down the things that we have to do better at. There was some little missed tackles within the game that we probably would want back. The bigger the game the more every single play matters. So we just have to watch the tape see what was going on out there and try to correct those the next game."
(On knowing their playoff fate) 
"Not really, I mean, I don't and as a team I don't think we do either. It is kind of that 1-0 mentality. I think if you look too far ahead and you look kind of behind its all bad news. You just have to go 1-0 and it will be the same for next week."
(On the mindset of the team knowing they will be in the playoffs) 
"Really, there is just room for improvement and we need keep working hard and keep pushing and find a way to play our best ball when it matters on game day. I think we are doing the right things in practice. It is flashing in games but we just have to do be able it for four quarters. There is more in there, we just have to find a way to bring it forward."
(On the Patriots offense) 
"They are good team and a good offense. Tom Brady is running it so you have to respect that, I think that we wanted to stop the run more than some of those big runs. It definitely is over our average of what we wanted, so that is kind of where we need to be better."
(On the Bills run defense)
"We need to be better and we can be better. We can just definitely limit some of those runs and especially the yards after first contact, needs to be better by us."
"It was everything we expected but we have to execute better. Nothing we didn't expect, we just have got to execute better. If it comes down [to meeting in the playoffs] we will be ready. I expected to win and I am disappointed that we didn't. We have got to find a way."
"We are just a blue-collar team. We come to work every day. There is not much more to say than that. We are a blue collar team. We will be the same team next week."
(Asked for his thoughts on Tom Brady) 
"You can't come in here and be close you either got to blow them out or that is going to happen."
(On the success of the Patriots run game) 
"They were pushing the pile and we need to be more physical."
(On if the Patriots offense mixed things up this game) 
"Yeah they did. They were able to set some things up, especially in their 21 group package. They were able to set some things up on their first touchdown. They got us in the shift and then they would run play action. They were able to mix it up, we got some good stops, but they were able to come out and make some more plays."
(On how confident the defense was after holding the Patriots to a field goal before the final touchdown) 
"We knew we had to finish the game. He's the greatest quarterback to ever play the game and we knew they were going to come back and try and strike. Like I said, they just made more plays than we did today. I'm proud of our guys today, but in the end, there are no moral victories."
(On any positives they can take from being within one score of the Patriots in both losses) 
"We played hard, but there are no moral victories. They made more plays than us."
"I feel like when I am out there, and I get an opportunity, the coaches trust me to handle that and make the right decisions. Any chance I get to get my hands on the ball I feel like I can do something special with it."
"They [the Patriots] played a better game than us. They finished the game and we didn't. We had our opportunities. Give credit to them, they played an outstanding game. They finished the game and we couldn't."
(On playing against Tom Brady and Julian Edelman) 
"I was born in my dad's rookie year in the NFL so I have been around this business essentially my whole life and know it is what supports my family. I would be lying if I didn't say I appreciate the great ones. I don't care if it is LeBron James or Greg Maddox from the Braves when I was little throwing the ball off the mound. People who are great at their job and do it at a high level this long in pro sports I don't know if marvel is the right word but I sure as heck respect them. Those two guys deserved to be respected and those two guys have won a lot of football games together. I mean Julian [Edlemen] is special and Tom [Brady] is special and they got the win today. Hopefully we will be back in this locker room here in a few weeks, I don't how the playoff picture looks or if even that is possibility but that would be fun. We will see. We just have to get back to work, which I know we will we have great leadership and a great group of dudes. You are right there are no moral victories but at the same time unfortunately I have lost a lot of games in this league but losing on this team is a little bittersweet compared to my teams in the past just based off of how this year is going."
"We've just got to go back and watch the film and we will see. They made the plays when they needed to make them and we didn't make the stops when we needed to make them. It came down to the last possession. That's what you want. You want to give your offense a chance. It was a hard fought game but those guys did a good job."
(On defending Julian Edelman) 
"He made big plays, that's about it."
(On losing to the Patriots a second time) 
"It's one game. It doesn't define us. We are still in the playoffs, we are in the dance. We've got another tough one next week against the Jets. We just have to go in with a positive mind set and just try to win that one. We just didn't come out on top. Those guys had a great game plan. Whenever we had them behind the sticks they were able to make some key plays to get back ahead of the sticks. There's some things we have to prevent."
"With 12 back there, there is always a chance for those guys to win a game. You can never underestimate him. He is one of the best, if not the best, to play the game. Things didn't go our way today. You have to go in there and play the perfect game and a have a little bit of luck to take him down. Things didn't go our way today."