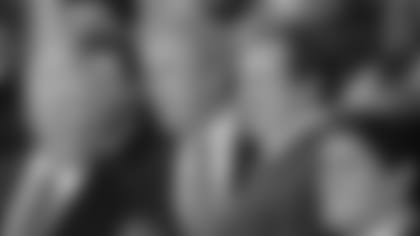 ]()WASHINGTON (April 13, 2005) -- President George W. Bush welcomed the New England Patriots to the White House, a ceremony that has become a tradition now that the team has won the Super Bowl during three of Bush's four years in office.
"You know, the commentators would say, 'Well, they're not the flashiest bunch, they're not the fanciest bunch,' " the president said during a ceremony in the Rose Garden, the team's three Super Bowl trophies glittering in the sunlight on a table. "They just happen to be the best team. They're the team that showed that when you play together, when you serve something greater than yourself, you win."
About 30 players attended, including quarterback Tom Brady and linebacker Tedy Bruschi, who is recovering from a stroke suffered just after he played in the Pro Bowl in February. Bush saluted Bruschi, saying, "I congratulate you on showing such incredible courage on the field and off the field. There's a lot of people that were praying for you, I know."
The president credited the team with inspiring the Boston Red Sox, who won their first baseball World Series last autumn in 86 years. He also thanked a group of seven players who flew down early and visited with wounded soldiers at the National Naval Medical Center in Maryland, and Walter Reed Army Medical Center.
"I think you saw firsthand the definition of courage when you saw those young soldiers who had been wounded that are working hard to overcome their injuries. I can assure you that your visit helped lift their spirits," Bush said.
Brady told reporters later, "To go there and see those troops, ... it makes what we do seem so unimportant."
The Patriots presented the president with a ball from the 24-21 victory against the Philadelphia Eagles in Super Bowl XXXIX on Feb. 6 in Jacksonville, Fla.
Coach Bill Belichick, teased by the president for wearing a business suit, also presented Bush with one of his trademark gray hooded sweat shirts, triggering laughter from an audience that included Senators Edward M. Kennedy and John Kerry, who was Bush's opponent in the 2004 presidential election.
Recalling last year's team visit to the White House, Bush told the team: "I think I said last time there's a chance you'll be back. I wasn't sure about me." As the audience laughed and Bush winked at Kerry, the president added: "I'm confident I'll be back next year. And the way you've been playing, there's a good chance you will be, too."
AP NEWS
The Associated Press News Service
Copyright 2005, The Associated Press, All Rights Reserved