INDIANAPOLIS -- Given the money the Patriots invested in rising stars Rob Gronkowski and Aaron Hernandez last spring, as well as the potential addition to the tight end depth chart of Jake Ballard after a year on injured reserve, the position is nowhere near the top of the team's needs heading into the spring.
But another given is the affinity that Bill Belichick -- and to some degree New England offensive coordinator Josh McDaniels – has for young players at the position. It seemed like the Patriots signed or pursued every tight end that came available last year, and drafting at the spot has been common over the Belichick era.
In his previous 13 years running the Patriots draft, Belichick has taken a tight end 11 tight ends. He tapped the position at some point in those drafts in nine of the 13 years.
So even with the All-Pro Gronkowski, the versatile Hernandez, the intriguing Ballard as well as Michael Hoomanawanui and Daniel Fells on the depth chart, there is always a chance Belichick uses one of his five draft picks at the position. After all, even if it's just a seventh-round pick on a camp body-type, tight ends make very versatile preseason performers and special teams players.
This year's draft class doesn't have an undisputed top prospect, but according to NFLDraftScout.com four guys could go in the first two rounds and 20 tight ends could be selected in the three-day draft process.
One thing the many prospects have in common – with 19 getting the invitation to attend this year's Combine – is an understanding of how much of an explosion the tight end position has undergone in the NFL in recent years. And how big a part of that the Patriots have been with Gronkowski and Hernandez.
"Oh my gosh, think about the Patriots how they use Gronkowski and Hernandez," Rutgers tight end D.C. Jefferson said when asked if he was excited how the position is being used in the NFL these days. "I look at myself being those guys. I look at myself filling those roles with any other team and just doing it."
Jefferson is a unique prospect who's more potential at this point than finished product. He converted from quarterback as a freshman, but then went on to catch just 47 passes in his 50 career games. At 6-6 and 256-pounds he has impressive size and athleticism and he made a positive impressive in his work this winter and the Shrine Game.
He's considered a potential undrafted free agent, but that hasn't exactly cut down his confidence.
"I want to be selected in the first round," Jefferson said. "But realistically everyone thinks that every year. I'm doing the best I can do.
"I just want to be in a situation where one team wants me. It's going to be history then! It's going to be history after that!"
Beyond being impressed with watching the Patriots tight ends work, Jefferson has another tie to New England. He recalls Belichick addressing the then Greg Schiano-coached Scarlet Knights before one of their games.
"He and Coach Schiano, they share a lot of values and views that are the same. He's a great coach," Jefferson said of Belichick. "The biggest thing that he said that changed our whole season for that season that became a quote was, 'Do your job.' That's something that Coach Schiano took and emphasized."
While Jefferson isn't likely to hear his name called early in the draft, if at all, at least one guy who will is Stanford junior Zach Ertz (6-6, 252). After previously being stuck behind 2012 Colts second-round pick Coby Fleener on the depth chart, Ertz had a breakout season last fall with a team-high 69 catches for 898 yards with six touchdowns in an All-American campaign.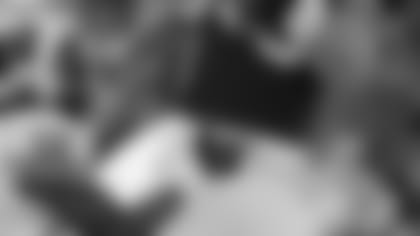 Ertz' work in Stanford's pro-style offense should translate well at the next level. Though he spent more time split wide than in line, he feels he can be the total package at the position. Ertz models his game after Cowboys All-Pro Jason Witten and he also enjoys what he's seen from NFL tight ends in recent years.
"Seeing all those tight ends doing all those things that they've been doing is very neat," Ertz says. "I mean you see Jimmy Graham out there against corners all the time and just seeing what he does is very impressive. It's something that I hope that I can do at that same level."
Notre Dame's Tyler Eifert (6-5, 252) is another player in consideration as the top tight end in the class and a possible first-round pick, but Ertz is confident his own skills will prove his worth in the competition this week in Indy.
"I think there are a lot good players in the group," Ertz said of the guys he's becoming friendly with in the Combine hotel. "Like I mentioned Tyler Eifert and some of those other guys, but I mention myself in that same breath.
"Off the field it's all fun and games. But on the field it's just pure competitors out there."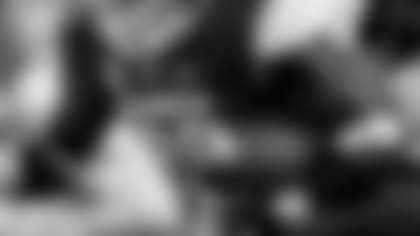 Like so many of the prospects seem to, Arkansas' Chris Gragg (6-3, 236) has his own ties to New England. Despite the missing eight games with a sprained MCL for the Razorbacks last season, Gragg is projected as a mid-round selection and also really likes the job prospects at this position. Though he caught just 22 passes last fall, he had 41 for 518 yards and two scores two years ago.
"I look up to guys like Vernon Davis and Aaron Hernandez," Gragg said. "Those guys kind of fit my build and kind of have some of the same attributes that I have."
But he's not just watching Hernandez from afar. Gragg remains close with his former Arkansas quarterback and current Patriots backup Ryan Mallett and has discussed New England's versatile pass catcher.
"Mallett has told me that we're kind of the same size but that he thinks I'm a little faster," Gragg said. "Hopefully I can go out and show that this week."
"I talked to [Mallett] a little bit after their season was over. He came back to Fayetteville. He just told me good luck and told me some of the things I'd be going through here. We really have a good relationship," Gragg added.
And Gragg hopes to remind many other people of Hernandez if and when he gets his shot on an NFL field.
"Every time I watch the New England Patriots he's somewhere making plays," Gragg says. "That's what I want to be, when my number is called I can go out there and make the play."
With the Patriots having just five selections, but a pair of those coming in the seventh round, late-round prospects at tight end would realistically be the most likely. Another player who fits that mold is UCLA's Joseph Fauria (6-7, 259), the nephew of former New England tight end Christian Fauria.
The younger Fauria was a big-time playmaker for the Bruins last fall when he had 46 receptions, including a dozen touchdowns. He finished his college career with 20 scores, thanks to his size and ability to go up and get the football in traffic. While there are some questions about his ability to create separation, Fauria is confident in his NFL-caliber skills.
"Wherever the ball goes, I'm going to get it," Fauria said. "As for blocking, it's something that wasn't really asked of me in my college career. I think teams will be surprised when they see me blocking a three point stance."
While Fauria says he's leaned on Uncle Christian for help and advice throughout this pre-draft and Combine process, he says there are major difference in the way the two play the position.
"We are both tight ends, but the tight end position has changed tremendously since he played," Fauria said of his uncle, who was in New England from 2002-05. "There are little similarities here and there. I can be called more of a receiving tight end compared to him being more of a blocking tight end. There are some similarities in our drive and our passion for the game. We share the same blood. We're different and the same at the same time."
That's a good way to describe so many of the various tight end prospects available in this year's draft – different and similar. Many are pass catchers more than they are blockers. Many have the potential to add to the growing list of impressive athletes at the burgeoning tight end position in the NFL if they get with the right team in the right offense.
And despite the Patriots seeming gluttony of riches on the tight end depth chart these days, all have the outside shot of hearing their name called by Belichick's team on draft weekend.
Because while he's never actually said it over his decade-plus in New England, Belichick seems to operate under the theory that you can never have enough good tight ends.