FOXBOROUGH, Mass. - On Thursday, Aug. 13, Gillette Stadium unveiled the Cross Insurance Pavilion and Business Center, a sprawling new 20,000-square-foot function facility located on the north end zone concourse, to fans attending the Patriots preseason opener against the Green Bay Packers.
The facility, which features a pre-function mezzanine area, outdoor terrace, a 24-foot video screen and HDTVs and classic furnishings with mahogany finish, offers fans an exciting new gathering area on game day.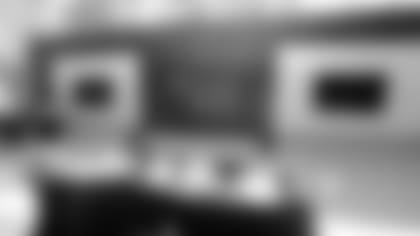 The space is reserved exclusively for pregame hospitality beginning 2.5 hours before the game, but transforms into an area for all fans inside the stadium to experience and enjoy after kickoff.
During Thursday's pregame function, South Boston resident Steve Reilly and his son James were enjoying the new space when Steve spotted former Patriots kicker John Smith speaking with fans a few tables over.
Steve was telling James the story of Smith's infamous kick in the "Snowplow Game" against the Miami Dolphins in 1982 when the Patriots alum introduced himself at their table.
"I was just trying to show him the video of you making the snowplow kick against the Dolphins," Steve said, gesturing to his son, as he shook hands with Smith.
Smith was on hand to greet fans inside the new venue, as part of the pregame hospitality event. The former kicker autographed photos and told guests stories about his playing days.
"I beat the Dolphins all by myself, but don't tell those offensive linemen I said that," Smith said with a laugh before introducing himself to James, who will be playing college football in the fall. "You're about as big as the offensive linemen when I played."
Smith shared stories of the old stadium with the Reillys, long before Patriot Place, Gillette Stadium and its new fan-focused amenities like the Cross Insurance Pavilion and Business Center existed.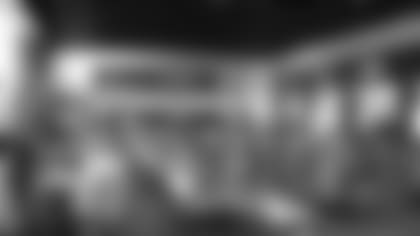 "This place is marvelous," Smith said of the pavilion and business center. "Gillette Stadium is really quite something with the mall [Patriot Place] and everything here now."
"It's a really nice atmosphere," Steve said. "I like that it's wide open."
"The food was great," James added. "I like this place a lot."
The pavilion and business center received high marks in its debut from both guests attending the exclusive pregame event and fans checking out the new venue after kickoff. From the pavilion and business center's food offerings to its wide-open floor plan, "impressed" was a word often used to describe the new space.
"It's bright, everything about this place is great," said Medfield resident Bob Borrelli, a lifelong Patriots fan. "I'm very impressed. They did a very good job with this."
Borrelli, who has been coming to Patriots games for as long as he can remember, added that the function space will be a great spot for fans throughout the season.
"I think a space like this is a good idea," Borrelli said. "TVs are everywhere."
Medfield resident Dave Leonard agreed, adding that when the New England weather shows its inclement face, the pavilion and business center will give fans an opportunity to take a break from the elements.
"This will be great during the season, especially in November, December and January," Leonard said. "I can definitely see myself coming in here, especially when the weather is bad. The TVs and audio are great. It's a really nice space."
Braintree resident Todd Jackle, a Patriots season ticket member for more than 20 years, stopped by the pavilion and business center with his sons midway through the third quarter of Thursday's game.
"Our seats aren't too far from here and I was curious what this place was," Jackle said. "When there's something new at the stadium, I definitely want to check it out."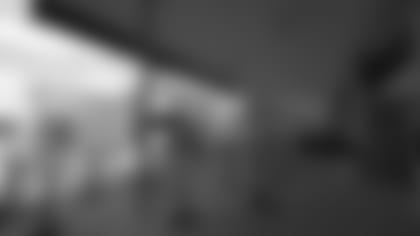 After looking around the new space, Jackle was so impressed by the pavilion's upscale look that he decided to play a joke on his wife, who was not attending Thursday's game.
"This place is really nice," Jackle said. "I actually just sent my wife a picture from here and told her my boys and I just got upgraded to the luxury box and she was like, 'Oh my God, how did you get those?' Of course, I had to tell her I was just kidding, but she bought it because of how nice this place looks. She couldn't tell the difference."
Jackle expected the pavilion to be a popular spot during the regular season.
"I think this place came out great and looks awesome," Jackle said. "I will be back here during the regular season, absolutely."
Nashua residents Anthony Imbimbo, Sr. and his 11-year-old son, Anthony Jr., visited the pavilion during the second half of Thursday's game to check it out.
"It's nice that you can come in here and get something to eat," Anthony Sr. said. "The TVs are great, the openness is nice and you can see the field on the end zone screen. It's pretty cool."
Anthony Jr., who was especially excited to see Tom Brady take the field Thursday, called the new space, "awesome."
"I like all the TVs and if you want to see what's happening on the field you can on the video board," said Anthony Jr.
On non-game days, the function space and open floor plan is perfect for trade shows, car displays, proms, galas, dinner receptions and more.