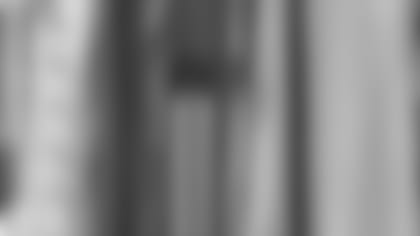 ]()
             *For ten years, Joe Klecko chased quarterbacks as a defensive lineman and founding member of the "New York Sack Exchange" for the Jets. But during draft weekend, he was just another nervous parent waiting for his son's name to be called. *  

Dan Klecko, a defensive end who played at his father's alma mater Temple University, was selected by the New England Patriots in the fourth round of the draft, two rounds ahead of Joe's 1977 sixth-round status.
"I'm just so happy for him it's unbelievable," Joe said on Sunday from the family's New Jersey home. "We were just talking a couple of minutes ago and Danny has broken every record of mine in college. I was drafted in the sixth round and he's just been drafted in the fourth. He just keeps plummeting me into the depths here."
Some young football players would feel burdened by having a father who had an outstanding NFL career, but Danny calls it, "a blessing." Armed with a collection of old game tapes, Danny plucked what he could from his father's repertoire and incorporated it into his own game. Most impressive according to Danny, is, "just how fast and strong and quick he was for back then."
But even beyond just the playing field, Danny has absorbed his father's determination into his approach to the NFL. "He just always taught me to have the best work ethic of anyone and that's always going to help you achieve what you want to achieve," Danny stated. "That's pretty much the best thing he's taught me."
"My dad just always taught me to have the best work ethic of anyone and that's always going to help you achieve what you want to achieve."
But the Patriots did not draft Danny Klecko because his father was an NFL player. They drafted him because they think he can help bolster their defensive line unit. "He was a very productive player at Temple," offered New England Head Coach Bill Belichick. "He's a real active player, a high-energy guy. He gave some people some trouble at different spots with his quickness and his explosiveness."
For Joe, who now works as vice president for a roof coating and waterproofing company, it was special to see his son get the call from the Patriots. "He was very, very happy when it happened," Joe recalled. "When he was drafted and Mr. (Robert) Kraft got off the phone with him, he was ear-to-ear. He was the most excited kid I've ever seen in my life."
Danny, one of five Klecko children, was named Big East Defensive Player-of-the-Year for the Owls last season but was not mentioned in the same breath as some of the more high-profile defensive linemen in the draft. But his college resume impressed the Patriots plenty. "I think he was clearly one of the most productive players in college football last year," Belichick commented. "I don't think there's any question about that. Why he was there in the fourth round and not taken in the third or the second, I'm not really sure."
While Joe did spend the final year of his career with the Indianapolis Colts, he spent 11 seasons with New York, the bitter AFC East rival of his son's new team. "Well, that's going to be the tough part," Joe mused. "For so many years, I had so many tough times in New England. I broke my leg up there."
Belichick knows that if Danny makes the team, it will be a challenge to get his father to fully convert his loyalties to the men in red, white, and blue. "The big thing with Joe in this case," the coach said, "is to see if we can get him to wear a Patriots jersey instead of the Jets jacket."
Joe knows that despite his roots with the Jets, seeing his son in a Pats uniform will win his heart over to that side of the field. "When it comes time for him to play, I'm sure the Jets will understand that blood is thicker than water," Joe quipped. "He is my son.