Back-to-school shopping days may be over for Danny Amendola, but that doesn't mean he can't help others get their supplies. On Wednesday night, that's exactly what he did. 
Danny teamed up with the Walmart in Walpole, Mass., for his Catches for Kids Foundation's third annual Back to School Night with about 100 students from Cathedral High School in Boston. The students took part in a special night with the wide receiver, which included a meet and greet and gift cards to do some shopping for clothes and shoes. The students also received school supplies to start the year off with the necessities. 
Danny said that his hope for the event is simple: give the students what they need for school.
"I want them to at least go to school with a backpack full of supplies, that way they'll have the equipment needed to get through class every day for as long as it lasts," Danny said. "It's the least we could do."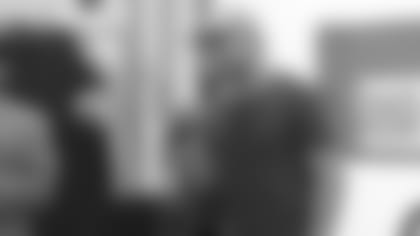 The mission of Catches for Kids is to provide opportunities, support and resources for families in need, and according to Cathedral High School Principal Helenann Civian, this type of event not only provides supplies, it empowers her students.
"It has our kids ready with supplies when they don't have supplies. It takes such a burden off the families," Helenann said. "The kids are so excited for Danny to be a part of this whole event. It is so empowering for our students to feel that people care about them. That's what this is about."
This emphasis on education is at the core of the foundation's mission. Both of Danny's parents are educators, and he hopes to use that environment he grew up in to encourage local students. 
"Being around that atmosphere they created was everything I needed to get through school and athletics, so it's the opportunity that I want to try to provide right now," Danny said.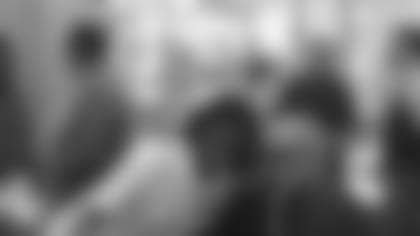 Before hitting the store to shop, the students stood giddily in line to meet Danny, snapping pictures and preparing shoes, phone cases and footballs for him to autograph. He smiled for selfies and posed for photos. While providing the students with supplies was the goal of Back to School Night, Danny said he also understood that these students look up to him as a role model. It's not something he takes lightly. 
"My favorite player growing up was Wayne Chrebet, and the day I met him was one of the best days of my life," he said. "It's something I'll never forget, no matter who your role models are, no matter who you look up to. These kids look up to their teachers, their coaches, whoever influences them, so it's good to be around them."
RELATED LINKS