For the past two years, Tuesdays have been 7-year-old Cam Robinson's least favorite day of the week. Diagnosed with a genetic disorder that prevents his liver from processing cholesterol, Cam and his parents have had to endure a seven-hour long, weekly procedure at Children's Hospital in Boston.
But this Tuesday, as Cam sat in his usual hospital room to receive his routine blood treatment, Patriots center David Andrews walked through the door, and he knew he'd remember this visit for a long time.
The visit marked Cam's 100th treatment, and for a kid to endure 100 consecutive weeks of hospital visits with unwavering strength, that's something to celebrate. So, what better way to celebrate than inviting your favorite football player join the visit?
Cam's parents reached out to David through a family friend, who happened to come in touch with David after selling him an old car from an online ad last summer. With the day of Cam's 100th treatment coinciding with the Patriots offseason, they weren't sure if they could expect a response, but when David happily agreed to stop by the hospital, they were thrilled to be able to surprise their son.
"Surprised, excited, all of the above," Cam's mom, Kate Robinson said of her reaction after receiving David's reply. "He's a wonderful person with a big heart, and we're really happy he listened to the story."
Cam's face immediately lit up when David entered his hospital room Tuesday morning. David proceeded to sign autographs, take photos and talk about some of his favorite hobbies, including football (of course) and fishing. He even let Cam try on his two Super Bowl rings, which nearly fit better around his wrists than his fingers.
"It's really special," David said. "These kids go through a lot – a lot more than we go through. Just to spend time with them and just your presence can put a smile on their face."
Due to his Tuesday treatments, Cam only goes to school four days a week, but his mom was sure he'd be sharing this story in his classroom the following day.
"This will be a moment he's never ever going to forget in his entire life," she said. "I will tell you right now he's going to share this at story time tomorrow in his first-grade classroom. What a great Tuesday he had. For somebody who needs examples of strength and courage, I mean David just sat there and told Cam what an inspiration and how strong he is. It's amazing that he was able to do that."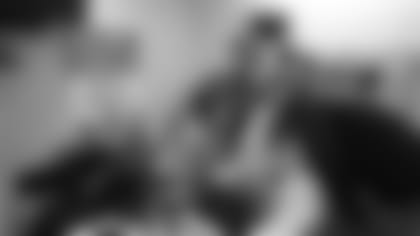 A poster decorated at his bedside read, "Cam the Champion." Although he was visiting with a champion on the football field, Kate said that at just seven years old, it's Cam's champion-like strength that inspires everyone he comes in contact with on a daily basis.
"He is absolutely by far the strongest and most courageous person you will ever meet in your entire life," she said. "He very rarely complains, and he has a heart of gold. His compassion and empathy are, bar none, the most amazing thing about him. I'm just extremely proud to be his mom."