Every year at training camp there are times when players stick out simply based on the personnel they wind up with on the field. When those instances start to repeat themselves, the individuals involved start to create some attention.
Over the last several days of camp there have been a few examples of that, and therefore there are some somewhat unknown commodities that bear watching.
Rookie wide receiver Jakobi Meyers is one such player. He joined Tom Brady and the rest of what is expected to be the starting offense on Thursday and remained in that group in Friday's workout, which was a roughly 90-minute affair that boiled down to little more than a walkthrough.
Meyers went undrafted out of N.C. State but based on the week-plus of work this summer he appears to be making a strong push for a roster spot. He has good size at 6-2, 200 and has the versatility to play the slot as well as outside. Thus far most of his work has come outside the numbers, but it's worth noting that lately all of his work has come with Brady.
"He's a smart kid and he understands, and has versatility, understands the offense," Bill Belichick said. "Like any rookie, any young player, there's a lot of things he needs to work on technique-wise – recognition, route adjustments – just a lot of fine points. He basically knows what to do, but there are a lot of subtleties and nuances that all receivers need to pick up – certainly in our offense – and he's doing that. There's more than we've had to get down, but he's making progress there."
Meyers has shown excellent hands during camp and over the last two days came up with the ball each time Brady looked in his direction. One particular sequence that stood out came late on Thursday when Belichick called for a no-huddle period and Meyers was Brady's target on the first play to get the ball moving.
Given the lack of depth at wide receiver, an opportunity exists for Meyers to step in and claim a spot not only on the roster but in the regular rotation as well.
Safety Terrence Brooks is another player who's stock appears to be rising. Brooks was signed early on in free agency in March and most of the analysis involved his heavy dose of special teams work last year with the Jets. But Brooks also has played plenty of defense in his five-year career that includes stops in Baltimore, Philadelphia and in addition to the Jets.
Brooks has received plenty of reps next to Devin McCourty at safety and on Thursday he lined up with Duron Harmon while McCourty was on the sideline. Patrick Chung is still wearing his red, non-contact jersey so that has opened the door for both Brooks and Obi Melifonwu to join the rotation, but Brooks talked about being quite comfortable on defense as well as special teams.
"I feel like some people just slap that label on me since I have been in the league," Brooks said of his special teams reputation. "To me, I feel like I am a great defensive player. I feel like I am a great special teams player, but I never feel like I have arrived. I want to make it in everything. Whenever I take the field, whatever position I am at, I want to be the best at that position. Whether they put me on defense or special teams, it doesn't matter to me. I just want to play football."
Brooks will be fighting some serious competition in a deep defensive backfield, but if he proves worthy of consideration for defensive snaps, it could give him a leg up on some of the competition when it comes time to pare down the roster.
For now, he seems to be enjoying his time in New England and is working hard to assimilate to his new surroudings.
"It's very detail-oriented. That is what every team should be," Brooks said. "I feel like we definitely hone in on a lot of good things all the way back to fundamentals. We start at ground zero and everybody has been working hard to be the best they can be."
Brooks and Meyers are two guys to watch next week in Detroit, and if both continue to get work with the first team their chances of sticking around certainly will increase.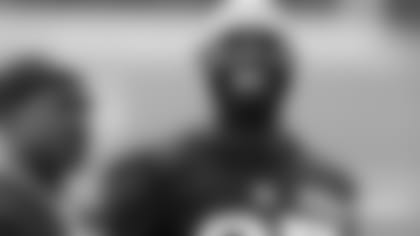 Here are some additional observations from Friday's practice, the eighth of the summer for the Patriots.
*Danny Shelton appears to have shed some weight from a year ago. He is still listed at 345 pounds so he is still a large man, but the defensive tackle looked a bit lighter than that when he was the first player to walk on the field for the morning workout.
*Tight end Lance Kendricks missed his second straight practice after leaving midway through Wednesday's work. No word on his injury as of yet. Otherwise, only the PUP (Nate Ebner, Ken Webster, Demaryius Thomas) and NFI (Julian Edelman, Yodny Cajuste) members were not in uniform. Rex Burkhead was dressed but once again left for some rehab work after stretching.
*Brandon Bolden continues to get a lot of work in camp. On Thursday he got a lot of carries and Friday saw him used a receiver quite a bit. He came up with a terrific catch on a deep wheel route when he leaped high in the air to snag Brian Hoyer's throw behind Dont'a Hightower.
*Speaking of backs in the passing game, both Sony Michel and Damien Harris were used frequently as receivers as well. Brady spent the early part of practice throwing to all the backs while Hoyer and Jarrett Stidham threw to the receivers and tight ends. That early work paid off during 11-on-11 periods for Michel and Harris, who both looked quite comfortable catching the ball and running to space. Michel made a nice touchdown grab in some 7-on-7 work as well. After struggling in that department as a rookie, it appears as if Michel and Brady have developed some chemistry.
*The punters saw plenty of action on Friday with mixed results. Both Ryan Allen and Jake Bailey worked on directional kicks and neither showed much consistency. When they tried to angle kicks toward the right sideline most seemed to wobble and fall well short of where they were intended. Whether as a result of the inconsistency or not, both continued to work with assistant special teams coach Cam Achord at the end of practice when the rest of the team was doing conditioning runs on the back hill.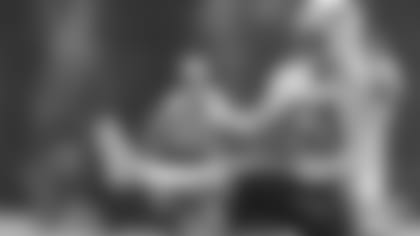 *Braxton Berrios, Gunner Olszewski, Maurice Harris and Chung worked as punt returners. Berrios handled the kicks at the end of practice and struggled holding onto a couple of them.
*Isaiah Wynn saw his most extensive action of the summer, working in the second group along with Hjalte Froholdt, James Ferentz, Tyler Gauthier and Tyree St. Louis. He lined up at left tackle in 11-on-11s throughout the latter half of practice for his first extensive work against a defense.
*Jarrett Stidham enjoyed a solid day. He consistently got rid of the ball in a much more timely manner than what we've seen, and his accuracy was on point for the most part. He connected with Berrios for a touchdown when the receiver made a nice diving catch in the end zone. Stidham also found N'Keal Harry near the sideline and Berrios on a crossing route during a late two-minute drill.
*Carsen Edwards, a rookie second-round pick for the Celtics, was at practice and chatted with Ja'Whaun Bentley, his college friend from their time together at Purdue.
*The offense tried to make their way down field as Belichick called out specific situations but was unable to do so. After several plays Brady had his troops at the line only to have the coach move them back 5 yards for an apparent delay of game call. Brady then his Maurice Harris on the sideline and called timeout, but Matt LaCosse was guilty of a false start, pushing the group back again. Belichick gave time for just one play from the 28, but the Hail Mary pass was picked off by Jamie Collins in the end zone. The linebacker then handed the ball to Harris to complete the drill.
*Chung, Adam Butler, Brooks, Bentley, Stephon Gilmore, D'Angelo Ross, Maurice Harris, Stephen Anderson, Phillip Dorsett, Wynn, Derek Rivers, James Develin and Berrios were among those who spent time with the media after practice.
*Rookie tight end Andrew Beck spent time working on long snapping after practice.
*The Patriots will be off on Saturday and will travel to Detroit Sunday morning before practicing with the Lions Monday, Tuesday and Wednesday ahead of the preseason opener at Ford Field August 8. As usual, Patriots.com will have everything covered in Detroit.