The last time many in the contingent of Patriots alumni that toured Fenway Park on Friday morning had seen Major League Baseball's oldest standing ballpark, things looked a bit different.
From 1963-68, Fenway served as the Patriots' de facto home, hosting 38 American Football League (AFL) games. The playing field stretched from the right field bullpens to the third base line. The left field lawn that was patrolled by Ted Williams and Carl Yastrzemski was covered with bleachers — the original "Monster seats" if you will. For a time, both the home team and visitors occupied the sideline on the first base side with the respective benches separated by only a matter of feet.
Though it was just a temporary home for the franchise at the time, Chuck Shonta, who played defensive back with the Patriots in eight seasons from 1960-67, saw the Patriots move to Fenway Park as a major achievement.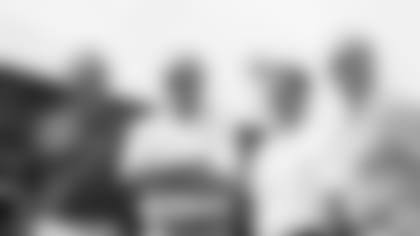 ]()"When we started playing there in 1963, I knew that we were doing alright," Shonta said. "We were playing in a professional stadium, finally. This was just the ultimate. To me, it meant that we were going to stick around for a while."
Many of the former Patriots who were in town for Alumni Weekend, including Shonta who returned to Fenway Park for the first time since he last played there in 1967, were on the franchise's original roster 50 seasons ago. Day-to-day life in the AFL was largely bereft of the creature comforts found in modern day pro football stadiums. Mostly, players were thankful to have a home field of any sort at all.
"You usually weren't sure where you were going to be playing," Shonta added. "We'd already played in so many stadiums in our first couple of years. That was just part of playing in the league back then. You didn't know anything different. You were just happy to be a part of it, something new. You were glad to be playing football."
To many of those who played on the early Patriots teams, the move to Fenway signified that the team had truly joined Boston's professional ranks, even if it meant sharing the locker room of another of the city's teams.
Former Patriots linebacker Jack Rudolph toured the Red Sox clubhouse along with the group. Rudolph, a native of Valdosta, Ga., couldn't resist the opportunity to leave a note of encouragement in the locker of Red Sox right fielder J.D. Drew, who shares the same hometown.
"It really hasn't changed all that much," he said after touring the Sox abode.
Rudolph, who played with the Patriots from 1960-65, shared with his former teammates the story of an elderly gentleman who worked as a clubhouse attendant at Fenway.
"One day, when I was heading out, he stopped me and told me, 'Do you know whose locker you have?'"
Rudolph replied that he didn't. The attendant then told Rudolph that he occupied Babe Ruth's former locker.
"I was amazed. I couldn't believe it, to think of the all the history that's in that ballpark."
Rudolph boasted of his notable stall until he heard the same exact story repeated by a teammate.
"I guess he went around telling that story to everybody!" Rudolph exclaimed.
As the former teammates exchanged stories amongst themselves, some of their significant others retold tales of their own memories from the ballpark.
Shonta's wife, Karen, also made the trip from their home in Michigan. Chuck sat in the Red Sox dugout on the same perch from where Terry Francona views the game and Karen peered back into the stands from just beyond the top step. She pointed out a couple of familiar spots in the grandstand. Though she viewed them now from a different perspective and years had passed, the memories remained vivid.
"That's where we used to sit! Under the balcony, of course, for those games late in the season. We'd all sit together in groups. All of the wives of the offensive linemen would sit together, and the defensive linemen, and so on. It was really more of a support group than a social club."
Then, pointing to an entry that leads to the main concourse, she added, "And that's where I used to meet Chuck after the games. Those are such great memories."
After the Fenway tour, the group returned to Gillette Stadium, where they toured the Patriots' current facility.
"I remember when we first moved into Schaefer Stadium," said Len St. Jean, who in his Patriots career from 1964-73, played in Fenway Park, Boston College Alumni Stadium and Harvard Stadium before the team settled in Foxborough. "Everybody thought it was the greatest thing, but then you consider that we didn't even have a weight room there to work out in. You can't even compare to what there is today.
"It's unbelievable how far it's come."