It's not uncommon for Dwayne Allen to sign autographs after practices that are open to the public, but Tuesday's training camp felt different.
Instead of signing footballs, hats and jerseys at the Patriots Foundation tent, Dwayne and his teammates opened white paper picture holders, autographing the inside cover. Inside each frame was a photo of the HD boards at Gillette Stadium with a fallen soldier's picture displayed. Holding the pictures were the families of those who gave the ultimate sacrifice.
These families came to Patriots training camp with TAPS (Tragedy Assistance Program for Survivors) to celebrate and honor their loved ones. They wore pins adorned with their pictures, and as more than a dozen Patriots visited them after practice, they told the players about their family members.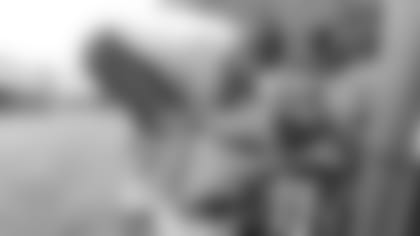 "What really stood out to me was seeing the pictures of all the family members that were lost. The way that we displayed them on the jumbotron, the pins that they had on their chest, it really just puts it to the forefront of your mind. It's right there in your face," Dwayne said. "I got choked up a couple of times just walking through looking at them because when you hear about it on TV, it's not close enough to you to really have an effect on you, but when you see these family members come out here, it puts it in front of you. It makes it personal."
For the families, it was a chance to honor their heroes in a way he or she would have loved. That certainly was the case for Melanie Cargilo and her family. On Jan. 27, 2004, Melanie's brother Captain Matthew August was killed in action in Iraq. Matthew graduated from West Point in 1997 and was deployed to Iraq in September 2003. He was a dedicated Patriots fan, and even while he was deployed he found a way to watch every game.
"My parents and I used to tape all of the games and send them to him in Iraq," Melanie said.
The Patriots were Matthew's team, and as she stood at the edge of the Patriots practice field, telling Julian Edelman her brother's story, time stood still.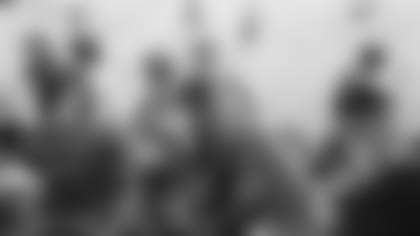 "It was truly a dream come true because I feel like my brother was smiling down," Melanie said. "Knowing it was his favorite team and me being able to meet the most inspirational player to me and my family, I know how proud he would be. I can feel him smiling down."
TAPS brings families like Melanie's together for support and community, and the organization puts together outings like this one. While the families stood in awe of the Patriots players who came over to say hello, Dwayne said it really was the other way around.
"A lot of people idolize professional athletes when really their family members paid the ultimate sacrifice for our freedom, and they're the ones who should be looked up to," Dwayne said. "To have the opportunity to host them at practice, sign autographs, take pictures, that's the least that we can do."