What kind of person do I want to be?
What sort of legacy do I want to leave behind?
Such questions have always been emblematic of the human condition. Who among us hasn't, at one time or another, pondered the eternal mysteries of the universe and our significance within it? Even those who appear to have it all – fame and fortune, pedigree and pulchritude – are not immune from bouts of the most profound introspection.
On frequent hikes through the American wilderness, Chris Long explores the depths of his conscience as much as the heights of natural beauty that surround him. Perhaps because of the latter, he is prone to the former. Long ponders whether his existence is or could ever be consequential.
"Playing football, it's fun, it's cool, but," Long explains, "if I don't do anything with my platform, I think I'm just like every other guy. It's not remarkable to have played in the NFL. There are thousands of guys who've played in the NFL. I want to separate myself, as far as being a productive human being."
Though he doesn't exactly articulate it, you sense that Long also wants to be remembered as more than just "Howie's son" – even though that's nothing shameful, of course. The elder Long, who grew up just outside Boston, left New England in the late 1970s for Villanova, then the Oakland/Los Angeles Raiders in 1981, where he soon became the handsome face of an historic franchise. Later came induction to the Pro Football Hall of Fame and a second career to this day as a popular television analyst and personality.
The pinnacle of success? Father's made camp there, and casts a considerable shadow. Son, meanwhile, dreams of more literal zeniths.
"I wanted to climb a mountain," Long reveals.
He chooses Kilimanjaro, whose apex undoubtedly leaves him speechless, yet, at the same time, unfulfilled. Unlike many who reach the famous peak and experience an "A-ha!" moment, Long is left wanting.
No lightning bolt of inspiration strikes him; no lightbulb goes on in his head; the very finger of God does not reach down from Heaven to scrawl commandments on tablets of stone, like it is said to have done when a man named Moses dared venture up Mount Sinai millennia ago.
"It wasn't like I had an epiphany," he acknowledges.
Exhausted, bereft of answers or spiritual direction, and with a flight home to catch the next day, Long slumps into a chair in the nearest thing he can find to a bar at the base of Kilimanjaro. Seeking solace from the bottoms of bottles of ice cold beers, his thoughts surely wander once more to the existential.
There's got to be more to life…
Just then, from over his shoulder, comes a voice he never imagined he'd hear so far from home, even further from civilization, and light years away from enlightenment.
Several years into his professional football career, Long becomes restless.
Taken by the then-St. Louis Rams with the second overall pick in the 2008 NFL Draft, the defensive end plays the same position as his famous father. Familiarity breeds not contempt in this case, but constraint.
"I just realized," recalls Long, "that I wasn't ever stepping outside my comfort zone. I was just, you know… football, football, football. And that's fine, but in your offseason, you can't possibly work out the whole time. I wanted to travel a little bit and do something different."
Of that, he's unsure, so instead, Long focuses on the where.
His head coach at the time, Jeff Fisher, is just a few years removed from having himself climbed Mount Kilimanjaro, straddling the border of Kenya and Tanzania and written about by such luminaries as Ernest Hemingway (Fisher's expedition included former Patriots linebacker Tedy Bruschi, among others). Long probes his coach for details.
'It's tough," Fisher concludes, "but it was a great experience."
Once the NFL season ends, he returns home to train – "a lot of cardio," Long remembers – for the grueling journey. Shortly thereafter, he flies to East Africa and begins to see, with more than just his eyes.
He's aware that poverty exists, but the degree of it near Kilimanjaro rattles Long.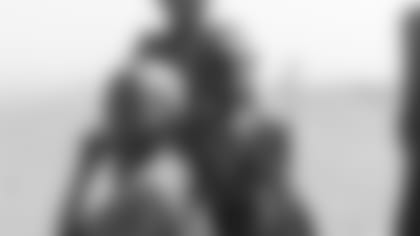 "Certainly not all of Africa is like that – that's not the picture I'm trying to paint," he is quick to emphasize, "but where I'd been, it was an eye-opener. I don't think it was a shock, but to see it… a picture's worth a thousand words.
"I recognized there was real poverty I was seeing, and I just said to myself, 'I want to do something that can impact this region and come back and help out on some level.'"
Sitting there in the bar at the base of the mountain, Long has no idea yet what he can possibly do.
Then he hears that familiar voice.
It belongs to broadcaster Joe Buck. By Buck's side is Doug Pitt, whose brother, Brad, is an actor of considerable renown. Both of them are from the St. Louis area and strike up a conversation with Long that will change his life.
Buck and Pitt, a philanthropist who's heavily involved in projects on the African continent, are in Tanzania on a charitable mission to provide clean and potable water to impoverished communities. They invite Long along.
"It sounded awesome, but it wasn't like I thought, 'This is what I need to do.'"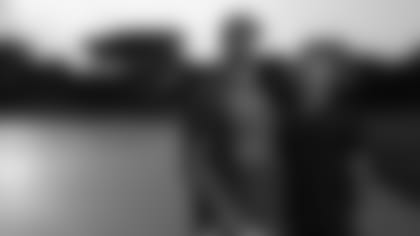 Plus, he has a travel schedule to adhere to, so, he turns them down, but the conceptual seeds they share find fertile ground in Long's imagination. For months upon his return to the U.S., he ruminates, the ideas torturing his conscience like slow drips.
"I thought hard about it and realized… a comprehensive group of athletes would join together for this cause," he concludes. "I just thought it was something we could all get behind. I had this wonderful experience there, and I don't want to be that tourist that goes and has this beautiful, life-changing experience and doesn't do anything about it. It was as much a brain decision as a heart decision.
"If you're going to impact the world, the clean water bang for your buck is as good as it gets."
With training camp about to begin again, and the busiest time on an NFL player's calendar looming, Long decides to take on an even heavier workload.
He creates his own charitable foundation.
The Chris Long Foundation has a name; now, it needs a mission.
Long reaches out to Pitt to brainstorm and they come up with a challenge that combines football and philanthropy.
Dubbed "Waterboys" ("for one of the most overlooked but integral positions on any team," according to its website, **www.waterboys.org**), Long's initiative seeks to provide "affected communities with clean, safe, and sustainable water access by hiring local crews to drill deep borehole wells serving up to 7,500 people."
Borehole wells are defined as narrow shafts (much smaller in diameter than traditional wells) drilled either horizontally or vertically into the ground to access aquifers, natural water sources below the earth. Pumps bring the water to the surface. Sounds simple enough, but at $45,000 each, installing borehole wells is costly.
Still, the Waterboys aim is ambitious: to install at least 32 borehole wells across East Africa, to represent each NFL franchise.
"I just started cold-calling players to try to get them to be representatives in their market," Long explains. To date, Waterboys has raised sufficient funds for 14 wells, nearly half of its initial goal. Eleven are complete, three others under construction.
"Everyone agrees that it's a good thing. You know, everyone's got different causes. Certainly we have guys involved who are at varying commitment levels. Most guys hadn't thought about it before. That's like most Americans. They don't have to think about it because that's not a reality we face. But for an outside-the-box thing, I think it's been pretty good."
He derives satisfaction when he sees how the communities, suffering not just from material, but intellectual poverty as well, are enriched holistically by clean water.
"You're talking about not having indoor plumbing, no clean water, people are perpetually sick, and the lack of infrastructure to handle all that stuff. I've met people in villages that can speak three languages, but don't know that the water is a problem. They don't know it's not good to drink that [contaminated] water," observes Long, "but they know once they get clean water what they can do. Agriculture, education, the productivity of the community improves, so, people are appreciative, gracious, and positive."
In the tunnel between the team locker rooms of Gillette Stadium, a father is all smiles. Howie Long briefly catches up with his sons Chris and Kyle, an offensive lineman for the Chicago Bears, after the brothers square off in a preseason affair this past August.
Dad gushes recently about how thrilled he is that Chris is playing for Howie's hometown team. He must be even prouder of what Chris is accomplishing away from the gridiron, on the other side of the world.
At age 31, in his ninth NFL season and first with the Patriots, Long is his own man. He's a father himself now, and while he still enjoys contemplative wilderness hikes, he does so with renewed vigor.
"Yeah, I plan on it being sustainable," Long says of his charitable endeavor. "I'm working on ways to continue to pass it on to active players and [eventually] as a retired player, coordinate and put more time into it."
Since climbing Kilimanjaro, Long has been back to East Africa twice on behalf of Waterboys, with more trips on his agenda.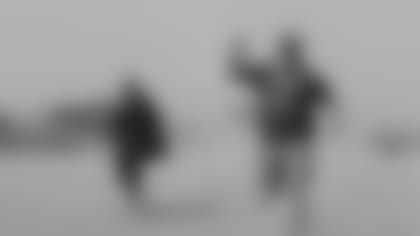 "I was supposed to go last year and bring a group over, but I had my first son and I cancelled it. So, I'm going to take another group in February or March [2017]. Actually, we're working on a campaign right now where we involve [military] vets. We did it last year and raised $100,000. It's been a good marriage."
Fulfilling though it is in so many ways, managing a charity is not easy, especially while balancing a full-time job.
"At times, it can be difficult," Long admits, "but when I do have free time, I take care of business. I wanted to do something that I was really putting my creativity and time into. And this has been unique because I do have good people that help me with it, but I've tried to drive this initiative."
He understands it will always be a struggle – to recruit help and volunteers, to raise sufficient funds, to make regular halfway-around-the-world journeys – but that the effort and energy expended in pursuit of the daunting task will all be worth it, sooner or late.
It's a mountain of work; one he'll never tire of climbing.
Patriots defensive end Chris Long makes new friends while making a difference in the lives of impoverished East Africans.