The Patriots are receiving glowing reviews across the NFL landscape for selecting Oregon cornerback Christian Gonzalez in the first round of the 2023 NFL Draft.
New England's brass is ecstatic that Gonzalez slid to the teens where the Pats not only landed the stud corner but also netted another fourth-round selection by trading down from the 14th overall pick to the 17th overall draft choice. The Patriots got a blue-chip talent they view as a potential number-one cornerback they'll now have under team control for five seasons.
Although Gonzalez's athletic profile and film made him an excellent fit to begin with, Director of Player Personnel Matt Groh added another layer of intrigue from a schematic perspective. Groh told Patriots.com in his post-first round press conference that the defensive system Gonzalez played under Oregon defensive coordinator Tosh Lupoi was New England adjacent.
"He's playing for Tosh Lupoi, who's got a really extensive background being at Alabama, having experience in the pros. Tosh is a very well-detailed coach with a lot of good experience. Certainly, with his time with Coach [Nick] Saban down at Alabama. Then with what Coach [Dan] Lanning has brought from Georgia. Again, with Coach [Kirby] Smart…he was able to be around some of the top coaches in football," Groh said.
Along with spending time with three different NFL teams, Lupoi coached outside linebackers and eventually became the defensive coordinator for Saban at Alabama. That means Gonzalez is well-versed in Alabama-style coverages, which overlap nicely with head coach Bill Belichick's defense.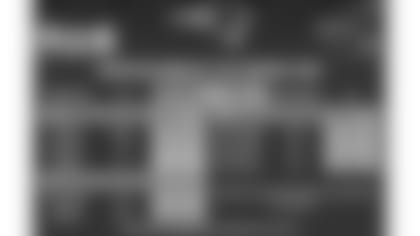 Gonzalez's elite athleticism and silky smooth on-field movements made him a first-round talent. But it's the fact that he's well-versed in man coverage, spot-drop zone schemes, and more complex match zones from the Saban family of tricks that made him a slam-dunk CB1.
Before you say it's revisionist history, I was bullish on Gonzalez well before he became a Patriot. He was my highest-graded corner in this class, my top-ranked prospect for the Patriots on my big board, and almost every national draft expert had him as a top-ten talent in the class.
While avoiding unfair expectations, Gonzalez has the physical and mental makeup to become the next lockdown corner in Foxboro like Law, Revis, Talib, and Gilmore before him.
Let's get to the fun stuff and break down New England's first-round pick:
The Patriots are among the league leaders in man coverage rate. According to NextGen Stats, New England ranked sixth in man coverage rate in the 2022 season. That's down a tick from years past under Belichick, but at its roots, the Pats will always play their fair share of man.
Gonzalez enters the NFL with experience playing in both press and off-man coverages, flashing the fluidity and speed to mirror receivers at all three levels. The Pats first-rounder also uses an effective two-hand jam and 32-inch arms (70th percentile), making him a natural fit for the Patriots man coverage schemes on the boundary.
Starting with his reps in press-man, Gonzalez's best film came against Stanford wideout Michael Wilson last season. Wilson was a standout at the Senior Bowl and was selected by the Cardinals in the third round, so an NFL-caliber receiver with good size (6-2, 213 pounds).
Here, Gonzalez uses that two-hand jam to disrupt Wilson's release. He then feels out the route utilizing his length, staying glued to Wilson as he stays in phase up the sideline. Since he's in Wilson's hip pocket, Gonzalez can now look back for the football and breaks up the pass.
Along with disrupting the release in physical press-man, Gonzalez's 4.38-second speed is on full display when he plays soft-press, where he'll flip-and-run with the receiver in a mirroring technique. Above, you can see the smoothness in hips and Gonzalez's long speed to carry the go route downfield.
Gonzalez also has the explosiveness in his transitions to effectively close on the catch point in off-man assignments. Above, he shows good patience and comes downhill to break up the pass on the under route.
Another sign that Gonzalez's hips don't lie came against his former team, Colorado, in a game where he had two interceptions. This time, Colorado tries to hit Gonzalez with a delayed double move, or maybe the receiver improvises when he doesn't initially uncover. Regardless, Gonzalez transitions to match the receiver when he breaks vertically up the field.
The Patriots needed more size on the boundary to match up with outside receivers in their post-safety coverages. Gonzalez brings that with the added bonus of 4.38-speed.
Zone and Zone-Match Coverages
The Ducks' defense had a 75-25 split in favor of zone coverage, but their zone schemes often operated with man principles on the outside. New England's defense also uses match-zone rules, with Belichick and Saban creating the coverage system while the legendary coaching duo was together in Cleveland during the 1990s.
Oregon also played traditional spot-drop zone schemes, primarily cover-three and occasionally cover-six, similar to the Pats defense. Gonzalez has playmaking instincts in zone coverage to use his closing speed to make plays on the ball. He's aware of route combinations and seeks out receivers rather than covering grass or getting lost in space.
During an interview with Patriots Unfiltered, Gonzalez broke down his second interception against Colorado, where he anticipated that Colorado would go back to a route combination they hit earlier in the game:
"They actually hit us earlier on the same exact play. I knew the play was coming again. That was their go-to when they got in a little 'nasty' bunch [formation]. I told my nickel and my safety to hold the post [route] because I'm going to jump the corner. I knew it was coming, and I just trusted my instincts."
Another standout play from Gonzalez came in the season-opener against the eventual national champions. The one player who held his own is the Pats first-rounder, and this tape was the one that sold me on Gonzalez.
Gonzalez makes a great read to take away a touchdown in this play on the goal line. Georgia runs a classic bootleg concept where they slide the tight end into the flat and send a receiver into the back of the end zone on the corner. Gonzalez recognizes that the linebacker has the flat route, so he uses a "robot" technique to fall underneath the corner to take that away (insert Tom Brady's "let's go" GIF here).
Here's one more example of Gonzalez's smarts in zone. In this instance, the offense tries to run a pick-flat play where the outside receiver runs a snag/pick for the tight end leaking into the flat. Gonzalez recognizes the route design and recovers to make the stop on the tight end.
Most pundits projected Gonzalez as a first-rounder because he's an elite athlete. However, a deeper dive into his film shows a very heady player with a strong football mind.
Tackling/Physicality Concerns
Many predicted that Gonzalez would be a top-ten selection in the 2023 draft, begging the question, what made the talented cornerback fall to the Patriots at the 17th overall selection?
There are several theories about Gonzalez's game, which we'll address here, and overarching speculation that the depth of the cornerback class pushed players down the board. Rather than invest in a first-rounder at the position, some teams opted to wait for day two. With that being the case, the Patriots pounced to take their top-rated cornerback.
On film, the areas of concern for some with Gonzalez's game were inconsistent tackling success throughout his collegiate career and playing the ball downfield through contact. A younger prospect at 20 years old, Gonzalez is still developing some finer points.
We've already shown a few examples where he stands his ground physically at the catch point to break up passes. As for tackling issues, yes, this was an area of development for him.
However, Gonzalez is improving in that regard, and doesn't shy away from stepping up in run support or playing a wide receiver screen. After missing eight tackles in his sophomore campaign at Colorado, Gonzalez whittled that down to three missed tackles in 2022 in Eugene.
The most important thing is that it's not an effort issue, and Gonzalez has already shown signs of improvement to be a more consistent tackler.
New England's defense has been at its best when it has a top cornerback to shadow the opposition's best receiver. Although it's too soon to say, Gonzalez has the physical tools to develop into a shutdown corner.
The important thing for Patriots fans is to remember that, as we previously mentioned, Gonzalez is on the younger side as an early declare after his true junior season. The Pats first-round pick is oozing with talent, and most of it is already realized, but he needs some development.
Mainly, Gonzalez gets opened up at times in press coverage by jitterbug receivers on in-breaking routes at the first level. Since he's on the younger side, he'll also add more mass to his frame.
On a positive note, Gonzalez's younger breakout age and athletic profile suggest that his ceiling is sky-high, which is exciting for a team that needs blue-chip talent. Luckily, the Patriots haven't had many opportunities to pick players with Gonzalez's pedigree because they don't typically draft inside the top 20 picks.
Although we'd all rather the Pats return to their winning ways, one consolation is that they can add an elite talent like Gonzalez.
DISCLAIMER: The views and thoughts expressed in this article are those of the writer and don't necessarily reflect those of the organization. Read Full Disclaimer