Before being inducted as the 30th member of the Patriots Hall of Fame on Saturday, October 23, Richard Seymour stopped by The Hall for a Speaker Series event. Seymour spent his first night back in Foxboro mingling with Patriots Nation and answering questions from fans in the audience. From his post-football poker career to his own starstruck moment, here are five things we learned from the Hall's soon-to-be inductee.
After Seymour's retirement from football in 2013, his competitive fire still raged. To fill that competitive void, Seymour took on an old passion that he discovered during his time in New England. Playing cards was a common postgame activity for Seymour and his former teammates; often playing on flights home, or during the downtime of the season. It was all fun and games until the same player continued to run the table. "After a while I don't think they wanted me playing anymore," Seymour said. After dominating the card table in the Patriots locker room, Seymour continued to ascend to poker's highest level. In 2019, Seymour put together an impressive five-day run in the World Series of Poker tournament.
Richard Seymour spent most of his career intimidating and dominating offensive lineman. When asked who his toughest opponent was, he was quick to answer. That honor would go to Pro Football Hall of Famer, Jonathan Ogden. Seymour reminisced of a Monday night matchup in Baltimore, a game where he lined up against the 6'9" 350-pound Ogden. It was a cold rainy night as Seymour trotted onto the field for the first series. As he looked across the line of scrimmage, he saw Ogden leading the Ravens - breathing steam "like a dragon." Looking back at that Monday night matchup, Seymour was happy he did one thing. "I'm glad I ate my Wheaties," he said.
Following the Patriots' first Super Bowl championship in 2001, Richard Seymour and teammate Willie McGinest found themselves celebrating at the NBA All-Star game alongside some of the game's greats in Philadelphia. While the Super Bowl champion duo enjoyed the All-Star party, Seymour turned his head and found himself standing next to the "GOAT," Michael Jordan. A starstruck Seymour was surprised to meet one of the biggest names in sports. "That was the moment I was like, 'Yeah, I think I'm going to buy you a drink,'" he said.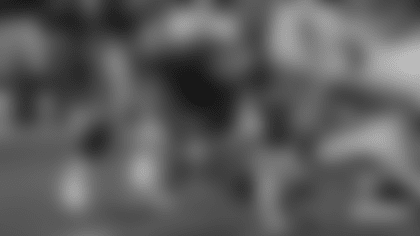 Richard Seymour's time in New England featured four trips to the Super Bowl, winning three of them, including his rookie year in 2001. When asked which of those championships were his favorite, Seymour didn't have a definitive answer. While noting the first championship, Super Bowl XXXVI, as a special one, Seymour also mentioned Super Bowl XXXVIII against the Carolina Panthers as one of the more memorable games. He recounted that game as being one of the most physical games he had ever played in. He remembered being so sore from the game that he didn't want to go to the players' party afterwards. Instead, Seymour went back to the team hotel and said he "ordered some room service, a glass of wine, and relaxed."
For the past three years, Richard Seymour has been named a finalist for the Pro Football Hall of Fame. While this weekend, he'll receive a red jacket to celebrate his dominance in New England, it's difficult for Seymour not to look at what's next. While hopeful for another Pro Football Hall of Fame nomination this February, Seymour remains grateful to be a part of that conversation. "It's a huge honor to even be considered among the greats," he said. While being involved in numerous Hall of Fame conversations, Seymour believes his impact is something that elevates him to Hall of Fame worthiness. "There's a difference between stats and impact," he said. Statistics have been a common narrative in the Canton conversation, as some think Seymour's numbers aren't as impressive as other players. But to that, he feels his impact on the game and how opponents game-planned specifically for him over the course of his career is enough for enshrinement. "If you want to be truly great, you have to look at the entire body of work and then let your entire body of work speak for itself."
Richard Seymour's Patriots Hall of Fame induction ceremony will be held on Saturday, October 23 at 3:00 PM in the Enel Plaza at Patriot Place. For more info, click here.