Last week Out-Takes looked back on our pre-season prognostications, aka "The Call on the Field," and compared them to the standings seventeen weeks in, "after furthest review." We explored the good (KC taking the AFC West), the bad (hopping on the 49ers bandwagon) and the ugly (DALLAS atop the NFC East). This week we take on our predicted winners of the NFL's Annual Awards, following up with who we think will win, now that (most of) the smoke has cleared. Call it a Take-Two.
OFFENSIVE ROOKIE OF THE YEAR
The Call on the Field: We hedged our bet between Patriots TE ROB GRONKOWSKI and San Diego running back RYAN MATTHEWS. Not what we'd call an epic whiff, but not quite a Daniel Nava-style, 1st career at-bat homerun, either.
After Furthest Review: This one's going to Rams QB SAM BRADFORD, whose one-two punch of PEYTON MANNING skills and HEATH LEDGER looks, made a helluva first impression. (That said, Gronkowski had a monster year and deserves every single 2nd place vote out there. He was positively BEN COATES-ian - and not just the #87.)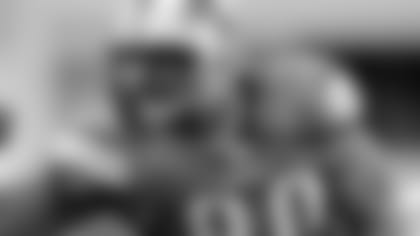 ]()DEFENSIVE ROOKIE OF THE YEAR**
The Call on the Field: KC safety ERIC BERRY, due to his slate of games against the dregs of the NFL's QB community. Solid season, but it ain't gonna happen. (Like a microcosm of the Chiefs overall.)
After Furthest Review: No doubt NDAMUKONG SUH will get what he deserves, but don't be surprised by a late push for New England's playmaking Pro Bowl cornerback DEVIN MCCOURTY and his 7 INTs. ("Glorified special teamer?" Right. Nice call, as always, Dennis & Callahan.)
The Call on the Field: "NOT REX RYAN. To be more specific, Baltimore's JOHN HARBAUGH." Actually, neither would've been a poor choice, but either one winning would be as big a shock as a professional football coach and his wife uploading personal home movies to Youtube - oh wait...
After Furthest Review: Expect a lot of noise around the name RAHEEM MORRIS (and far less around BRAD "Designing Women" CHILDRESS). Morris did a whale of a job with the BUCS, and taking a cellar-dweller to the next level, if not the penthouse, is to be commended and almost always is. But should we make the mistake of believing in the media just one more time, assuming they'll bestow the honor on none other than BILL BELICHICK? After all, he took a young defense, polka-dotted with rookies and street FAs and turned it into a playmaking force. Not perfect by any stretch, but unquestionably dynamic. Belichick's rejiggering of the offense and its essential philosophy has paid off, big-time, too - outside of a few minor blips, production has gone through the roof. As usual, he loses points due to his own history of excellence (his QB doesn't suck, either), but given all those not-so-sweet and low-down predictions, can the NFL Networks and ESPNs of the world really pretend the guy didn't defy the odds AGAIN? Of course they can. Tampa Bay's Morris gets it, despite not making the playoffs. Out-Takes' head explodes.
The Call on the Field: Jets third-string QB KELLEN CLEMENS sitting in GM MIKE TANNENBAUM's office, "negotiating" a half-mill pay-cut before the rolling cameras of HBO's Hard Knocks. While this choke was hard to beat, the actual "winner" of this one is as easy as pie...
After Furthest Review: Come on. You know. We don't even have to say it. For the sake of our New York friends, we'll simply hint around. New Giants Stadium. A fourth quarter lead over pretend MVP candidate and noted Labrador-strangler, MICHAEL VICK. Don't punt to DESEAN JACKSON. Eternally angry head coach takes it out on others just because he and his staff couldn't manage to, ahem, "Dodge" the bullet.
The Call on the Field: The 2004 Yankees. (No news here, just a friendly, hilarious reminder.)
After Furthest Review: The 2004 Yankees. (Again, no news. Again, hilarious.)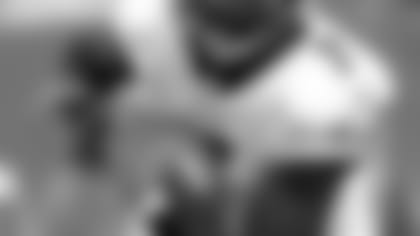 ]()COMEBACK PLAYER OF THE YEAR**
The Call on the Field: Let's pretend we made one. Then let's pretend we picked somebody other than MICHAEL VICK.
After Furthest Review: Way too much Vick buzz on this award, and the odds - stupefying as they may be - are pretty damn good that the voters will indeed hand it to the infamous #7. (Speaking of famous #7s, ELWAY should sue Vick for indirectly tainting his image. ROETHLISBERGER, on the other hand, should sue for the d-bag version of copyright infringement.)
Vick as Comeback Player of the Year is asinine on its face. From what, pray tell, is he "coming back?" Sitting on the bench for a season while his handlers talked the fair-weather fans of Philly into the virtue of second chances? Supporters will point to Vick having paid his debt to society and turned his life around, both arguable points, we guess, but that was TWO SEASONS AGO. No one's saying the guy wasn't a marvel on the field this year - of course he was. He's incredibly fun to watch if you can shoo the image of drowning terriers from your mind. But this isn't a Lifetime Achievement Award. If the world worked that way, Out-Takes could've dominated 6th grade spelling bees from the friendly confines of Freshman year.
And can we all agree that the Comeback Player of the Year Award, however nebulously defined, should go to a guy who struggled and/or was injured the last time he had a real shot at playing? WILLIS MCGAHEE won after sitting out his rookie season, thanks to a devastating ankle injury suffered in the NCAA Championship Game. TEDY BRUSCHI copped the honors following his return from a stroke, for God's sake! So let's do this. Let's assume Vick's going to get the damn award, but let's acknowledge - even if just in this corner of the world - that a guy like EJ HENDERSON, who [
set foot on an NFL field was 2007 and it had nothing to do with bickering Pit Bulls or lying to the Feds.
The Call on the Field: Out-Takes predicted a battle between Green Bay gunslinger AARON RODGERS and Baltimore's bowling ball running back RAY RICE. Both still have the potential to stick their flag in the moon-dust of the NFL playoffs, but neither dominated the regular season as expected. Guess who did?
After Furthest Review: Yep. TOM BRADY. Those few weeks of arguing #12 vs. Vick were a joke, given that the former was on pace to throw a scant four interceptions for the season and the latter had failed to play in three weeks of it. After that putrid, impactful loss to JOE WEBB (who?) and the Minnesota Vikings (oh yeah - them), this contest became no-contest. It still is. Come on, AP Writers - unanimous or bust.
Blooper Reel: Divisional Round Predictions Edition
~ For the second year running, Out-Takes forgot to offer up a pre-postseason disclaimer: Anyone naïve enough to assume we have something approaching "special powers" (or even canny insight) when it comes to predicting football games has made a grave and, let's face it, truly ridiculous mistake. We know just as much as you do, which is to say, we know just as little. Having said that, we felt a whole lot better at the end of the weekend (2-2, woo-hoo!) than we did at the midway point, staring down a Day One oh-fer. As for our forecast final scores on those games, well that's just plain humiliating.
~ Game One, Saturday, 4:30 PM: Another week, another (allegedly) abusive QB #7 goes down - but this time it's not Vick, it's Big Ben, whose still sketchy offensive line gets overmatched by RAY LEWIS & Pals. (Not the ones from that Super Bowl party in Atlanta.) The tell-tale sign of Steeler defeat comes in the form of TROY PALOMALU being not quite head and shoulders above the passing game of JOE FLACCO. His throws to some tight end named Todd put Pittsburgh in a heap of trouble and the RAVENS take it, 23-20.
~ Game Two, Saturday 8:00 PM: Green Bay continues their Michael Vick-themed road trip, packing up from Philly and heading down to Hot-lanta to vanquish yet another of his NFL teams. Pundits aplenty will attribute the sluggishness of the Falcons to the BYE WEEK layover, completely missing the point that arming Aaron Rodgers with a running game, even in the quiet, early stutter-steps of rookie JAMES STARKS, is almost unfair. The Cheeseheads score North of 30, "MATTY ICE" RYAN can't quite keep up, and Math geeks confirm the victory for GREEN BAY, sending them packing once more, this time for...
~ Game Three: Sunday, 1:00 PM: Chicago. As much fun as we had being wrong about the still-not-.500 Seahawks, this team is nearly as bad on the road as it is good at home. And the only 12th man likely to nudge them toward another upset is JAY CUTLER's old pal, Captain Morgan. BEARS 24, Seahawks 13.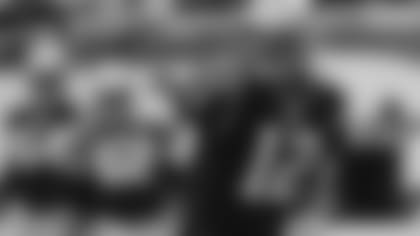 ~ Game Four, Sunday, 4:30 PM: All week we've been lamenting our ludicrous pick from the Wild Card round, Jets at Colts. We predicted a two-touchdown victory for the team that wound up one point short. We're not saying we should've seen it coming, but fifteen points is a pretty big swing - and a miss. Indy was undermanned heading into the game, Gang Green seemed on the uptick. 34-20? Really?
So this week Out-Takes aimed for a more reasoned, deliberate prediction. After all, a repeat of 45-3, December 2010's version of the Boston Massacre, is beyond unlikely. That one required an ungodly amount of first-rate execution by New England, not to mention a lot of second-half "quit" from the other side. Still, despite Rex Ryan's apparent toe-hold on trash-talk, and ANTONIO CROMARTIE's A-bombs hurled in the not-so-general direction of Tom Brady, we choose to avoid buying into the hype. So here it is, nice and simple, with no frills, whistles or bells:
The Patriots are a better team than the New York Jets. They have a better head coach than the New York Jets and they have a better quarterback than the New York Jets. They are going to win the game. Not by forty-two points, true, but not by one. (And not by the five we just offered our Jet fan friend and mentor, "Even Up" BARRY, who sits, in plain sight, in the office across the hall.) The Patriots are going to win by double-digits. And it won't be because Tom Brady's an A-word or because he's apparently the first guy who ever pointed his finger in the heat of spirited competition; it won't be because of some "personal" B.S. between Belichick and Ryan. It'll be because the more focused team, the one that does its talking on the field, happens to be superior to the scattered team that can't stop talking off of it.
34-20 wasn't just ludicrous last week, it was early. PATRIOTS take it. Bring on the AFC North.
John Cockrell is a writer for USA Network's "In Plain Sight," and a screenwriter, whose other work has run the gamut from "Sesame Street Parents Magazine" to Playboy TV's "The Weekend Flash." (He figures everything else is pretty much in-between.)