Late Saturday afternoon, the Patriots made some last-minute alterations to their active roster on the eve of their regular season opener versus Miami. First, the team moved quarterback Brian Hoyer up from the practice squad to the active roster. Hoyer's promotion came as no surprise whatsoever, given that New England entered the weekend with just one QB, rookie Mac Jones, on the active roster. The Patriots needed to elevate at least one of their two practice squad passers to serve as Jones' backup, and Hoyer seemed the more logical choice over newcomer Garrett Gilbert.
Although Gilbert has a modicum of prior experience in the Patriots' offense (he actually earned a Super Bowl ring with New England as a member of the practice squad toward the end of the 2014 season), he wasn't around here very long. Hoyer, meanwhile, is a much more experienced NFL veteran who's spent most of his career as a Patriots backup. It makes much more sense to have him serve as understudy to Jones.
Veteran kicker Nick Folk also got called up from the practice squad, giving New England, at least for the moment, two kickers from which to choose tomorrow, including rookie Quinn Nordin. Folk sustained an unspecified injury during training camp this summer, which caused him to miss a substantial amount of practice and preseason game time.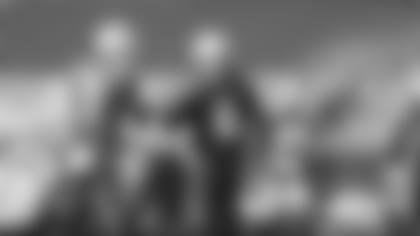 The 36-year-old Folk did make a cameo on the field during the preseason finale against the New York Giants, but it seems like the club wanted to give him a bit more time to heal from whatever had been ailing him. This is likely the explanation for the undrafted rookie Nordin having made the initial 53-man roster, with Folk going to the practice squad.
Folk's longevity in the league and stellar effort for New England last season makes him a safer option, it would seem, than the relatively inexperienced Nordin, but it remains to be seen exactly how the Patriots will handle the placekicking responsibilities tomorrow afternoon.
In other roster news, the Patriots placed recently-acquired RB/WR Malcolm Perry on injured reserve. He was listed on Friday's injury report with a foot injury. Perry didn't figure to factor much into this contest anyway, with his just having arrived in town earlier this month. New England, though, must still deactivate a handful of players to get down to the 48-man game day roster limit by kickoff tomorrow. So, stay tuned. More tinkering to come.