Bill Belichick and Sean Payton.


After 11 days and 19 practices, it was time for the Patriots to see how they stacked up against the NFL's best. Judging from the morning workout with the defending Super Bowl champion New Orleans Saints, Bill Belichick's team has plenty to be both happy and concerned about.
It was just one practice and not held under game conditions so reading too much into anything that took place during the two-hour session with the Saints would be unwise. Both offenses seemed to execute fairly well, particularly during team periods that took place in the middle of the field. When things moved to the red zone the defenses made a few plays, but overall passes were completed more often than not.
The flip side of that for the Patriots was the play of the defense – specifically the young secondary. Playing without cornerback Leigh Bodden, who missed another day of practice with a left knee injury, New England had a tough time handling the Saints deep receiving corps. Drew Breeshad no trouble finding open targets, hitting all seven of his passes during a 7-on-7 drill before going 3-for-4 with a pair of touchdowns when things moved to the red zone.
The team period saw much of the same as Darius Butlerand Devin McCourtystruggled to stay with Marques Colston, Lance Moore, Devery Henderson and Courtney Roby. The big play came when Brees found Moore well behind Butler down the left sideline for a huge gain. It was just one of many open receivers Brees had at his disposal.
It was a bit of an eye-opening experience for the young members of the secondary. Both Butler and McCourty had been enjoying solid camps thus far but obviously hadn't faced anyone wearing different uniforms. Going against players you're not familiar represented a different challenge, one linebackers coach Matt Patricia welcomed.
"I think it's a great opportunity to compete against a great team, take a look at it and see how we do and evaluate it. It's exciting for us to have a chance to do that," Patricia said. "I'm sure once we go back and watch everything on film we'll have an evaluation on that at that point. We're just trying to get better, work on our fundamentals and come out here and get a chance to compete to see where we are."
"The evaluation is always ongoing. For the guys to get an opportunity to practice against some different players and different plays is always a plus," defensive line coach Pepper Johnsonadded. "I'm quite sure we'll take a look at everything thoroughly to see where we are, but it's not going to change our goal and objective for where we want to be before Cincinnati."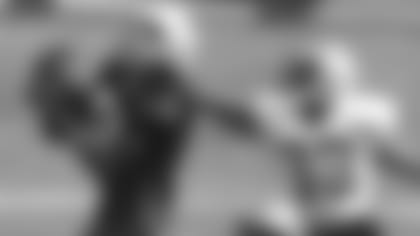 ]()The defense did seem to rebound later in practice, particularly once things moved into the red zone. James Sanders came up with a nice pass defense on a slant intended for Colston in the end zone. Brandon Meriweatheralso made a diving deflection of a Brees pass thrown well behind tight end Jeremy Shockeycoming across the middle.
"I think it's good checkpoint for everyone to come here and compete. It's beneficial for everyone," Patricia said of the dual practice with the Saints. "I think it's great. Now we have to check the film, continue our evaluations and see what we need to correct."
The offense didn't appear to need as much altering. Tom Bradygenerally found open receivers and Randy Mossgenerally found open areas. The two hooked up often, including a deep ball that generated a huge ovation from the lively and large crowd on hand.
Brady went 4-for-5 during a 7-on-7 drill with the one incompletion drawing a flag on a ball intended for Aaron Hernandezdown the seam. He later hit all three of his attempts in the red zone but was forced to dump the ball off to his backs twice before finding Moss for a touchdown.
During the team periods, Brady stayed sharp. He found Brandon Tate on a nice crossing pattern that would have been a big gain, and later connected with Rob Gronkowski for a touchdown down in the red zone. The one blip came when he tried to hit Wes Welker on a quick slant but the Saints Tracy Porter arrived at the same time as the ball and wound up ripping it away from the receiver before racing for a would-be touchdown.
"I think what's really neat about this deal is you're not really sure what they're going to do, they're not really sure what we're going to do," quarterbacks coach Bill O'Brien said. "So it gives us as coaches a chance to go back in, see what they did and come back out here and make some adjustments.
"I'm sure there were some things we can correct. It's kind of hard to see it ground level because there are a lot of things going on. But I think overall you saw some good execution in the passing game, you saw some good execution in the running game and now we just have to work to correct the things that weren't executed as well and we just have to improve."
The New England area has enjoyed an uncharacteristically hot summer and has dealt with especially humid conditions lately. At least that's how we New Englanders have felt about the weather for the better part of the last couple of months. To the Saints players, however, dealing with the mid-80s temperatures was a welcome change.
"It was great to get out of the heat," was how former Patriots cornerback Randall Gay referred to the conditions. Gay's reaction was typical of all the New Orleans personnel on the subject, most of whom mentioned the "benefits" of getting out of the oppressive Louisiana heat.
Who's hot: Marques Murrell –For the second day in a row the unheralded free agent acquisition was lined up at outside linebacker with Tully Banta-Cain. Known as a special teams player during his first three seasons, Murrell was considered a pass rush specialist at Appalachian State and perhaps Bill Belichick is giving him the opportunity to show he can get after the passer at the NFL level. With the Saints in town, Murrell received plenty of reps.
Who's not: Jerod Mayo –It wasn't a great day for the former Defensive Rookie of the Year. First, he had a hard time chasing the Saints running backs during a one-on-one passing drill, which is understandable given the level of difficulty the defensive players face with so much field to cover. But then he was bull rushed while in punt protection and almost caused Zoltan Mesko's kick to be blocked. Mayo was knocked back several yards on the play and looked as if he was surprised with the intensity level of the drill.
Play of the day (AM) –How many ways can we describe Tom Brady-to-Randy Mossconnections? Monday's was another big play and since it came at the Saints expense it's worth noting. Moss easily beat the New Orleans secondary deep between the hashes and used his body to shield defenders from Brady's underthrown pass. He wound up catching it around the 10 for the Patriots biggest offensive play of the morning.
Hit of the day – Fred Taylortook an inside handoff and tried to fight his way through the line between the left guard and tackle. The Saints linebackers had none of it, greeting the veteran with a big pop that seemed to signify the difference between the dual practice and a typical day of camp.
Quote of the day – "I've always been vocal. I like to communicate with the players. I really believe in getting my point across not in a whispering way. I'm not in a library out here. We're on the football field. I like to make sure the guys know exactly what to expect." – Bill O'Brien on his coaching style
Rod Owens turned in the best catch of the day when he dove for a deep ball and hauled it in behind Saints cornerLeigh Torrence. Owens was completely parallel to the ground during the one-on-one drill and maintained possession as landed. … Mike Wrightjumped offside during a team action and was forced to run a lap. The veteran defensive lineman was clearly irked and walked all the way to the sideline before he began his jog around the field. … The injury list remained the same from Monday afternoon with Matthew Slater, Bodden, Bret Lockett, Terrence Johnson, Gary Guyton, Nick Kaczur, Torry Holt, Ty Warrenand Ron Braceall sitting out. … In what has become an annual training camp appearance, Jon Bon Joviwas on hand and watched practice from in between the fields. He spent several minutes with both Belichick and Saints coach Sean Paytonbefore the workout began. … Stephen Gostkowski closed practice by making 6-of-7 field goals including a 51-yarder. His lone miss came when he pushed a 48-yarder to the right on his second-to-last attempt. … The teams are back at it again this afternoon with practice scheduled for 3:45 p.m.