GIANTS HEAD COACH TOM COUGHLIN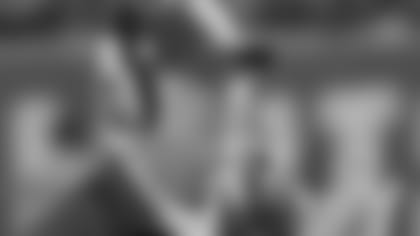 TC: ** Quick, competitive game; we had our chances. We played a lot of people; we got an awful lot of snaps in this game. Some of it was planned and some of it quite honestly was because we had to adjust. Adrien Robinson went out of the game before, I think it was the first kickoff. So he was gone. And then, you know, that put us in a circumstance where all the tight ends got a lot of snaps. And I will have to look and see about that. But, you know, I feel badly about the guys that were injured. Andre Brown was injured and he'll take a while. But hopefully the other things will be correctable.
Q: Tom, was it the same break for Andre Brown?
TC: No, it's not. You know, I don't have a full understanding of what it is. It is a small fracture, is what it was put to me.
Q: Did they tell you any kind of timetable?
TC: I can give you what is always said. Who knows, I don't know the answer. We'll have to get that from the doctors.
Q: What was the x-ray on Adrien Robinson? Is it negative?
TC: As far as I know, yeah.
TC: Quite frankly, I'm not sure which one.
Q: Do you feel like you have the players to compensate for Andre's loss on this roster right now?
TC: I was impressed by Da'Rel [Scott]. Da'Rel ran the ball well tonight, he ran hard. And we know that Michael Cox is a hard runner. And we know that Ryan Torain is a hard runner. Those are the people on our roster that are not injured, so they have a job to do.
Q: You had taken most of the starters out by the time Andre got hurt. Were you just caught by the numbers with him?
TC: No. We had scheduled it because I wanted him to have a number of snaps because I wanted him to quite frankly play better than he did the week before. There are two guys at that spot – David [Wilson] got basically the first quarter and Andre got a few downs there and he was playing to get his number of snaps.
Q: With Andre's injury, is it a season ending thing?
TC: I don't think so, but I'm not going to say that. Again, I don't have all of the information. I just walked through the locker room and got a quick appraisal.
Q: You saw a solid drive with Eli Manning in terms of getting offense generated.
TC: Yeah, we had a couple that weren't so good and then a good one, so that was well timed, well played and hopefully it will give us a little push in the right direction.
Q: What did you see out of the starting offensive line?
TC: We started a group, made a couple of changes and left a couple of people in there. [Justin] Pugh got a lot of snaps, [James] Brewer got a lot of snaps and [Jim] Cordle came in and played a bunch as well. As we just mentioned, the first couple of drives didn't amount to anything and then third drive was a good one, so I would say we protected well enough to accomplish that third drive.
Q: You have a lot of inexperienced guys like Da'Rel Scott and Michael Cox. Would you feel more confident with someone with a little more experience?
TC: We'll see. You know, I don't have a great response for that right now. We'll see.
Andre Brown, Running Back
(On his leg injury)
"It doesn't require surgery or anything of that nature and that is a positive. I'm looking forward to making sure that everything is good with it, rehab well and most definitely I will be back. I just got a helmet straight to it and it is just a little bump in the road."
"I have been here before and they would let me know if it was more serious than it is but it is not. My spirits are high and positive and I am looking forward to coming back this season. They have said no surgery and that is the best part of it."
Michael Cox, Running Back
(On making the 53 man roster)
"I am definitely excited and hopefully I will make the team. I just try to give my best every day and do what I am supposed to do. I think I have done pretty well and I am confident but it is up to the coaches and we will see what happens."
(On his special teams play)
"I think I have done pretty well. I think I have done OK but I haven't watched the film yet. I will find out when I watch it. I think I did alright."
(On the importance of Andre Brown to the Giants' offense)
"It means a lot. Whenever I have to ask anything or need help with anything he is always giving me advice and always helping me out with whatever I need. He is definitely helpful. He is definitely a major role of our offense and our running backs. It will be hard, but I think all of our running backs are good so I know someone will be able to step up."
Zak DeOssie, Long Snapper
(On being a veteran)
"The first two years you're just trying to hang on and learn the ropes. Now you know the routine and you know how the preseason is supposed to play out. It's easier to sort of mentally get through it than it was back then."
(On his relationship with Steve Weatherford)
"We live in the same building in Hoboken. I love the new addition with Josh Brown he's a great teammate and good friend. It is important for the specialists to get along. We hang out off the field and obviously we spend all our time on the field. We have a really good chemistry, and I couldn't think of two other guys that I would want to play with."
Eli Manning, Quarterback
(On Andre Brown's injury)
"I don't know much about it right now, hopefully it is not too serious and he can come back at some point and help us out. If not, we will need some other guys to step up and play well for us."
Ryan Nassib, Quarterback
(On his performance)
"I think I played alright. I definitely made some mistakes which I wish I could have back. I missed some big play opportunities but I improved from last week and the week before. As a competitor you always wish you could have played better. You have to take what happens in the preseason and learn from it and bring it with you into the regular season."
(On his goal this season)
"To keep competing and keep learning. I am going to learn from this guy
(nodding toward Eli Manning) as much as I can. He is definitely a great guy to learn from. He helps. Sometimes I feel like I ask too many questions but he is always there to help."
Adrien Robinson, Tight End
(On his injury)
"I won't know until tomorrow, but I don't think it is that serious. I'll find out tomorrow for sure, but I know it is not broke. I usually come back from injuries pretty quick."
Antrel Rolle, Safety
(On what he tries to accomplish in preseason)
"Personally you try to get acclimated to the game and get back to your rhythm, get used to the speed of the game and work on your techniques. Work on your craft, your leadership skills and get the young guys ready for the games. I missed the last two weeks but I was still in meetings and still on top of myself. I was never out of sight."
(As a veteran does preseason get old)
"Yes and no. It definitely has its pros and cons. It is a necesity, you have to jell as a team. You have to see everything the same way and feel that chemistry and camaraderie. At the same time it gets old because it is such a long time. It is a strenuous process. For the most part, training camp is training camp and we have our minds set for it. It is what it is."
Terrell Thomas, Cornerback
(On the preseason)
"That's the biggest thing coming, out healthy. We had a lot of injuries unfortunately, and a guy like me coming back from my second ACL, I'm glad I made it through training camp."
(On the confidence of making the team)
"I think I did a great job. I did everything they asked me to do. From day one I have progressed all through training camp, and had a good showing the last two-preseason games. I did everything I could do and I think I did a great job to make the 53-man roster."
Justin Tuck, Defensive End
(Asked if he was hoping to get a night off)
"No, not at all. It gives me an opportunity to sharpen the tool. Honestly as a veteran guy I understand the importance of it (preseason). After a while you do feel like you are ready to go. You have four games to sharpen your tool and get ready for that first game. That is where our focus goes now, on Dallas."
(Asked if he was surprised that the Patriots threw with a few seconds left)
"I think everyone was surprised they threw with about six seconds left in the game. Honestly I look at it like they were just giving Tebow another opportunity to see if he could have a little touch on the ball there. You know, it is preseason and at the end of the day you are just trying to get your team prepared for the regular season. Everything is kind of fair game at that point."
(On how the Giants will do this year)
"I wish I was psychic and could give you that answer. For us it is all about staying healthy. We obviously know what it takes to get to the top of that mountain."