PHOENIX – Media were pumped up again to discuss a deflating topic.
The subject of under-inflated footballs used by the Patriots during the AFC Championship Game came up again Friday when media had a chance to pepper NFL commissioner Roger Goodell with questions at his annual pre-Super Bowl press conference.
During opening remarks that lasted several minutes, Goodell made reference to the league's ongoing investigation into what many are calling "DeflateGate." At issue: whether the Patriots played the first half of the AFC title game against the Indianapolis Colts on Jan. 18 with footballs that were below the league-mandated threshold for air pressure. Tests conducted at halftime of that game found that several Patriots footballs were under the allowable 12.5-to-13.5 pounds-per-square-inch range.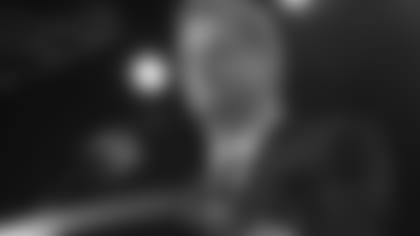 The probe is being spearheaded by attorney Ted Wells, who was appointed by the league last week to determine why some of the balls used in that game were not in compliance with league rules, and if that non-compliance was a result of deliberate action.
"I want to emphasize," Goodell said, "we have made no judgments on these points, and we will not compromise the investigation by engaging in speculation. When Ted Wells has completed his investigation and made his determination based on all the available evidence, we will share his report publicly."
Goodell added that Wells and NFL staffers "have been hard at work conducting a thorough and objective investigation" because "we want the truth."
The commissioner acknowledged that it has been a "tough year" for the league in general and for himself in particular following a number of off-the-field crises that many critics say were mishandled by the NFL under Goodell's stewardship. Goodell remarked that the "adversity" they both faced has fostered a need for "soul-searching" by all parties.
Patriots owner Robert Kraft was one of the few influential voices to come publicly to the commissioner's defense in the wake of the Ray Rice domestic violence case earlier this season. Seen by many as a close ally of Goodell, Kraft has often spoken highly of the commissioner over the years since Goodell became commissioner in 2006.
However, Kraft was emphatic in statements made upon arrival in Arizona this week that the Patriots did nothing intentionally wrong in the AFC Championship Game and that the NFL should apologize to his team if the investigation exonerates the Patriots.
Asked Friday to respond to Kraft's demand, Goodell said, "I represent 32 teams. All of us want to make sure the rules are being followed, and if we have any information where the potential is that those rules were violated, I have to pursue it, and I have to pursue it aggressively. This is my job and the job of the league office.
"We don't know enough in this investigation to know who's responsible or whether there was even an infraction. When we get the facts from Ted Wells, we'll certainly take all that into account and we will make the right decision to protect the integrity of the game."
According to Goodell, the question of whether a competitive advantage was actually gained or not by New England's use of underinflated footballs is secondary in his mind to the more profound aspect of the game's integrity.
"We have rules, and we're a league of rules," explained Goodell. "The 32 teams and every fan expect us to follow those rules, and we're going to enforce those rules… when those rules are violated, we take that seriously."
Yet, in nearly the same breath, Goodell could not answer a pertinent question that seems central to the investigation: whether or not the NFL has tested air pressure in footballs at halftime of other games, as was the case in the AFC title tilt, to establish a baseline for comparison's sake. He said he assumed that information would be learned in the course of Wells' investigation and distributed at the appropriate time.
Goodell also bristled at a reporter's assertion that the commissioner's close ties to Kraft pose a conflict of interest in this controversy. He maintained that Wells is a third-party investigator with "impeccable" credentials. In addition, the commissioner pointed out that it's not unusual for his office to work closely with ownership on league matters, particularly high-profile ones like finance and broadcasting on which Kraft is a member of league committees.
"So, professionally, I have a relationship with him," Goodell continued, "and I also admire, respect, and think highly of him on a personal level. So, there's no hiding from that standpoint. Since he knows me so well and knows the league, he knows that I'll do the right thing for the NFL."
The commissioner gave no timetable for when he expected Wells' probe to come to a conclusion.