EAST RUTHERFORD, N.J. (AP) -- There's an air of invincibility and inevitability about the New England Patriots.
Invincible because since January, they haven't lost. Inevitable because of the feeling they will find a way - something they did in their toughest test this season, edging the New York Giants 27-26 on Stephen Gostkowski's 54-yard field goal with 1 second remaining.
"You're one kick away from being Public Enemy No. 1," Gostkowski said. "You're always one kick away from trending on Twitter as the No. 1 loser in America.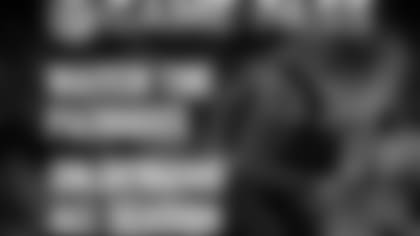 "But it's fun being on a good team. It's kind of like being on a baseball team where everybody's got a hit, and you can't wait to get up there and get a hit, too."
The Giants, who seemed to have New England's number, were poised to knock off the Patriots (9-0) on Josh Brown's fourth field goal with 1:47 remaining. But you don't beat the Patriots with field goals.
After Brown made his franchise-record 27th straight, from 29 yards, Tom Brady drove the Patriots 44 yards, converting a fourth-and-10 on the series. He also got lucky when Giants rookie safety Landon Collins dropped an interception; Collins said he hit his head on the turf and lost the ball.
Gostkowski, the NFL's leading scorer the last three seasons, sent his winning kick soaring through the uprights.
New York (5-5) has given the Patriots fits under Tom Coughlin, including two Super Bowl wins, and nearly pulled off another victory. A 5-yard pass to Odell Beckham Jr. on New York's final drive was originally called a touchdown, then reversed by video review.
"I should have caught the ball," said Beckham, who admitted he didn't know the whole rule about completing the catch.
That possession was set up when Trumaine McBride intercepted Brady at the goal line, setting up an 86-yard, 15-play march to Brown's field goal.
That left room for Brady, who hit Danny Amendola three times for 32 yards on the winning series.
"Just finish the game," an exasperated Coughlin said, recognizing four of his team's defeats this year came because the Giants failed in the final moments.
"You don't win, they are all miserable. I don't look at it in terms of degrees. I look at it in terms of frustration that goes along with it because of what could have been. It's not that far away from being a win. Just finish the thing off."
Both Beckham and New England's Rob Gronkowski had the longest TD catches of their careers: Beckham for 87 yards and Gronkowski for 76.
The Patriots inexorably marched downfield with the opening kickoff on a 14-play, 80-yard drive. Backup tight end Scott Chandler capped it with a 1-yard reception, giving New England a point in an NFL-record 32 straight quarters. They extended it to 35 with Gostkowski's second-quarter 31-yard field goal; LeGarrette Blount's 1-yard TD run following Amendola's 82-yard punt runback in the third - the longest of Amendola's career; and the long pass to Gronkowski on which New York's Craig Dahl and Brandon Meriweather collided.
But they also were plagued by critical pass interference penalties, and lost top receiver Julian Edelman (foot) in the first half. Of course, they still had Brady, who threw for 334 yards, and Gostkowski.
The Giants, still in first place in the NFC East, controlled long portions of the game.
Just 51 seconds after Chandler's touchdown, Beckham stunned the Patriots with a spectacular reaching catch-and-run on which he split New England's two best defensive backs, Malcolm Butler and Devin McCourty. Beckham embellished his celebration with a salute at attention to the crowd; the Giants honored the military before the game.
The Giants had another quick drive in them, ending the first half by covering 74 yards in 54 seconds. The seven-play series included Elli Manning's 31-yard passes to Rueben Randle and Will Tye, the latter getting to the Patriots 1.
Manning, as sharp as ever in the first half, hit Dwayne Harris in the back left corner of the end zone for a 17-10 halftime edge. Manning had a career-best for one half with 251 yards passing. Brady had 127.
Manning got plenty of help from New England mistakes to start the second half: 36 yards on a pair of pass interference penalties. Brown made a 38-yard field goal to end that possession. He later hit a 53-yarder for a 23-17 lead.
Against New England, that's rarely enough.
NOTES: The Patriots are the fifth team and first since the 1983-98 49ers (16) with at least 15 consecutive winning seasons. ... Giants center Weston Richburg injured his left leg and was helped from the field. LB Mark Herzlich hurt his calf. ... Beckham's TD was the longest against any Bill Belichick-coached team in 360 games. ... Manning threw for 361 yards, 104 to Beckham. ... Gronkowski finished with 113 yards receiving.