There was a buzz around Gillette Stadium on Sunday, and it wasn't just the dozens of razors fired up to shave hundreds of heads.
For the seventh year in a row, Rob Gronkowski buzzed his head at One Mission's annual Buzz Off event, which raises money for those battling pediatric cancer. Gronk sat eagerly in his chair as his barbers, two young professionals (okay -- very young), got to work.
"I was a little nervous," Gronk said with a laugh. "I was just hoping they didn't get me bleeding on the back with the buzzer, but they didn't, so it's all good."
All jokes aside, Gronk's fresh cut is more than just a haircut. Every year, hundreds of people turn out for the Buzz Off For Kids to show solidarity with those fighting cancer and to raise money. To see someone like Gronk jump in line and buzz his hair is inspiring for those at the event. 
"They're coming out here, supporting their friends, supporting other kids, the parents, the families, the friends," Gronk said. "It's bringing everyone together. It's just a great cause, and it's great to be a part of."
And for those who excelled at fundraising, shaving their heads was an extra special moment. Gronk took hold of the razor, and there were plenty of smiles as he worked.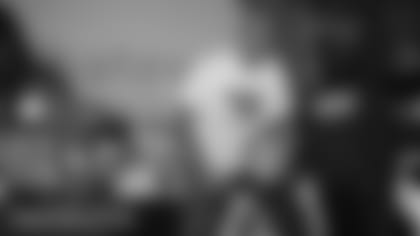 Gronk wasn't the only Patriot getting a trim. A dozen members of the End Zone Militia returned yet again to get their heads, beards and even eyebrows shaved. Bob Elliot said this was his fourth year coming to the Buzz Off with the militia, and this year, he shaved his beard for the first time in 45 years.
"Every year I say if I raise more than $5,000 I'll shave my beard, and this year, I'm at $5,200," he said.
As the militia left the stage, members jokingly called out, "Where's Bob? Has anyone seen Bob?" Despite the appearance change for the first time in four decades, Bob said felt different but in a good way.
"It feels good actually. It feels really good," Bob said. "Everyone should experience this at least once."
Check out more photos from One Mission's Buzz Off for Kids in the gallery below.
Patriots TE Rob Gronkowski got his head shaved, along with hundreds of others, during the One Mission Buzz-Off For Kids With Cancer at Gillette Stadium on Sunday, June 3, 2018.