BOCA RATON, Fla. -- Many Patriots fans have been waiting a long time to hear this: The team is trying to get back its 2016 first-round draft pick.
New England owner Robert Kraft revealed Monday that he made an attempt, about a month ago, to reclaim that selection (along with a 2017 fourth-rounder) by writing a personal letter to NFL Commissioner Roger Goodell. You'll recall that Goodell's office approved of the confiscation of the draft choices as part of the Patriots' punishment for its alleged involvement in the deflated football investigation that has become known colloquially as DeflateGate.
New England was also fined $1 million and quarterback Tom Brady was suspended for four games. The latter, of course, was overturned by a judge but is still being considered by an appellate court.
Kraft did not say specifically if he was seeking to recoup the money and erase Brady's potential suspension, but he hinted strongly that those items were included in his missive to Goodell.
"I personally wrote a letter to the commissioner," Kraft explained, "responding to his comment that if any new facts came up, he would take them into consideration."
The owner was speaking during a brief break from his responsibilities at the NFL's Annual Meeting, which is taking place this week in Boca Raton, Florida.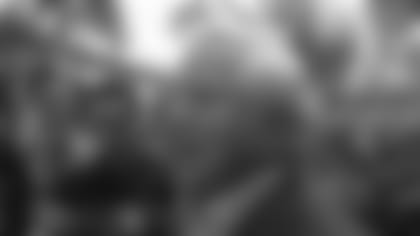 "I personally believe," continued Kraft, "that when the league made their decision, they did not factor in the Ideal Gas Law. They admitted that publicly. They had a full year of being able to observe Tom Brady play with all the rules of whatever the NFL was, and make any judgments there. We have laid it out pretty straightforward and now it's up to them to decide."
The NFL recently announced that its random spot-checks of football handling procedures produced no violations during the 2015 season, but Kraft expressed disappointment that the league did not cite any statistics or information regarding the measurement of air pressure in footballs used this past season. Such evidence, many observers believe, would support the Patriots' assertion that nothing illicit took place during the 2014 AFC Championship Game in Foxborough, when footballs used in the first half of play were found to be below the acceptable limits of the NFL rule book.
"Well, I was debating whether to say that," Kraft grinned, "but you can put your own interpretation… that's why I hesitated.
"[League representatives] did their own testing, they have results, and for whatever reason, they haven't shared them with any of us. We actually requested at the beginning of the season that they test every game throughout the league and do that, but they chose to do it their way."
Kraft chuckled when asked if he sensed any momentum from his fellow owners to restore his team's draft choices.
"Well, I don't think you'll see any momentum among our peers. I wish they would, because they could be in a similar position [someday], but we've put our best case forward and that's in the league's hands now."
He flatly stated, "No," when asked directly if he held out any hope that Brady and the league could come to an agreement before a three-judge panel in New York rules on the quarterback's case.
"I'm moving on from that," he added.
It didn't appear as if Kraft was optimistic about receiving a response – positive or otherwise, if any at all – from Goodell to his recent petition.
"I'm moving on from that as well… You know, when you join the NFL, it's a partnership, and you agree to abide by certain rules and conditions. We have tried to work the system as best we can and now it's working its way out."
Coincidentally, this year marks Goodell's 10th work anniversary as NFL Commissioner, and Kraft, once an outspoken defender of him, insists that he still supports Goodell as the figurehead of the league.
"Putting personal situations aside, I think he's done a very good job. He's worked hard. The health of the league has not been better. We have our issue that we don't think has been handled well, but… it is what it is.
"We've done everything we can do," Kraft emphasized. "I want our fans to know, I empathize with the way they feel. It's been almost 15 months [since DeflateGate began]… I'm happy 2016 is here and we look forward to a great season."