INDIANAPOLIS – A year ago at this time it could have been argued that cornerback was the Patriots top need entering the offseason. Funny how a pair of free agent acquisitions can change perceptions almost overnight.
The arrival of Darrelle Revis and Brandon Browner transformed the secondary – and the entire defense – almost immediately. After struggling badly in virtually every category over the past several years, New England was solid across the board in 2014.
The defense finished 13th in the league in total yards allowed, up from 26th in 2013. The Patriots also were 17th against the pass and eighth in points allowed, both representing improvements over the previous year. Revis and Browner played a huge role in that improvement, settling the secondary while allowing players like Kyle Arrington and Logan Ryan to move into roles they're more suited for.
By providing the ability to play lockdown man-to-man coverage, Revis and Browner increased the ways Bill Belichick and Matt Patricia could go about their business. No longer concerned with providing extensive safety help over the top, the Patriots used safety Patrick Chung like a de facto linebacker and often employed a 4-2-5 alignment with Jamie Collins and Dont'a Hightower used periodically against the run, the pass and as pass rushers.   What is all meant was immense improvement on defense, but now where do the Patriots turn? Revis will be a free agent on March 10, the start of the new league year, unless the team picks up a $20 million option bonus and is willing to accept a $25 million cap hit.
Since that's unlikely to happen the sides will need to hammer out an extension before then to avoid him hitting the market. The Boston Herald reported that Revis remains the top priority but had no further information on the situation. Director of player personnel Nick Caserio addressed the topic earlier in the week in an interview with "Patriots Today" and indicated those decisions will be made in time.
"We're going through an evaluation process," Caserio said. "When we get back from the Combine we'll go through a pretty comprehensive analysis of our roster – go through player-by-player strengths, weaknesses and what we see as their role and what their future is going to be moving forward. Those decisions will be made at the appropriate time but the reality is our team is going to be different next year, that's the reality of the NFL. We'll go through and make the decision we feel is best for the organization going forward."
Assuming Revis is retained, cornerback is not a huge priority in this draft. That would put Revis, Browner, Arrington, Ryan, Super Bowl hero Malcolm Butler and Alfonso Dennard, who finished 2014 in injured reserve, all under contract for 2015. If that's the case, any corners drafted would be for depth and with an eye toward the future.
If Revis doesn't return, then the position becomes a much bigger priority. Either way there will be some talent to parse through at the Combine, although not as much at the top as in recent years. One reason for that is the presence of some significant question marks among the higher-ranked corners.
Washington's Marcus Peters (6-0, 198) is an extremely talented cover man but was dismissed from the team by Huskies coach Chris Peterson early during the 2014 season. Also, Oregon's Ifo Ekpre-Olomu (5-9, 195), another player with first-round potential, suffered a serious knee injury during practice for the Rose Bowl and said he'd won't be ready to return until September.
Those are two of the top five prospects listed among NFLDraftScout.com's 38 draftable corners, so obviously there is some question at the top. Michigan State's Trae Waynes (6-1, 183) is the lone player to receive a strict first-round grade from NFLDraftScout.com.
"I pride myself on being a technician," the well-spoken Waynes said. "I try to work on my footwork as much as I can. I try to mirror the routes to throw off timing, and I work on these things for countless hours during practice."
If Revis does indeed leave, Waynes would certainly be a possibility for the Patriots.
Peters is an interesting case. He and Peterson had some differences of opinion that led to his dismissal but there's no denying his skills. Even after his departure he continued communicating with his former teammates in an effort to help them with the defensive calls and coverages, and he recently met with Peterson and the two mutually decided to allow him to conduct his pro day on campus.
"I just learned from my mistakes. I made some immature decisions and they hurt me. I have to live and learn from it. It definitely humbled me. I have to own up to it, make up for it and move forward," Peters said without elaborating much other than to say it was due to a miscommunication between he and Paterson that he took responsibility for.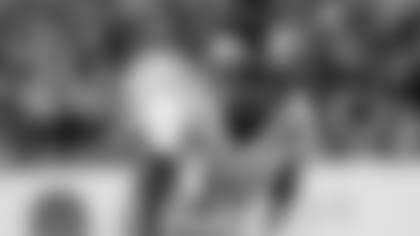 Ekpre-Olomu enjoyed a terrific career with the Ducks, recording 18 turnovers during his four years. He had nine interceptions, eight forced fumbles and a fumble recovery, developing quite a reputation as a ball hawk in the Oregon secondary but the injury was the main topic of conversation on Saturday.
"I had surgery about eight weeks ago," he said. "I'm recovering great, ahead of schedule and I'm real happy with it at this point."
Ekpre-Olomu has the ability to play outside despite his modest size but also can function well in the slot. He said he watches a lot of Richard Sherman and Darrelle Revis – smart players with good technique who "make plays week in and week out."
Miami (Ohio's) Quinten Rollins (5-11, 193) is the third member of the top five with an interesting story. Rollins played basketball and football in high school and was offered a hoop scholarship after his junior year. He loved both sports but didn't want to risk his only opportunity to go to college so he accepted it, and starred as the RedHawks starting point guard for four years.
With his final year of collegiate eligibility, Rollins decided to give football a try. After one practice in the spring he wasn't sure if that was a wise move.
"After the first day I thought I was done," he said with a smile. "Then later one of the Gas [graduate assistants] came up to me and told me that I had done a lot of good things. I thought I had a terrible practice. Everything was moving so much faster than I had remembered."
Rollins eventually improved and found himself in position to be a starter when the season opened. Due to low numbers the RedHawks did no tackling during the spring and summer practices, so when Rollins found himself in the starting lineup opening day, his first tackle was literally the first he'd made in more than four years.
"I never had a problem sticking my nose in there. It was great," Rollins said. "My teammates didn't know if I could hit, but once I had that first live hit out of the way it wasn't a problem. Getting back in the football flow was great."
Despite the long absence, Rollins could find himself selected in the first or second round, which given his past is simply remarkable.
Wake Forest's Kevin Johnson (6-0, 188), Central Florida's Jacoby Glenn (6-0, 178), Stanford's Alex Carter (6-0, 200) and TCU's Kevin White (5-9, 180) could be possibilities in rounds 2 and 3. Johnson is undersized but has worked hard to put weight on his frame over the years.
"I came out of high school weighing 155 pounds," he said. "I was a definite late bloomer. I'm growing every day. I'm here to prove I'm the best cornerback in this draft."
Another fascinating two-sport athlete is Mississippi's Senquez Golson (5-9, 178). Golson other sport of choice is baseball, and he was good enough to be selected in the eighth round in 2011 out of high school by none other than the Boston Red Sox. 
He turned down a $1.4 million contract offer to play both sports at Ole Miss but eventually dropped baseball after his freshman year. He continues to work at both sports but says he's currently committed to giving football a try.
Last year with the Rebels he had 10 interceptions, and his natural athleticism (he was a center fielder on the diamond) serves him well in the secondary.
"I just like to go after the ball," Golson said of the picks. "I like to create turnovers and feel like I can be physical enough. My experience as a center fielder probably helps with that, tracking the ball and stuff."
NFLDraftScout.com lists Golson as a possible third- or fourth-round pick, but the corner isn't concerned with the process.
"I've already been through one draft day," he said, drawing some laughs. "You never know what's going to happen on draft day, they're always different, so wherever I'm picked will be fine with me. That won't matter once I get on the field anyway."
There are a number of interesting late-round possibilities to consider including Ohio State's Doran Grant (5-10, 199), Louisville's Charles Gaines (5-11, 175), Texas' Quandre Diggs (5-9, 196) and UConn's Byron Jones (6-1, 196).
Diggs' brother, Quentin Jammer, has enjoyed a long NFL career with the Chargers and Broncos and has given his younger brother a ton of advice along the way. He considers himself the best slot corner available.
"I talk to my brother every day," Diggs said. "Even though we're 13 and a half years apart, he's always been there for me to lean on. We talk about a lot of things other than football, but we're always talking."
Jones is dealing with a torn labrum in his shoulder and has called on some of his former teammates like Blidi Wreh-Wilson and Dwayne Gratz.
"I'm trying to keep a level head throughout the process and talking to those guys has really helped me," Jones said. "If I'm able to do that the rest will fall into place."