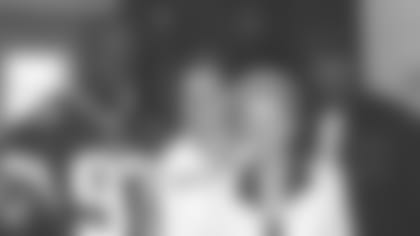 ]()In his three years playing on the defensive line for the Patriots, Jarvis Green has always laid down the law on the football field, stopping opposing offenses in their tracks. Now he has had the chance to do it in a real court of law. On Friday morning, Green took the time to visit over 100 elementary school children as a part of the West Roxbury Division of the Boston Municipal Court's third annual "Law Day".
Fifth and sixth grade students from five area schools took a field trip to the court as a culmination of the court's "Straight Ahead with the Roxbury Court" program that the children have been involved with throughout the course of this school year. Green, along with Boston College defensive end Myran Hunter and Boston College women's basketball player Clare Droesch, addressed the standing room-only crowd for half an hour, imparting their words of wisdom to the students.
Green shared with the students some of the personal challenges he experienced on his road to success, detailing his problems as a youngster in elementary school.
"I was making the wrong decisions in school," Green said. "I did some things that I knew had consequences, and it took me a little while before I realized those decisions were only hurting me. I had to learn to make the right choices, not only to do the right thing for myself, but to make my parents and family proud."
Green explained to the students that they would have many choices arise every day, and it would be up to them to make the right decisions. "No one is going to live your life for you," he said. "No one is going to make your decisions for you, and definitely no one is going to serve your punishment for you. It is up to you to live your life in the right way, and you can do it."
Green also took the time to discuss his struggles as a small kid who often got teased and bullied at school because of his size.
"You would never know it now, but when I was younger I was very small," Green told the students. "I got picked on and teased every day, but one thing I learned was to never try to handle a tough situation by myself. Always tell someone in authority, like your teacher or principal, when someone bullies you and they will always take care of it."
After speaking with the children, Green assisted First Justice Kathleen Coffey in presenting students with awards for their entries in a poster contest and essay contest. He posed for pictures with the winners and then let the students take a look at his Super Bowl ring, telling them that the ring was a culmination of hard work, making the right decisions and believing in himself.
"It is very easy to succumb to peer pressure, especially at the age that these kids are," Green said. "I wanted to make sure I left them with the idea that it is up to them to control their destinies. They need all the encouragement they can get, and I hope they realize that they can do anything they set their minds to if they make the right choices."