In Martellus Bennett's first season with the Patriots, he has been a force on the field, and it didn't take long for Patriots Nation to realize they had a firecracker off the field, too. Whether it's his Twitter game or the unique idioms Marty crafts while surrounded by Patriots beat writers at his locker, the dude has quotable gems. 
Lifestyle has sifted through the transcripts, rewatched the videos and replayed recordings to bring you the best of the best Martyisms from the 2016 season. From his first phone call with Boston media to hilarious one-liners this month, take a look at some of Lifestyle's favorite Martyisms. 
10. TDs and pizza possession
"I had it. Sometimes there's one slice of pizza left, and there's two hands that reach into the box. I'm always going to eat mine. I'm always going to get the last slice."
8. When a reporter asked if Marty's "flying around" and he ran with it
"I fly around every day. You can't land this jet, you know what I'm saying? It's like having a private plane, wherever I want to go, I just go. I don't have to worry about no jet fuel. I would say Gatorade but they don't sponsor me so I'll just go get me some good ole' something to drink, and Gatorade can have the plug."
7. Creating balance in life
"That's the past, I just know right now, the mental space that I'm in, and the emotional space, the tranquility, the ultimate balance, Just being an equilateral triangle and not an isosceles. Life is pretty good for me right now."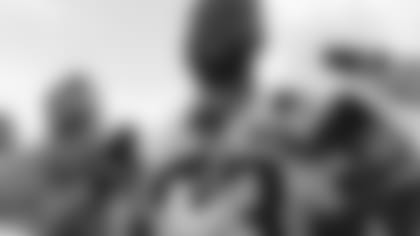 5. Finding your spirit animal (Yes, this *really *came up.)
"The spirit animal has to come to you when you go on a journey, in the moment, and then you're in the middle of a desert somewhere sitting there by yourself, on this long spiritual journey and then you see the animal that you are. I'll let you go to Pottermore.com and you can find out what your Patronus is."
4. On weather-cautious clothing
"Same reason women wear less on Halloween. It's sexier. It's cold during Halloween too, but there are a bunch of sexy cops out there."
3. Mood
"I feel pretty good. It's almost Christmas."
2. Focusing on yourself
"Only thing I can control is what's going on with my body – cut my grass before I cut someone else's."
"I use that analogy because a lot of people tend to other people's gardens and never worry about the weeds in their own garden. Therefore your garden gets overflowed with weeds and your flowers die."
1. Losing games and losing cereal
"You kind of just wash it away, spilled milk you don't put it back in the jug you just clean it up and pour you another bowl."
Bonus Martyism, courtesy of the Boston Globe's Jim McBride
https://twitter.com/globejimmcbride/status/811306577047257088
Before the seasons finished, there is sure to be even more nuggets of wisdom coming from Marty. Until then, let us know in the comments which Martyism is your favorite. 
RELATED LINKS