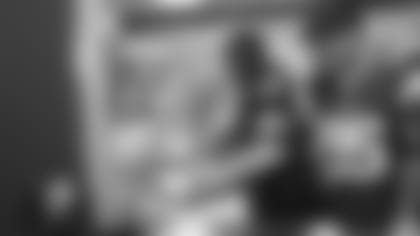 Kids piled into the kitchen for dinner, but this time, dinner was served by surprise cooks. Patriots LB Tully Banta-Cain, LB Jerod Maryo and CB Darius Butler strapped on serving gear over their workout clothes for an evening with more than 200 youth at the Jordan Boys & Girls Club in Chelsea on Tuesday, November 2 as part of the New England Patriots Charitable Foundation and Shaw's Scan Campaign, and in conjunction with PLAY 60.
Patriots players began the day coaching youth through a Play 60 HOPSports program, which aims to keep kids healthy and active. The kickboxing program was especially fun, but also a good workout leaving several kids, and the players with sweaty brows. Following the workout, the players participated in a question and answer session where they were asked everything from what their favorite color was, to what they eat before games.
After working up an appetite, the children rushed the Patriots Kids Café, funded by the New England Patriots Charitable Foundation, where they were served dinner by Tully, Jerod and Darius. With heaping plates of spaghetti and meatballs, along with a salad and milk, laughter and contentment filled the room.
At one table sat Stacey, Shakir, Dianna and Maria, where they saved Darius a seat and coordinated a synchronized 'You're amazing!' just as he left the serving area and entered the seating area. "This is best day in the world, it's inspiring," Stacey said while enjoying her dinner. She commented on how much she enjoyed the dinner saying "The dinners we eat here are good, because this food is good, real food."
"It has been touching to have them serve the children and be such great role models." The Director of the Jordan Boys & Girls Club said. "We have partnered with the New England Patriots and the Greater Boston Food Bank for years and especially during these difficult economic times, we are so thankful to provide kids with a healthy meal, often the only one they receive all day."
When the night had almost come to a close, Darius saw the basketball gym and decided to call a game. After the teams were decided, cheerleaders lined the sidelines, the game was on. Passing, dropping and one slam-dunk from Darius evoked cheers throughout the gym.
It was a night with a full plate of dinner, laughs and a good workout, with some very special guests. The New England Patriots Charitable Foundation has partnered with The Greater Boston Food Bank to establish Patriots Kids Cafes at area Boys & Girls Clubs. Patriots Kids Cafes provide hot meals for youth do may not receive them at home and serving children with 6,750 meals per week at seven different locations.