INDIANAPOLIS – At first glance, you might not expect a position with three recent Pro Bowlers and solid depth to be an area the Pats might focus on in this year's draft. But upon closer inspection, offensive line just might what the team goes after on day one of April's annual selection meeting in New York.
If either a top-flight tackle or guard is available when the Pats selections in rounds one and two come up, or a versatile center/guard is around in the mid-round area, New England could be tempted to take them.
The offensive line has been a strength of the Patriots in Bill Belichick's years, and adding to that would make sense. Especially when you consider QB Tom Brady'sexpected return from a season-ending knee injury and starting right guard Stephen Neal'sinjury history.
It's entirely conceivable that if a blue-chip left tackle were available, the Pats might select him, insert him on the right side for a year or so, then possibly swap him with Matt Lighton the left. In that scenario, assuming the player develops as expected, you'd have a former All-Pro on the right side in Light and a young, future star on the left to protect Brady's blind side.
Or if there's a can't-miss guard prospect, the team could take him to be Neal's eventual replacement, thereby providing a complement to former Pro Bowler Logan Mankins. In either case, the Patriots would be strengthening their already strong line. And even though Russ Hochsteinhas been a valuable replacement at both guard and center, drafting a center to back up former Pro Bowler Dan Koppenis also a plausible course of action for New England.
Given all those factors and potential scenarios, here's a look at some of the O-line prospects who'll be entering this year's NFL Draft and which ones might qualify as candidates to be Patriots.
Max Unger (6-5, 310), Oregon Projected pick: early rounds
]()Unger started 51 consecutive games for the Ducks, earning all-conference honors each season and first-team All-Pac-10 the past two. He started out as a left tackle, but was soon converted to center. At the Senior Bowl last month, he was asked to play guard as well. That's the biggest area where he felt he needed improvement.
If he's indeed able to play any position on the O-line, that automatically makes him a player of interest for the Pats.
"The more versatile you can be, the better it'll work out for you," he noted. And New England has already shown interest in Unger, emphasizing his versatility as a strength of his game.
"Yeah, I spoke with one of the front office guys down at the Senior Bowl and that's something they talk about. I mean, there's really only seven [linemen] that are active [on game days]. There's a backup to the two tackles, and a backup for a guard and center. So, it's one of those things that's not really a luxury, it's a necessity. You've gotta have it."
Alex Mack (6-4, 312), Cal Projected pick: early rounds
Like Neal, Mack is a former wrestler who's using his mat skills to help him on the gridiron.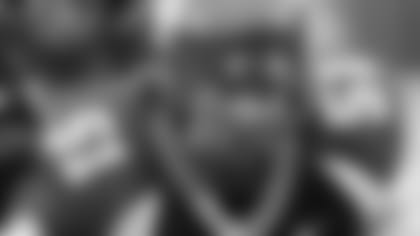 ]()"Wrestling has been really helpful," he said Thursday in Indianapolis. "I think it's really helped me be a successful football player. Wrestling really teaches you where your body is in relation…how to control somebody else. It also taught me how to work hard.
"Wrestling is a tough sport and it's one-on-one, you versus another guy. So it teaches you that hard work, whatever you put into it, is going to come out on the wrestling mat. So if you lose, you can only blame yourself. It taught me how to work hard, how to do certain things. It taught me how to be mean, I think."
Mack went on to explain that his high school wrestling coach encouraged him to wrestle in college, going so far as to mention Neal's name numerous times.
Mack called Neal "a great player" whom he's known about since Neal was a young practice squad player for the Patriots.
"Every time you see a wrestler, you root for him. We have some guys at Cal who are wrestlers. It's a small community and it's fun to see us succeed in football."
As of Thursday, Mack hadn't had any official discussions with New England, but given his background and ability, he's someone to keep an eye on in the weeks ahead.
Alex Fletcher (6-3, 302), Stanford Projected pick: late rounds or rookie free agent
Versatility will likely be what gets a job in the NFL.
"I think I can play any position -- left guard, center, right guard -- without skipping a beat," he declared. "That's something I've done at Stanford. Hopefully, I'll continue to be able to do that."
Noting that pro teams normally dress just seven O-linemen on game days, Fletcher said it's imperative that players like him be able to jump into action wherever they're needed.
He has talked to several teams, including the Pats, that have also stressed this quality.
"Definitely. Yeah, New England was definitely one of the teams. They're a team that really looks for that. They've been breaking down my guard tape from three years ago, so, they're the type of team that can help me."
Kraig Urbik (6-6, 323), Wisonsin Projected pick: early rounds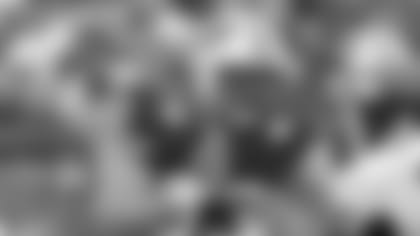 ]()Urbik's obvious strength is his enormous size. Even more attractive to scouts, however, is his proven ability to play more than one position.
Though more comfortable at guard because he's had more experience there, Urbik is a capable right tackle when called upon. His versatility is something he's trying to impress upon scouts at the Combine and that they're talking to him about more often these days.
"They know I've started 17 games at tackle and guard, so they know I can play both. If they ever need me to go out at tackle, I can do that."
At the Senior Bowl, Patriots representatives had an introductory meeting with Urbik, where he said they drew up several different plays and different types of defenses and discussed them with him.
Duke Robinson (6-5, 335), Oklahoma Projected pick: early rounds
Another massive guard who might be converted to tackle, Robinson is known for being a ferocious run-blocker. Some scouts have expressed concern about lack of quickness and foot speed, yet his still ranks as one of the top guards in this year's draft.
The two-time All-American was given a first-round grade by the NFL Advisory Committee last year, but he decided to remain at Oklahoma for his senior season. That loyalty earned him some extra points with scouts, who also like his durability.
Travis Bright (6-5, 316), BYU Projected pick: late rounds
Like many BYU players, Bright is older than many of the players in his draft class, as his Mormon faith required him to take a two-year mission. He's also a step ahead in the family department, having gotten married and become a father before leaving school.
A broken leg forced doctors to insert a rod in Bright's right leg, but he claims to have no lingering ill effects from the injury and subsequent procedure. His size gives him the option of moving to other spots along the O-line, but he admits he needs to improve his footwork significantly before he's comfortable doing so on a regular basis.
Jason Smith (6-5, 300), Baylor Projected pick: 1st round
Smith is nothing if not self-confident.
Asked what he's saying to NFL scouts to convince them he's the best tackle in this year's draft, Smith responded, "I'd say, first of all, put on my film from Baylor and you'll see that I'm the best. That's it."
He went on to say that his greatest strengths are his "ability to play fast, physical, and with a lot of effort for four quarters." If there's anything he feels he needs to improve on, it's his skill playing in a three-point stance, noting that the NFL employs the technique frequently, while he hasn't had much experience with that in college.
The well-spoken Smith was a hit with the media at the Combine, holding court for a good 10 to 15 minutes and drawing several laughs from those assembled.
All kidding aside, though, Smith was adamant that he wanted to be the first tackle – perhaps even the first player – drafted this year. He just might accomplish his goal.
The former tight end is one of the most athletic players at his position, yet still has much to learn about the tackle spot. But his potential may be too valuable for teams near the top of the draft to pass up.
Eugene Monroe (6-5, 315), Virginia Projected pick: 1st round
Consider that he owned the left tackle job for the Cavaliers even while his former teammate, 2008 first-round pick Branden Albert (who became a tackle for Kansas City this past season), was still at Virginia.
"I think over my career at Virginia I've proven I can block anybody," he told reporters Thursday. "I have the determination to improve my game and the ambition to succeed and I never stop."
Monroe will most likely not be available when the Patriots pick at 23, but given that his head coach, Al Groh, has a close relationship with Pats head coach Bill Belichick, it's a safe bet New England is doing all its homework on Monroe … just in case.
Alex Boone (6-8, 330), Ohio State Projected pick: mid rounds
]()An intriguing prospect given his mammoth size, but his history of alcohol abuse is Boone's biggest question mark at this point.
After a drunken driving conviction following a car accident in April 2006, Boone was arrested again this month on the night of the Super Bowl. Alcohol again appears to have played a part, as the 21-year-old Boone is alleged to have been jumping up and down on the hoods of parked cars. He then, according to police, tried to smash the window of a tow truck before eluding authorities, who had to taser him twice to subdue him.
He apologized profusely to the assembled media Thursday for his run-ins with the law and admitted that teams have been asking him about this.
It's unclear if Boone is on the Patriots wish list at this point, but it appeared that New England is on his. Asked if he's talked to the Pats at all, he replied, "I wish … no. No, I haven't talked to New England yet. Hoping to this week at some point."